Ask a Researcher: ICSR experts
FEATURING: Shiraz Maher, historian, lecturer at War College, King's College-London, director of the International Centre for the Study of Radicalisation (ICSR); Charlie Winter, senior research fellow (ICSR); Marc-André Argentino, research fellow (ICSR)
published: 2021/04/14
contact: NCITE Communications - NCITE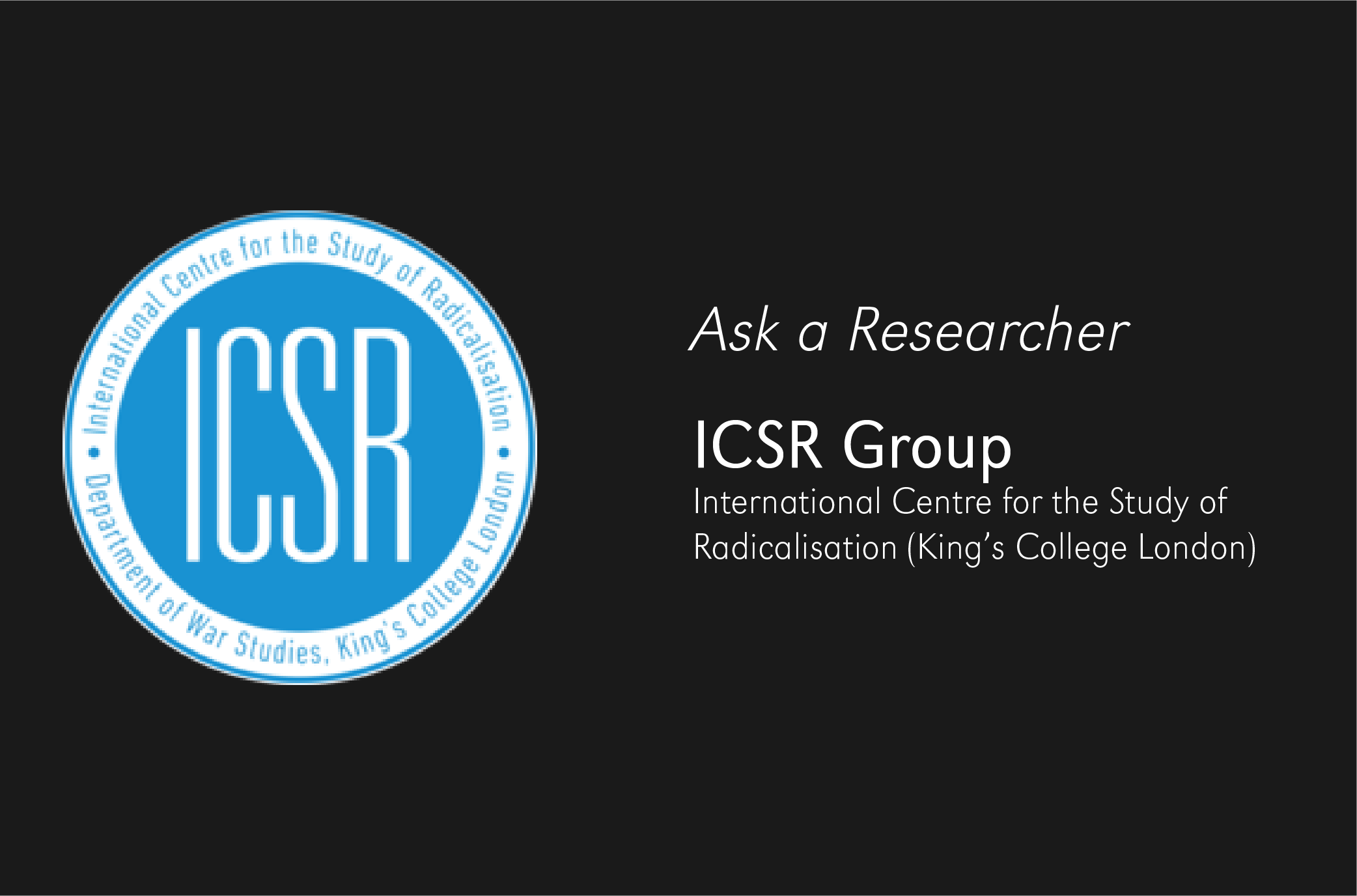 Q: How do terrorist/extremist groups influence one another?
Most insurgent groups are inherently imitative, continually learning from one another – even rivals – in an effort to improve their prospects. Learning occurs through conscious and unconscious processes which are themselves direct or indirect. "Conscious processes" refers to learning that is deliberate and based on one group observing another with a specific view to improving their own capabilities. "Unconscious processes" refers to learning that occurs as a result of groups organically trying to keep up with the rest of insurgent milieu within which they exist. These processes are direct when they draw on specific instructional and doctrinal texts and indirect when they are borne of more imitative, "learn-by-doing" approaches.

When it comes to the nature of what it is that is being "learned," let's draw on Martha Crenshaw's framework for differentiating between different forms of terrorist innovation. She holds that innovation can be tactical, strategic, or organizational. Tactical innovation involves the development of new tactics, techniques, and technologies. An example of this would be the deployment of suicide operations via up-armored vehicle-borne improvised explosive devices (VBIEDs) on the battlefield instead of just using them for terroristic purposes. Strategic innovation involves the adoption of new objectives, which itself requires new tactical or technological approaches. An example of this would be violent extremist groups seizing and governing territory instead of just waging asymmetric war against state-level adversaries. Organizational innovation involves changes to the essential form of the group itself. An example of this would be the Islamic State's declaration and subsequent bureaucratization of its caliphate in 2014.
Q: What consequences are there for de-platforming? What has your own research told you about what happens to extremists when de-platforming occurs?
De-platforming is an interesting phenomenon because it plays out in different ways for different actors. When looking at extremist influencers, those who serve as "nodes" within online communities, it's clear that de-platforming has had a serious impact on their ability to both operate and monetize their message. By removing them from mainstream platforms, social media companies introduce points of "friction" between average users and the influencer. This can mean some migrate to smaller, lesser-known platforms, but these fail to offer the same kind of critical mass as mainstream platforms.

Consider the case of Milo Yiannopoulos. Prior to being de-platformed, he had a following of more than 4 million people across Facebook, Instagram, and YouTube. "Now, I am glad to get 3,000 views on a meme on Telegram. That's what they did for me. That's what they did for us. It was a declaration of war," he lamented after being removed from those platforms. Although he moved to other ones, none could replace the following or appeal of mainstream ones. "It's just not a good use of my time to be here," he concluded. "Talking to the same 1,000 people, none of whom buy books, tickets to anything or donate … I can't put food on the table this way … I'll just retire from social media entirely tbh (to be honest)."

These issues were explored in a paper co-authored by researchers from ICSR and a Canadian colleague, which can be read here. What we don't yet know – but are hoping to research soon – is what impact de-platforming has on those with smaller followings. These are those people who watch and follow extremist communities online, without necessarily being overly active within them.
Q: Your focus is on transnational influence: non-U.S. actors influencing U.S. groups. In the past year, how have U.S. groups influenced extremist groups in Europe, Russia, and elsewhere? And what are you seeing internationally with the QAnon conspiracy theory?
Ideologically motivated violent extremists (IMVE) have become more active and dangerous in the last 10 years and have developed a significant online presence and infrastructure. Growing digital ecosystems that are predominantly occupied by IMVE actors break traditional geographical boundaries, which has permitted the establishment of close transnational relationships. Analysis of social media data, court documents, travel histories, and other data points highlights how not only prominent individuals, but also rank-and-file IMVE actors have actively sought out relationships with translation IMVE groups and movements.

In light of these relationships, IMVE actors have become united by narratives, national inspirations, travel, joint training, music, and in 2020 through the global COVID-19 pandemic. COVID-19 has played an important role in developing transnational relationships as IMVE actors can all be related to anti-government sentiment and narratives, as well as the common trend toward anti-Asian activity due to the Chinese origin of the virus. The number of IMVE actors engaging with conspiracy theories was on the rise in 2020, which led to global protests against various COVID-19 restrictions, which at times were globally coordinated.

QAnon is likely a good case study for these phenomena, where QAnon communities have been found in 82 countries.
Transnational QAnon is manifested in two narratives: A. There are deep states in every country, the U.S. deep state is the first of many to be toppled; B. there is a single deep state and international QAnon believers call upon (Donald) Trump and Q-team to send the U.S. Army abroad to liberate them. Presently, narrative A is the most predominant one, and transnational QAnon communities maintain the core ideology. However, they have adapted it to their domestic socio-political and news environment. This means that QAnon, or its future evolution will be resilient to any failed prophecy made by "Q" or QAnon influencers. What this translates to is QAnon mobilization abroad as seen in August 2020, when a coalition of IMVE actors (QAnon among them) stormed the Reichstag. In a now defunct French QAnon channel, members considered meeting up in the French countryside to train for the future fight against the deep state, and ex-military and law enforcement individuals offered to share their knowledge and tactical acumen. The QAnon mobilization that has been seen in the U.S. is likely a trend that will be seen in Europe in the months to come.
Q: What influence has the COVID-19 pandemic had on terrorist-extremist group behavior?
In the first half of 2020, the common consensus was that groups like the Islamic State would benefit from the global outbreak of COVID-19, using the additional demands it brought upon states the world over as an opportunity to engage in more acts of violence (both terroristic and military in nature). While most analysis noted that many other contributing factors existed independently of COVID-19 — among them failing economies, corrupt or ineffective security apparatuses, and factionalist political systems — it was generally agreed that Daesh would make much of the opportunities afforded to it by the pandemic.

With the passage of time, this position turned out to be unfounded, at least in the short term. Whether it was the Islamic State, al Quaida or the Afghan Taliban, there was no marked or sustained uptick in kinetic activity that correlated positively, let alone neatly, with the onset of COVID-19. To be sure, there were occasional intensifications in operations, but these were generally fleeting and characterized by relatively low quality, unsophisticated attacks.
In the medium and long term, we could come to see COVID-19 having a greater, more noticeable impact in the context of appeal, recruitment and outreach. The stresses the pandemic has placed on government budgets everywhere is likely to have — or, indeed, may already be having — second and third order impacts on populations that were already considered vulnerable to radicalization. As economies weaken and states tighten their belts, problems like inequality and polarization are likely to worsen. Add to this the already (and independently) metastasizing menace of hate-based identity politics, and the violent extremist "offer" may begin to look more appealing to some.
Q: How are governments responding to the threat of extremism?
To understand government responses to extremism, we need to pare the phenomenon down into two distinct parts. The first relates to violent extremists, against whom Western governments have been relatively effective in terms of thwarting attacks and prosecuting those engaged in terrorist activity. Where things become trickier is in regard to nonviolent extremism, which can sometimes create an environment where violent activity becomes licensed or excused. Governments find this a particularly difficult space in which to intervene precisely because it is so contested. After all, what constitutes extremist belief? This has been challenging when confronting Islamists in the past but has become even more contested in recent years with the rise of nativist and populist movements across North America and Europe. No one has yet worked out precisely how governments should intervene in this space, although the British government has implemented a strategy known as Prevent, which aims to intervene with those deemed at risk of being radicalized into violent extremism. The idea is to safeguard vulnerable people and dissuade them from pursuing a path which could lead to criminal activity.
Q: What are trends to watch in 2021?
The first trend to watch for in 2021 is the continued impact COVID-19 will have on radicalizing individuals and mobilizing ideologically motivated violent extremists (IMVE). The unpredictability around the outcome of the pandemic and the uncertainty around secondary and tertiary effects of the pandemic create a large pool of potential threat vectors that are in constant flux and evolution. However, some threat vectors will continue to be present such as protests against COVID-19 restrictions, and new threat vectors can present themselves with the arrival of vaccines, as was seen with the bombing of a vaccine facility in the Netherlands or the tampering and sabotage of vaccines by conspiracy theorists or extremists, as was seen in the U.S.

The second trend to watch out for stems from the mass de-platforming of IMVE actors following the insurrection of Jan. 6. Those who have been banned from mainstream platforms have now found homes on a host of alternative digital ecosystems and platforms. However, not all of those who were de-platformed would meet the threshold of violent extremists, nor were the violent extremists necessarily familiar with some of the actors found in these alternative spaces. Consequently, a trend to watch out for in the creation of a) new radicalization pipelines for the next waves of individuals banned from mainstream platforms; b) the creation of new coalitions of IMVE actors or the amalgamation of groups and ideologies; or c) the recruitment of ideologically motivated extremist actors by violent extremist groups.
The third trend to watch out for is the continued targeting of critical infrastructure by IMVE actors. In 2020, conspiracy theories about 5G technologies causing the symptoms of COVID-19 led to a wave of cell towers being set on fire. Recent reporting has shown that since the inauguration of President Joe Biden, conspiracy theorists and IMVE actors have or attempted to target cell towers and other critical infrastructure. Additionally, taking lessons learned from IMVE actors in the 1990s who targeted abortion clinics, a potential trend is the targeting of critical medical or vaccine related infrastructure resulting from disinformation or conspiracy theories.

The final trend to watch out for is the continued development and expansion of transnational IMVE networks and coalitions. The continued impact of the pandemic and the common grievances resulting from COVID-19 makes for common enemies and targets. Developing target selectors, profiles, and threat matrices for the possibility of a boom in IMVE foreign travelers after the pandemic would be critical in this space, as online relationships will motivate individuals to travel and existing toolkits and selectors might not be sufficiently developed for the new breed of IMVE actors that have appeared in the past 24 months.
Q: Currently, King's College London is the only international partner in this U.S. Department of Homeland Security consortium. What does that mean for you?
The International Centre for the Study of Radicalisation (ICSR) is an academic research center based within the Department of War Studies at King's College London. Since the center was launched in 2008, it has focused on producing first-class academic research with a clear policy focus to better inform government, industry, and the general public.
To that end, we have always had a strong focus on the U.S. and have engaged in numerous projects which explore challenges to U.S. national security. Through the years we have worked with colleagues from institutions such as the University of Pennsylvania, George Washington University, Johns Hopkins University, and Georgetown. In 2015, we even participated in the White House Summit on Countering Violent Extremism convened by President Barack Obama. This is coupled with our strong engagement with the U.S. corporate sector too. We have convened the Global Network on Extremism and Technology (GNET), which is the academic research arm of the Global Internet Forum to Counter Terrorism (GIFCT) – an NGO founded by Facebook, Microsoft, YouTube and Twitter to better understand the ways in which terrorist use technology.

In that sense, we have always been connected to the U.S. national security debate and regard ourselves as being able to offer new perspectives from across the pond. We believe we are uniquely placed to not just understand U.S. security concerns but can also offer insight, experience, and best practices from the European experience too. This places ICSR in an enviable position, being able to bring an outside perspective to debates and issues we are always already well acquainted with.

When the opportunity presented itself to join this consortium, we were thrilled. It represents a real opportunity for us to engage with U.S. officials to help them better understand the security challenges they face through empirical and evidence-led research. This is our core mission as a research center, and there's no better platform through which to engage in this kind of research dissemination than this unique offering from the Department of Homeland Security.