UNO's MBA Capstone Supports the DHS
Students can be resource for Homeland Security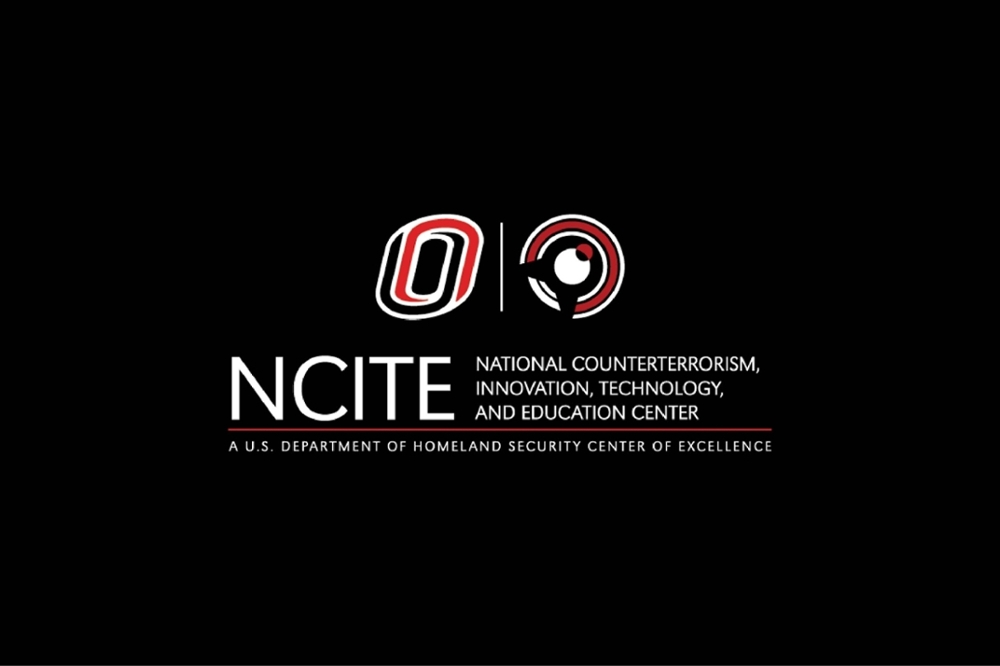 The client met her consultants the way practically everyone has had to do in 2020. On a computer screen.
One by one, faces popped up on Microsoft Teams screens on a Tuesday morning in December, and the client, Salina Greene, gushed: "I'm seeing my consultants for the first time. This is exciting!"
Greene opened a meeting that had a two-fold purpose.
First was hearing what these "consultants," a trio of University of Nebraska at Omaha MBA students, had to say about hate and extremist group presence in Omaha and the entities that exist to counter that presence and prevent violence. Greene was still new to town, having uprooted from Washington, D.C., to take a new job as regional prevention coordinator for Homeland Security's Office for Targeted Violence and Terrorism Prevention (OTVTP).
She needed a lay of the land to build a prevention strategy framework to address growing risks of violence exacerbated by the COVID-19 pandemic, contentious presidential election, and civil unrest over issues of police violence and race.
But the second reason was on the consultant end. These MBA students were days from graduating. Helping Greene was their capstone project.
Pairing MBA students with startups or community nonprofit and arts groups is something the UNO College of Business Administration has done before. Business students get a real-world assignment; clients get free consulting services.
What is unique this time around is the presence of Homeland Security clients. Taking advantage of the newly established National Counterterrorism Innovation, Technology, and Education (NCITE) Center at UNO, UNO management professors who also are principal investigators on NCITE education projects decided to try adding Homeland Security clients to the mix.
As part of the eight-week class, 10 MBA students were assigned to two Homeland Security offices: OTVTP and a unit within Immigration and Customs Enforcement's Homeland Security Investigations (HSI) that investigates human rights violators.
OTVTP projects looked at both regional and national efforts at prevention. The projects for HSI Human Rights Violators and War Crimes Unit dealt with illegal mining and weapons trading in Africa.
Students were introduced to problem sets and were told to identify key actors and stakeholders; provide network analysis; and prepare reports, presentations, and press releases on their findings.
The assignment is not easy, said Erin Pleggenkuhle-Miles, an associate professor in the management department.
"It's a really quick turn for complex and often undefined problems," she said.
Erin Bass, an associate professor of management with past corporate experience, said students are pushed to come up with something the client can use, not something theoretical. And they fill a gap for DHS, providing both a deep dive into a problem and offering a business lens.
"We have to be delivering some kind of value," she said.
The value to DHS across the four projects was time and a business perspective. Homeland Security analysts and managers face solving big problems with sometimes small staffs. They might not have access to the kind of thorough and quick-turn research capabilities students can provide. Students can also provide the vantage point of business partner engagement.
The value to students goes beyond experience; they get a sense of purpose.
"They can do a little part to do a big good," said Pleggenkuhle-Miles.
Graduate students often have the benefit of other lived experience and past expertise that can be especially helpful for projects like these.
Take the MBA team that helped Trace Lasley, an American University professor of practice in justice, law, and criminology and a historian with the Human Rights Violators and War Crimes Unit.
Lasley was looking for a new perspective on human rights violations in central Africa. He gave students general direction and let them decide what angle to pursue.
Lasley had worked in the past with students who had social sciences backgrounds. Business students were a first.
Students Lindsay Wyant and Jerry Farke had experience especially helpful for this task. Wyant formerly worked in human resources and had an interest in human rights. Farke has a mechanical engineering degree from South Dakota School of Mines & Technology.
They were glad to dive into a subject they considered worthy.
"Case studies can only take you so far," said Wyant.
"Above and beyond my expectations for a capstone. Not a canned project with a simple solution. This is a real-world problem," said Farke.
Wyant and Farke focused on the mining e-commerce and the supply chain in the Democratic Republic of the Congo. They utilized several analytical models learned in the MBA program to look at this problem from a different angle.
Lasley said the business student work was helpful in furthering his unit's overall goal of identifying, investigating, and prosecuting human rights violators. He said the students applied business tools that helped inform his thinking and "shed light on areas we weren't looking at before or looking at in that way."
The point of the student work is less about identifying violators as it is about showing new ways at looking countries, regions and conflicts.
"From that closer look, we may be able to derive information that pushes us into looking more closely at a company, an individual, a group," Lasley said.
In turn, Lasley said he hopes the experience shows business students how marketable their skills are in the Homeland Security Enterprise and national security work in general.
"The consultant business in and around D.C. is huge," he said.
Greene, of OTVTP, gave her UNO team another real-world problem with a long wish list. Placed in Omaha in September, she is charged with overseeing prevention efforts in four states.
Her MBA team was ready. Students Mary Gresko, active-duty Navy working for USSTRATCOM at Offutt Air Force Base, brought a background in long-term strategy planning. Erik Peterson, a software engineer working for UNeTech, a research startup incubator, has Omaha roots and strategy planning experience.
He called it a once-in-a-lifetime opportunity to work with Homeland Security and address a really important problem.
Derek Oden brought Capitol Hill experience; he worked for U.S. Rep. Don Bacon, R-NE, and was familiar with Homeland Security and the particular problems Greene was brought in to solve.
"No matter what side of the aisle you come from, there has to be a unified action plan, if you will, against all these hate groups that are forming," he said.
On presentation day, students, accompanied by their professor, Pleggenkuhle-Miles, showed their findings to Greene. They identified extremist groups in Nebraska. They identified key stakeholders. And they tried to offer a framework that could be replicated outside the state, which would help Greene, who also must work to prevent violence in Iowa, Kansas, and Missouri.
One important group in Omaha is the Tri-Faith Initiative, a campus housing a mosque, synagogue, and Christian church whose leaders work hard to bridge religious and other differences.
Each student took a turn explaining different findings. They ended with these recommendations: Identify violent organizations and hate groups. Monitor changes. Conduct stakeholder analysis to narrow focus on most effective partners in different geographic regions. Prioritize stakeholders. Engage key partners. Support long-term relationships and provide messaging and strategies that reflect current environment.
"This is great!" Greene said.
Students were asked why the Tri-Faith Initiative ranked so high on their list.
"Their mission completely aligns," Gresko said. "They're trying to bring people in, make a sense of community, say hey, 'Violence is not the answer.'"
One area that needs work: pushing back on extreme ideologies.
"A lot of it comes down to education," Oden said. "The biggest takeaway I have is there's a huge opportunity for DHS to partner with these groups. There is a willingness to partner on a larger scale and a willingness to be part of the team."
The presentation took a half-hour, but it was clear much more work remains for Greene and opportunities exist for more student collaboration.
NCITE Director Gina Ligon asked how Greene could market her efforts to the Omaha Police Department and others to interest them in Homeland Security efforts here.
"Funny you mention that," said Pleggenkuhle-Miles. "I have a draft of an email ready to go. We're recruiting projects for next semester!"