Omaha is right place, right time for new Homeland Security violence prevention coordinator
When DHS placed a regional violence prevention coordinator in Omaha, NCITE stepped in to help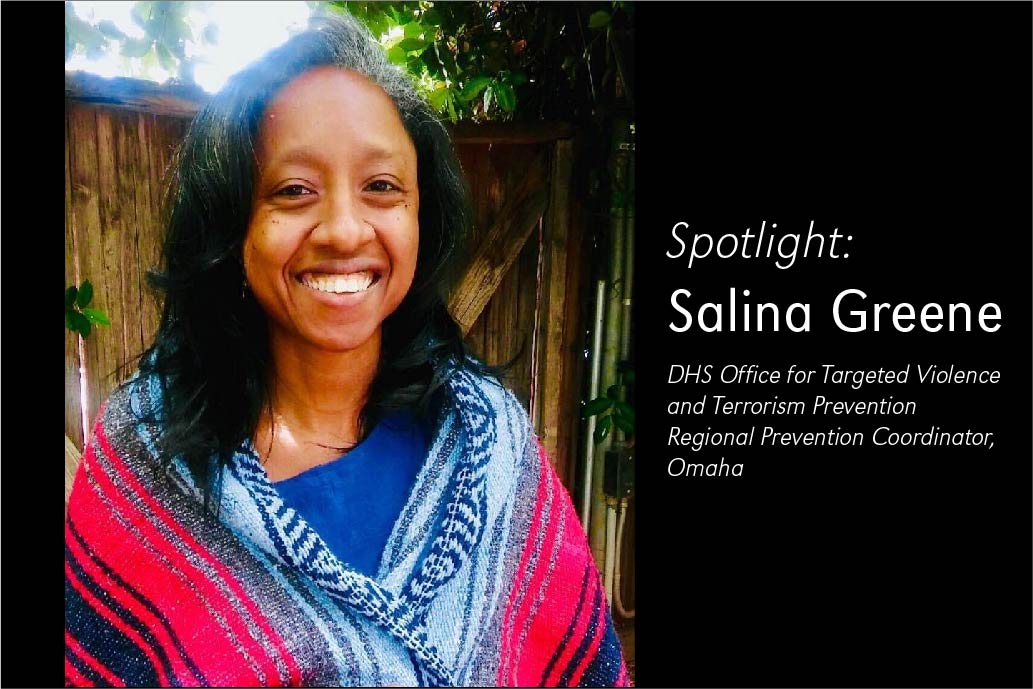 Salina Greene has been a costume designer in New York City, a research assistant in San Francisco, a graduate student in St. Louis and Oxford, England, and an equal opportunities investigator in Chicago.
But for the past eight years, the Delaware native with a master's degree in international relations has built a career with the Department of Homeland Security. During her tenure, she has been an asylum officer, policy practitioner, senior immigration officer, and most recently, a regional prevention coordinator for the Office for Targeted Violence and Terrorism Prevention (OTVTP).
Her latest city is Omaha. Her latest charge is to identify hate and extremist groups and community supports in a region consisting of Nebraska, Iowa, and Montana. This is part of a broader Homeland Security effort to engage and work with local communities to boost education, awareness, and training programs to prevent individuals from moving toward violent action.
It's also a recognition of threats across the ideological spectrum. Violence prevention programs are often underfunded. Communities at the family, neighborhood, and school levels are the first line of defense, as they recognize signs of radicalizing to violence before it becomes a law enforcement matter.
Anyone can be radicalized. I want to get to the root cause.
- Salina Greene, DHS OTVTP regional prevention coordinator
Greene is among 10 regional coordinators placed throughout the U.S. last year. Her arrival in September was timely for NCITE, which launched last July. With OTVTP Acting Director David Gersten on NCITE's board and with an NCITE research theme focused on prevention, NCITE Director Gina Ligon has looked for ways to collaborate with, learn from, and support Greene.
One way was through the University of Nebraska at Omaha's MBA capstone program. Three MBA students created an initial roadmap for Greene, laying out the risk groups and help groups in the Omaha metropolitan area, which spans about 1 million people. It's a tailor-made, locally focused plan of action that will help Greene create a comprehensive, sustainable prevention framework for UNO's community.
Greene said the student project, combined with help from NCITE staff, has provided "an invaluable gateway."
"One cannot be successful in this line of work without a collaborative effort," she said.
Greene said her placement is a response to a growing threat from domestic actors who are motivated toward violence because of beliefs about race, ethnicity, government, and authority.
"While the underlying rationales may differ," she said, "the threats of targeted violence and terrorism increasingly overlap, intersect, and interact with each other."
She said it's important not only for law enforcement to be aware but also to build community resilience. Of all the places she's lived, Greene said, her experience in Omaha, even in a pandemic, has been heartening.
"Never have I lived in a place that promoted so much community involvement," she said. 
That will be helpful after an unprecedented year. The COVID-19 pandemic, the economic and social isolation fallout, and the turbulent presidential election, combined, add to existing risk factors of targeted violence.  What gives her hope is the potential of communities to stitch together in hardship. A new year with a new vaccine offers that light at the end of the tunnel. Greene is clear-eyed about the current climate and the challenge of preventing violence.
"Anyone can be radicalized," she said. "I want to get to the root cause."
Greene's background will help. Her interests in theater and design reflect a creative background that is often helpful in attacking complex problems like terrorism and targeted violence. Her travels and past experience also offer unique windows into diverse communities.
With NCITE's presence, Greene feels like she's in the right place at the right time.