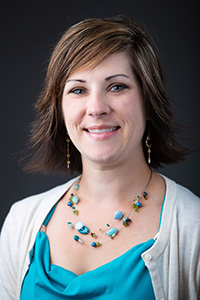 Dr. Paula M Jakopovic
Teacher Education, Instructor
---
email:
office:
RH  308M
office phone:
note:
This profile is pulling in data from Digital Measures. Postings on personal websites or social media do not indicate that the individual is speaking on behalf of UNO.
General Information
---
Biography
Dr. Jakopovic is a former classroom teacher and elementary mathematics coach for the Omaha Public Schools. Also a UNO CADRE alumni, she joined the TED team at UNO in Fall 2018 as a full time instructor. She currently teaches both undergraduate and graduate STEM education courses in the Teacher Education Department of CEHHS.
Teaching Interests
Elementary and Early Childhood Mathematics, Teaching and Learning, Effective Teaching Practices, STEM Education, Formative Assessment, Instructional Coaching, Data Driven Decision Making, Integrating STEAM into the Classroom
Research Interests
Mathematics Education, Instructional Coaching/Mentoring, Integrated STEAM in PreK-12 Education, Preparation & Retention of STEM Teachers, (STEM) Identity in Undergraduate Pre-Service Teachers, Active Learning in Undergraduate Mathematics Courses
Service Summary
Dr. Jakopovic currently serves on the Graduate Elementary Education Program Committee in the department of Teacher Education and is an active member in several campuswide Faculty Learning Forums and Communities of Practice. In the community, she collaborates with the Omaha Public Schools as a consultant on their five year Math Task Force, is actively involved with the Omaha STEM Ecosystem, and works with area school districts to provide professional development opportunities for in-service teachers in the area of mathematics education.
Awards and Honors
2020 President's Faculty Excellence Awards, Teaching - 2020
Education
Ph D, University of Nebraska at Lincoln, Lincoln, Nebraska, Doctor of Philosophy, Elementary Mathematics, 2017
MS, University of Nebraska at Omaha, Omaha, Nebraska, Elementary Education, Integrating the Arts, 2004
MA, University of Nebraska at Lincoln, Lincoln, Nebraska, Teaching Middle Level Mathematics, 2010
BA, University of Nebraska at Lincoln, Lincoln, Nebraska, Elementary Education, Elementary Mathematics, 2002
Scholarship/Research/Creative Activity
---
Selected Publications
Hodge, Angie, Rech, Janice, Gomez Johnson, Kelly, Jakopovic, Paula, Matthews, Michael. 2019. Mentoring Future Mathematics Teachers: Lessons Learned from Four Mentoring Partnerships, The Journal of Mathematics Education at Teachers College (JMETC), 10, 2, 37-43.
Friend, Michelle, Jakopovic, Paula, Love, Betty, Winter, Victor. 2019. Bricklayer: Mathematics Through Art and Coding. , Proceedings of Society for Information Technology & Teacher Education International Conference. , 2019.
Jakopovic, Paula, Friend, Michelle, Love, Betty, Winter, Victor. 2019. Changing the Game: Teaching Elementary Mathematics Through Coding, Association for the Advancement of Computing Education, 2019, 1, 6.
Gomez Johnson, Kelly, Jakopovic, Paula. 2019. Finding their Voice: Support Mechanisms to Engage and Empower Future Mathematics Teachers, PROCEEDINGS OF THE EIGHTH ANNUAL MATHEMATICS TEACHER EDUCATION PARTNERSHIP CONFERENCE, 2019, 56-64.
Externally Funded Research
NebraskaMATH Omaha Noyce Partnership, National Science Foundation, Federal, 11/01/2014 - 10/31/2020
NebraskaMATH Omaha Noyce: Phase2, National Science Foundation, Federal, 10/01/2019 - 09/30/2024
IBL Communities, National Science Foundation, Federal, 10/01/2019 - 09/30/2022
Service
---
Department, College, and University
Elementary Education Graduate Studies Committee, Committee Member, This committee met periodically throughout the year. As a member I attended meetings, provided feedback/input towards meeting the committee goals., 01/01/2019 - present
Professional
Mathematics Teacher Education Partnership, Committee Member, Committee member for the STRIDES RAC (research action cluster), focused on new teacher recruitment and retention in secondary math ed., 06/01/2019 - 06/30/2019
National Council of Teachers of Mathematics, Reviewer, Journal Article, Served as a blind peer reviewer for NCTM's new journal, Mathematics Teacher: Learning and Teaching PK-12 - present
Community
Omaha Public Schools Math Task Force, Committee Member, 01/01/2019 - 01/31/2019