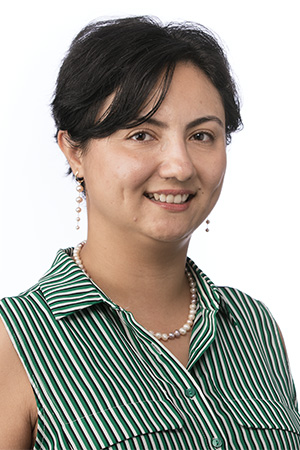 Dr. Madina Djuraeva
she/her
Teacher Education, Assistant Professor
---
email:
office:
RH  212H
office phone:
Google Scholar:
ORCID:
note:
This profile is pulling in data from Digital Measures. Postings on personal websites or social media do not indicate that the individual is speaking on behalf of UNO.
General Information
Biography
Dr. Djuraeva is an Assistant Professor of ESL, Bilingual and Biliteracy Education. Her research focuses on sociocultural, educational, economic, and politico-historical discourses of becoming and being multilingual, with implications for multilingual learner education and teacher preparation. Her work has been published in World Englishes, International Journal of Bilingual Education and Bilingualism, International Multilingual Research Journal,and Language Policy. Dr. Djuraeva earned her Ph.D. from the Department of Curriculum and Instruction and M.A. from the English Department at the University Wisconsin – Madison. A polyglot (Uzbek, Tajik, Russian, Kazakh, Korean, and Spanish) and a former Fulbright recipient, she is originally from Bukhara, Uzbekistan.
Teaching Interests
Undergraduate courses: Introduction to ESL Equity, Language and Cultural Literacy Graduate courses: Language, Culture, and Power Linguistic Human Rights in Education
Research Interests
Multilingual Learner EducationTeacher EducationMultilingualismPeace and Literacy EducationLanguage PolicyDiscourse and Narrative Analysis
Service Summary
Dr. Djuraeva engages pre-service teachers in her classes in two service learning projects with Benson HS ESL students and families of the Learning Community Center of South Omaha. She also serves in the Metro Area Teachers of English Language Learners Advisory Committee. At the institutional level, Dr. Djuraeva is part of the ORCA Faculty Advisory Committee, and she is also an advisor for the students organization "Worldwide Family". Dr. Djuraeva's service extends to reviewing scholarly work for academic journals in Linguistics, Anthropology and Education, as well as serving as an affiliate faculty for the Centerfor Peace and Development at the University of Oklahoma and the Center for Russian, Eastern European and Central Asian Studies at the University of Wisconsin-Madison.