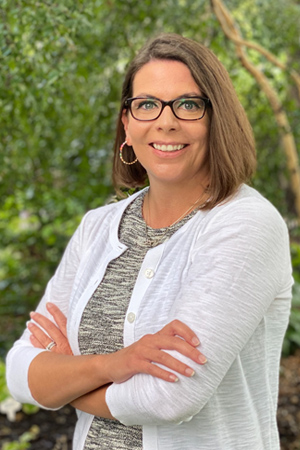 Dr. Andrea Starr Karpf
Andrea S Karpf
Teacher Education, Instructor
---
email:
office:
RH  406D
office phone:
office hours:
Wednesdays 12:30 pm - 2:30 pm , or by appointment
note:
This profile is pulling in data from Digital Measures. Postings on personal websites or social media do not indicate that the individual is speaking on behalf of UNO.
General Information
Biography
I was born in Arizona, lived in southern California yet consider Nebraska home. I started my career as a high school ESL teacher and then worked various positions in higher education. It is through these jobs that I have discovered my passion toward supporting Multilingual Learners as well as working with teacher candidates. I am grateful for the opportunity to pursue both of these passions here at UNO. I graduated with my Ed.D. in Educational Leadership at UNO in May 2021.
Teaching Interests
It is important for me to work with teacher candidates and provide pedagogical theory and connect it to teaching practice. As a former instructional coach, I have learned research-based coaching strategies that I continue to apply while supporting teacher candidates in the classroom and during field experiences. As a former ESL teacher, I have learned unique and effective ways to teach content to Multilingual Learners and this is something I like to model for my teacher candidates to help them grow their own teacher toolkit.
Research Interests
My dissertation was titled Preparing teacher candidates to support English learners in the grade level classroom: A perspective of the opportunity to learn and demonstrate EL instructional strategies. In my research, I explored how the teacher candidates have various opportunities to learn different EL instructional strategies as well as opportunities to demonstrate these strategies during field experiences. My research interest was driven by my passion to support Multilingual Learners in the grade level classroom. This led me to look through the lens of practitioner-based research to support ML students with language acquisition, content knowledge, and relationship building. Areas of action research I would like to explore include supporting Multilingual Learners in urban, suburban, and rural school districts and supporting teacher candidates through their field experiences in an instructional coaching method.
Service Summary
It is important for me to serve Omaha, the community I call home. I am a proud Omaha Public School parent and I serve on the District Citizen Advisory Committee as well as support my children's local school. I also serve on the Metro Area Teachers of English Language Learners (MATELLS) committee.