Renewal applications are managed by the Nebraska Department of Education (NDE). Individuals can view Nebraska certifications and expiration dates at https://teach.education.ne.gov/#/VerifyLicense.
Admin certificate renewal before certificate expiration or less than five years expired requires six (6) educational leadership (EDL) graduate credit hours. UNO Educational Leadership offers several 1-hour, asynchronous online courses each semester which can be used for admin certificate renewal: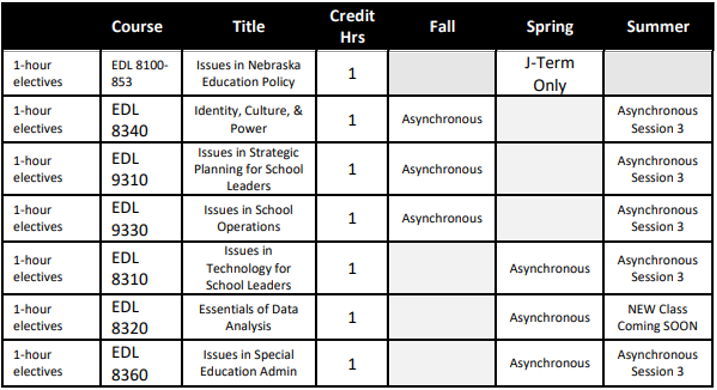 Other Educational Leadership (EDL) courses might be able to be used for renewal. Also, occasionally, a graduate class from other graduate programs in the College of Health and Human Science might qualify for 3 of the 6 renewal hours. Please check with Department Chair Dr. Tami Williams before enrolling in graduate classes used for renewal outside of the 1-hour electives listed above: Book time with Tami Williams
Next steps:
1. Determine the courses you'd like to take for your renewal.
If you want to take courses beyond the 1-hour electives listed above, connect with Dr. Williams to confirm the course(s) you'd like to take is available for renewal.
2. Apply to UNO to be a Graduate Student as a Non-Degree.
Even UNO alumni need to (re)apply to be a current UNO Graduate student.

Please email edleadership@unomaha.edu to notify us that you've applied as a Non-Degree student and are planning to classes for renewal.
Once you are accepted to UNO as a Graduate Student
3. Claim your identity via TrueYou.
4. Use MavLINK to enroll in the course(s) for the semester(s) you choose.
MavLINK log in is found at my.unomaha.edu).
5. Log into Canvas (Canvas log in is found at
my.unomaha.edu
) to access your course(s).