Leadership is the ability to make positive change.
Our Mission
The Department of Educational Leadership offers graduate programs leading to the Master of Science Degree in Education (MS), Education Specialist (Ed.S.) and the Doctoral Degree in Education (Ed.D.). The department also provides a non-degree administration endorsement program for students who have completed a master's degree.
The department's degree and endorsement programs have a distinctive Metropolitan education orientation and are designed to prepare educators capable of providing effective leadership, particularly in metropolitan school districts.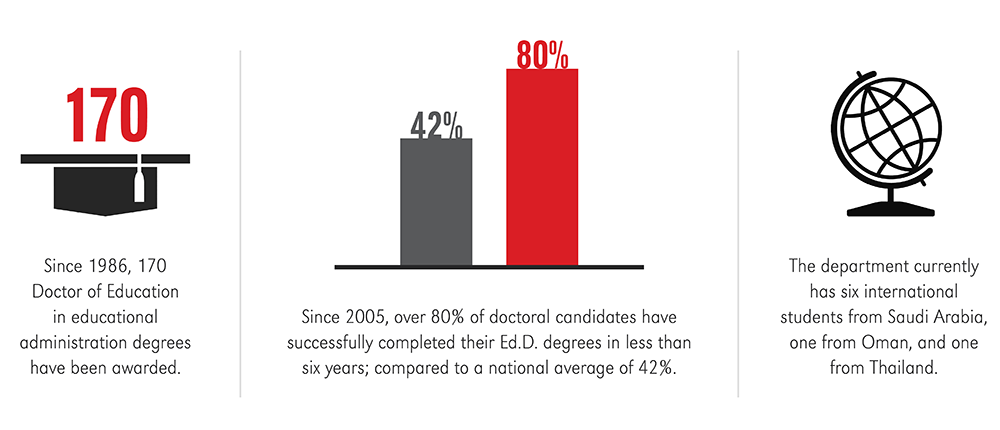 Quick Facts
Over 50% of school administrators (principals, assistant/associate superintendents, superintendents) in the Omaha metropolitan area have earned one or more degrees from UNO
Since 1986, 247 Doctor of Education in educational administration degrees have been awarded—40 candidates are currently completing dissertations
Partners with the Metropolitan Omaha Education Consortium—participating on each of the task forces and supporting the Midlands Superintendents' Academy
The department recently has six international students from the following countries: Thailand, Spain, Oman, Cameroon, and Saudi Arabia
The EDL Department was honored with the Dedication to Social Justice Through Education Award by the UNO American Multicultural Students Allies TRUST for continuing commitment to raising skills, awareness, and dispositions of educational leaders for work in PK-12 schools