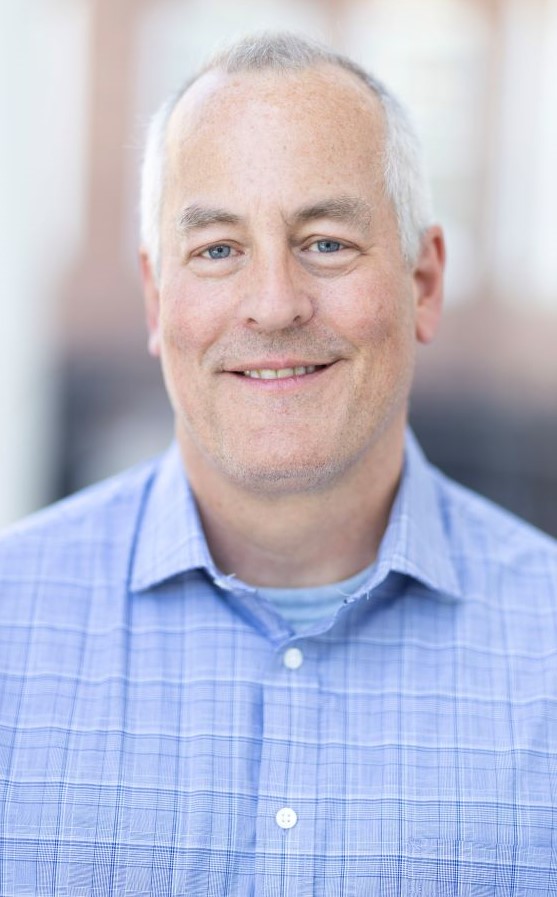 Elliott Ostler, Ed.D.
Kiewit Distinguished Professor
Educational Leadership, Professor
---
email:
office:
RH  312f
office phone:
department phone:
fax:
402.554.2722
note:
This profile is pulling in data from Digital Measures. Postings on personal websites or social media do not indicate that the individual is speaking on behalf of UNO.
General Information
Additional Contact Information
Office: Roskens Hall 312FPhone: (402) 554-3486e-mail: elliottostler@unomaha.edu
Biography
Elliott Ostler is a Professor in the Educational Leadership Department in the College of Education, Health, and Human Sciences. Before coming to UNO, he was a middle and high school mathematics teacher with experience in courses from computation mathematics through calculus. Since being at UNO, he has served in the Teacher Education Department and the Department of Educational Leadership, publishing nearly 100 articles and conference papers, seven books, earning a United States Design Patent, and collaborating on numerous projects across the university system resulting in over $10 million in external funding. His research focus is in applied STEM Education, which brings together the elements of academic science and learning/pedagogy theory to generate usable products at all levels of education. His current research collaborations are focused on investigating applications in quantum cryptography, developing mathematical models for the representing language, and developing applications of Instructional Fiction.
Teaching Interests
* Developing models for Integrated STEM Learning* Using Fiction based writing for Statistics Instruction
Research Interests
* Teaching applications of Content-Based Fiction writing* Integrated and Applied STEM Learning* Using English Language based structures for teaching mathematics
Service Summary
* 2020-21 UNO Faculty Senate President* CEHHS Reappointment, Promotion, and Tenure Chair (9 years)* 2017 Nebraska Association of Teachers of Mathematics President* Member of the College Board AP National Consultant Advisory Panel*
Awards and Honors
Award for Distinguished Research or Creative Activity, Scholarship/Research - 2018
Alumni Outstanding Teaching Award, Teaching - 2013
Innovation Development and Engagement Award, Service, Professional - 2016
Kiewit Distinguished Professorship, Scholarship/Research - 2019
Milton W. Beckman Lifetime Achievement Award, Service, Professional - 2013
Paul Kennedy Diamond Professorship, Scholarship/Research - 2013
Meritorius Service Award, Service, Professional - 2011
Faculty Development Fellowship, Scholarship/Research - 2013
Education
EDD, University of South Dakota, Curriculum and Instruction
MS, University of Nebraska at Omaha, Secondary Education/Math
BS, University of Nebraska at Omaha, Secondary Education/Math
Licensures and Certifications
2006-07 College Board Vertical Teams Certification, 01/01/2007
Scholarship/Research/Creative Activity
Selected Publications
Reding, Tracie, Ostler, C, Cutucache, Christine, Moore, Chris, Grandgenett, Nealy. 2021. Assessing a Higher Education Interdisciplinary Leadership Group Using Social Network Analysis, MacroWorld, 229-254.
Ostler, C. 2020. The Romanian Gambit: A Statistical Spy Novel, Kendall Hunt Publishing Company, NA, NA, 327 pages.
Parakh, Abhishek, Subramaniam, Mahadevan, Chundi, Parvathi, Ostler, C. 2020. A Novel Approach for Embedding and Traversing Problems in Serious Games, Published in the Proceedings for the 21st Annual Conference on Information Technology Education Conference, Omaha, NE: SIGITE.
Ostler, C. STEMathematics: Explorations in Applied Computation and Modeling, Cycloid Publishing, 427.
Ostler, C. 2013. Exploring Logarithms with a Ruler, National Council of Teachers of Mathematics, 106, 9, 668-673.
Externally Funded Research
QuaSim, National Science Foundation, Federal, 09/01/2016 - 02/29/2020
Quantum Cryptography Laboratories, National Security Agency, Federal, 09/12/2017 - 09/01/2019
SaTC:EDU:AQCL, National Science Foundation, Federal - present
NebraskaMATH Omaha Noyce Partnership, National Science Foundation, Federal, 11/01/2014 - 10/31/2020
Teacher Voice in Organizational Instructional Change Efforts (Teacher VOICE), National Science Foundation, Federal - present