UNO Theatre is committed to building community and keeping our art form alive during these challenging times. All productions will involve both UNO students and others from greater metropolitan Omaha.

We will deliver performances live on stage as well as on different virtual platforms including video, streaming video on demand.
Our Next Show
The Curious Incident of the Dog in the Night-time
Based on the novel by Mark Haddon
Adapted by Simon Stephens
Directed by D. Scott Glasser
Performances: Nov 18-21, Dec 2-5, 2021

UNO Theatre presents "The Curious Incident of the Dog in the Night-time" our second performance of the year. Fifteen-year-old Christopher has an extraordinary brain, but everyday life is challenging. When the neighbor's dog turns up dead, and he's suspected, Christopher embarks on an adventure to solve the mystery that takes him beyond his familiar street and overturns his world as well as ours.
Make plans to join us as we continue a season of big adventure!
Live performances in the Weber Fine Arts Theatre.
Nov 18-20 | 7:30pm
Nov 21* | 2:00pm (Sensory friendly performance)
Dec 2,3,4** | 7:30pm (ASL interpretation performances)
Dec 5 | 2:00pm
Tickets
General Admission - $16
Preview Performances - $10 (First Thursday Performance Only)
UNO students FREE w/MavCARD. Students go to the Box Office during the times listed below to get your free tickets
Box Office Hours

Nov 20-21 | 6-7:30pm

Nov 29 |
1-5pm
---
Crossing the Street
Performances: Mar 3-6, 10-13, 2022
A festival of many voices.
---
Ernest in Love
Book & Lyrics by Anne Croswell
Music by Lee Pockriss
Director: Ron Zank
Performances: Apr 21-24, 28-30, May 1, 2022

A witty adaptation of Oscar Wilde's sparkling play about social hypocrisy among Victorian England's wealthy elite.
---
Past shows:
UNO Theatre presents "She Kills Monsters" our first performance of the year. The show, by Qui Nguyen and directed by Denise Chapman, is a dramatic comedy set in the world of fantasy role-playing games, Agnes embarks on an adventure rich with elves, ogres, and homicidal fairies, while trying to understand the sister she didn't really know. Adventure starts at home, but what do we learn along the way?
Make plans to join us as we begin a season of big adventure!
Live performances in the Weber Fine Arts Theatre.
Oct 7-9 | 7:30pm
Oct 10 | 2:00pm
Oct 14-16 | 7:30pm
Oct 17 | 2:00pm
---
A lighthearted yet subversive virtual romp with the sly Shakespeare. Take 12 actors and 51 roles, stir them together, then let them find their way in Shakespeare's festive world. Give them free reign to define each character's gender identity. And what do you have? Unsex Me Here, Shakespeare, a gender defining defying entertainment.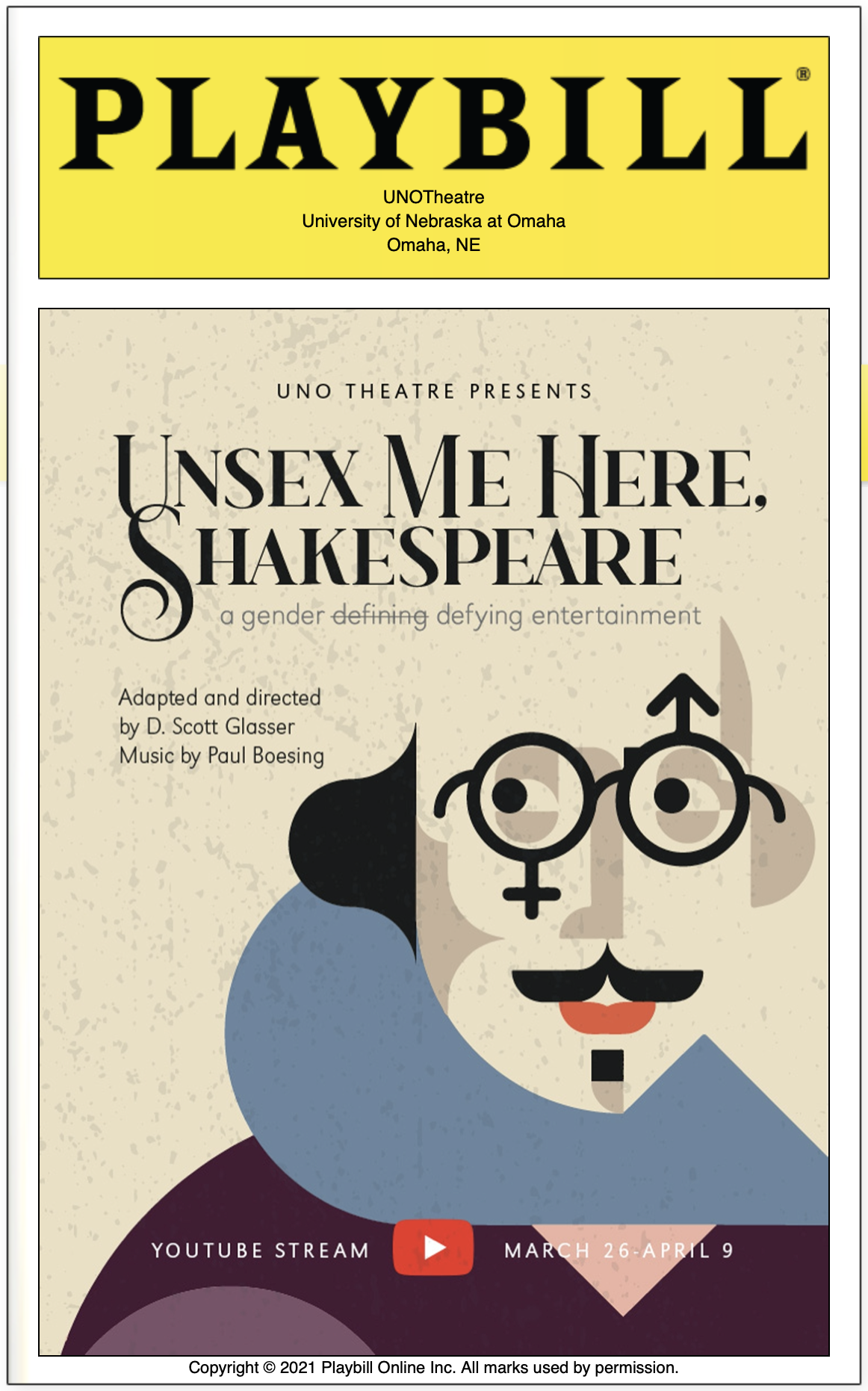 Adapted and directed by D. Scott Glasser. Music by Paul Boesing
---
2020 Fall Season
The School of the Arts and UNO Theatre present a musical inspired by all who have ever faced the challenges of changing circumstances. Using a broad range of characters from contemporary America, this is a moving portrait of courage and persistence through song. Its relevance to our own current events is sure to inspire audiences.
Video Premier Dec. 4
Video Available Dec. 4 thru Dec 18, 2020
Music & Lyrics by Jason Robert Brown
Originally Produced by the WPA Theatre, New York City, 1995, Kyle Renick, Artistic Director
Original Orchestration by Brian Besterman and Jason Robert Brown
Presented through special arrangement with Music Theatre International (MTI). All authorized performance materials are also supplied by MTI. mtishows.com
Queer & Women's Inclusive Theatre Festival
Produced by UNO Theatre students, the QWIT Festival presents six original shorts that put queer and women's experience centerstage. Quirky, campy, and compassionate, these plays are as distinctive as the members of the communities they represent. Celebrate diversity by discovering commonalities, exploring differences and contributing to a community conversation on the collective human spirit.
YouTube Video Release Party Oct 23 at 7:30pm CST
Check out other videos on the CFAM YouTube channel