UNO Theatre is committed to building community and keeping our art form alive during these challenging times. All productions will involve both UNO students and others from greater metropolitan Omaha.

We will deliver performances on different virtual platforms including video, streaming video on demand, podcasts, and possibly Zoom or even virtual reality. More info as it becomes available! Stay tuned!
Our Next Show
Never dull by the river! Mole needs a change, Ratty loves his boat, and Portly Otter goes missing!  Weasels and rabbits are running rampant, and Mr. Toad's obsessed with anything new and different. Is anyone safe when his obsession turns to automobiles? Friendships made, families tested, and grand theft: Toadie! 
 "The Wind in the Willows is not a children's book at all"—Peter Hunt, The Making of The Wind in the Willows
Live performances for limited family pods. April 17, 18, 24, 25 | 1pm & 3:30pm 
Bring blankets and seating for you and your family to the live performance!
Group tickets available for live performances HERE.
Available to view for free online April 30 - May 14.
By Kenneth Grahame
Adapted and directed by Ron Zank 
---
Available for viewing:
A lighthearted yet subversive virtual romp with the sly Shakespeare. Take 12 actors and 51 roles, stir them together, then let them find their way in Shakespeare's festive world. Give them free reign to define each character's gender identity. And what do you have? Unsex Me Here, Shakespeare, a gender defining defying entertainment.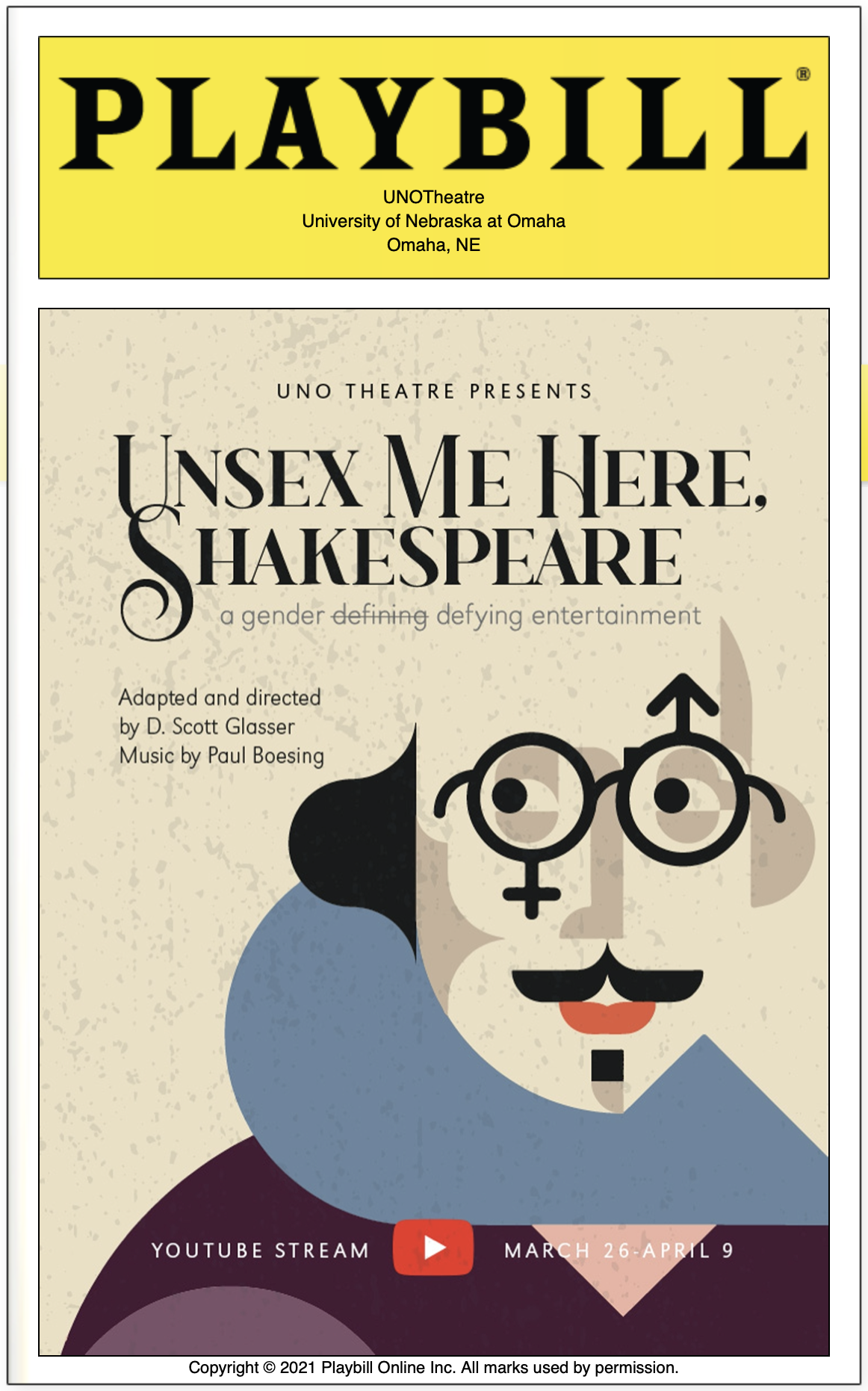 Adapted and directed by D. Scott Glasser. Music by Paul Boesing
---
2020 Fall Season
The School of the Arts and UNO Theatre present a musical inspired by all who have ever faced the challenges of changing circumstances. Using a broad range of characters from contemporary America, this is a moving portrait of courage and persistence through song. Its relevance to our own current events is sure to inspire audiences.
Video Premier Dec. 4
Video Available Dec. 4 thru Dec 18, 2020
Music & Lyrics by Jason Robert Brown
Originally Produced by the WPA Theatre, New York City, 1995, Kyle Renick, Artistic Director
Original Orchestration by Brian Besterman and Jason Robert Brown
Presented through special arrangement with Music Theatre International (MTI). All authorized performance materials are also supplied by MTI. mtishows.com
Queer & Women's Inclusive Theatre Festival
Produced by UNO Theatre students, the QWIT Festival presents six original shorts that put queer and women's experience centerstage. Quirky, campy, and compassionate, these plays are as distinctive as the members of the communities they represent. Celebrate diversity by discovering commonalities, exploring differences and contributing to a community conversation on the collective human spirit.
YouTube Video Release Party Oct 23 at 7:30pm CST
Check out other videos on the CFAM YouTube channel