Learning Outside the Classroom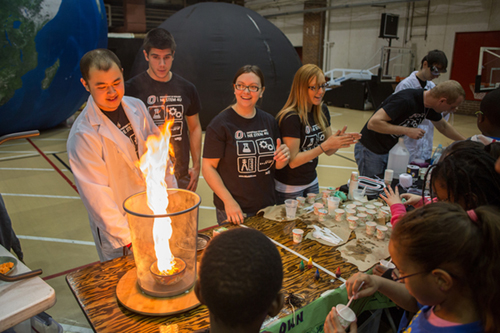 NE STEM 4 Ua student-run organization at the University of Nebraska Omaha that is committed to bringing quality, after-school science, technology, engineering, and mathematics activities to disadvantaged elementary and middle school students within the Omaha Public Schools.
---
Chemistry Club - The UNO ChemClub is open to all chemistry majors, chemistry minors, or just plain anyone who enjoys chemistry, lasers, polymers, acids, food, fermentation, molecules, or calorimetry. We meet once a month for formal meetings, and food is provided at every meeting for FREE! We attempt to help students envision the broad diversity of careers that a chemistry degree can help you attain, and we strive to encourage social covalent bonding with other students interested in chemistry.
---
C.A.P.O.W.
(Chemistry & Physics on Wheels) - A mobile science show of pops, bangs and flashes that travels to local schools. The program includes exciting overviews of physics, chemistry, and/or energy resources.
---
Pre-Health Professionals Club
- The purpose of the organization is to provide members with a broad-spectrum idea of all areas of health care through weekly speakers.
---
Students United for Global Health
- The goal of SUGH is to bring awareness of local and global health issues to UNO campus and actively fundraise and advocate for the development of health care in parts of the world that are most in need. SUGH is devoted to global health engagement and service.
---
Women in Science Technology Engineering & Mathematics
- WiSTEM is dedicated to encouraging women's success in the STEM (science, technology, engineering, and math) fields. We provide opportunities that will help women find their way to the STEM fields, support them throughout their academic career, and guide their path to fulfilling careers. All students are welcome to join us in advocating for women in STEM.