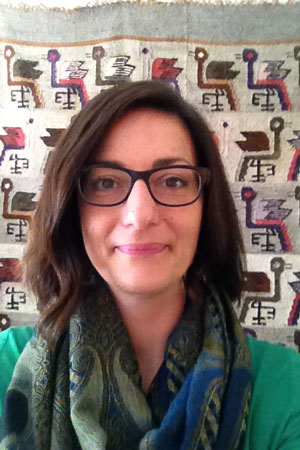 Sara Marzioli
Director, Interdisciplinary Studies
Instructor, Foreign Languages & Literature
---
Additional Information
Biography
Sara Marzioli received her Ph.D. in Comparative Literature from the Pennsylvania State University. She has taught Black American and Black European cultures, Italian Studies, Globalization and Migration literatures, and World Literature and Cinema. She is at work on a book manuscript titled, The Color of The Archive: Afro-Modernism Between the Atlantic and The Mediterranean, which brings into conversation Twentieth-Century African American and Italian writers and film directors, whose work addresses the intersection of history, narrative, and coloniality in Europe and the black Atlantic. She has published in African American Review, Atlantic Studies, and Modernism/Modernity.
Education
Ph.D. Comparative Literature, The Pennsylvania State University
       (Modernity and the African Diaspora in Italy and the black Atlantic)
M.A., Comparative Literature, The Pennsylvania State University
       (Francophone and African American Cultures)
B.A. Foreign Languages and Literatures (English and Russian)
Research Areas
Black European Studies
Cultures of the Atlantic African Diaspora
Afterlives of Modernity and Coloniality
Narrative and History
World Cinema
Migration Literature and Citizenship in Europe
Teaching Areas
Interdisciplinary Studies
The Black Atlantic and Black Europe
World Cinema
Italian Studies
Recent Publications
"Ralph Ellison at the American Academy of Rome." Invited contribution to Ralph Ellison in
Context, edited by Paul Devlin, Cambridge UP. Forthcoming in 2020.

"Snapshots of the Eternal City: Ralph Ellison in Rome." Modernism/Modernity, 24-4 (Fall
2017): 819-39.

"Conservative and Internationalist: George Schuyler's Pulp Fiction and The Imperialism of The Oppressed." In Nerds, Wonks, and Neo-Cons, edited by Jonathan P. Eburne and
Benjamin Schreier, Indiana UP, Spring 2016.

"The Subterranean Performance of History between Harlem and Rome in William Demby's The Catacombs." African American Review. 47.2-3 (Fall 2014): 417-29.

"Ralph Ellison's Exceptional Diaspora: The View From Rome." Atlantic Studies 9.4 (December 2012): 447-66.