Collaboration to Assist Afghan University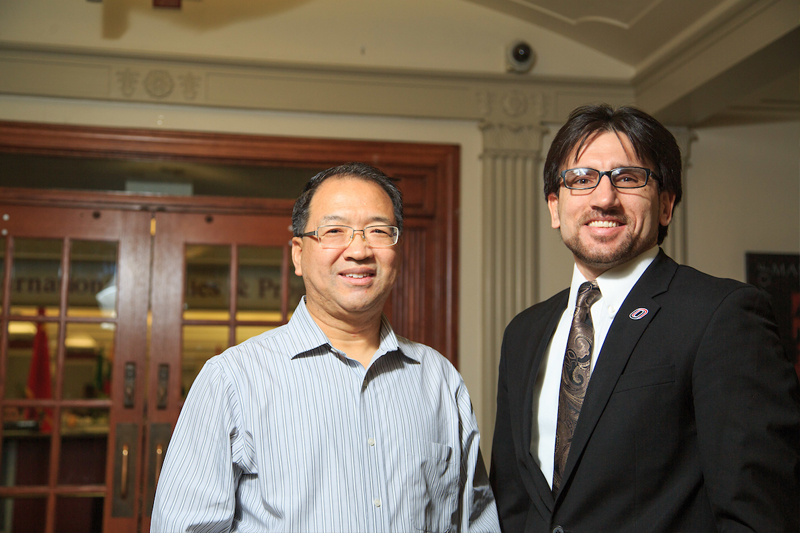 Junke Guo, associate professor of civil engineering at the University of Nebraska-Lincoln, and Sher Jan Ahmadzai, director of UNO's Center for Afghanistan Studies.
OMAHA -
The University of Nebraska at Omaha (UNO) and University of Nebraska-Lincoln will help an Afghan university review and improve one of its master's programs with assistance of an $850,000 grant.
The United States Agency for International Development (USAID) is funding the project. The grant runs through Sept. 2018, in support of a graduate-level hydraulics program at Afghanistan's Kabul Polytechnic University (KPU).
UNO Center for Afghanistan Studies Director Sher Jan Ahmadzai and UNO International Studies Director Patrick McNamara are the principal investigators on the grant. Both are also currently involved in two similar efforts, in partnership with Afghanistan's Kabul University and Balkh University.
"Simply put, we're helping Afghans build their education system in a way that meets the country's needs," Ahmadzai said. "UNO's Center for Afghanistan Studies has been active in Afghanistan for more than 40 years, and we are thrilled to be able to expand on the vital work that we have already been doing with the support of these federal grants."
This grant will provide new learning material and resources for KPU's Department of Hydraulics and Hydraulic Structures, as well as a needs assessment; curriculum and faculty development; and in-person training.
Junke Guo, associate professor of civil engineering at the University of Nebraska-Lincoln and the grant's academic director, said Afghanistan has a significant need for engineers, particularly those with an understanding of hydraulics.
"Though Kabul is Afghanistan's largest city, our team that recently visited the city observed that it doesn't have a sewer and water treatment system," Guo said. "The team was also told that the Government of Afghanistan plans to build 22 dams in the near future to improve the country's infrastructures for water supply, irrigation, and hydropower. To do this, the government will need many hydraulic engineers. Through this project, we can help KPU and the country meet this national need."
This effort is part of the USAID Afghanistan University Support and Workforce Development Program. The program's goal is to improve Afghanistan's higher education system and train qualified employees to serve the country's growing economy.
For media requests, please contact:

Charley Reed, UNO Associate Director of Media Relations
unonews@unomaha.edu
402.554.2129
About the University of Nebraska at Omaha
Located in one of America's best cities to live, work and learn, the University of Nebraska at Omaha (UNO) is Nebraska's premier metropolitan university. With more than 15,000 students enrolled in 200-plus programs of study, UNO is recognized nationally for its online education, graduate education, military friendliness and community engagement efforts. Founded in 1908, UNO has served learners of all backgrounds for more than 100 years and is dedicated to another century of excellence both in the classroom and in the community.
Become a fan of UNO on Facebook and follow UNO's Twitter updates.