The Biomechanics Research Building has expanded by more than 30,000 sq ft! The Dedication took place in October 2019.
| | |
| --- | --- |
| | |
| Cutting the ribbon | Doctoral Student, Todd Leutzinger and Dr. Brian Knarr demonstrating equipment |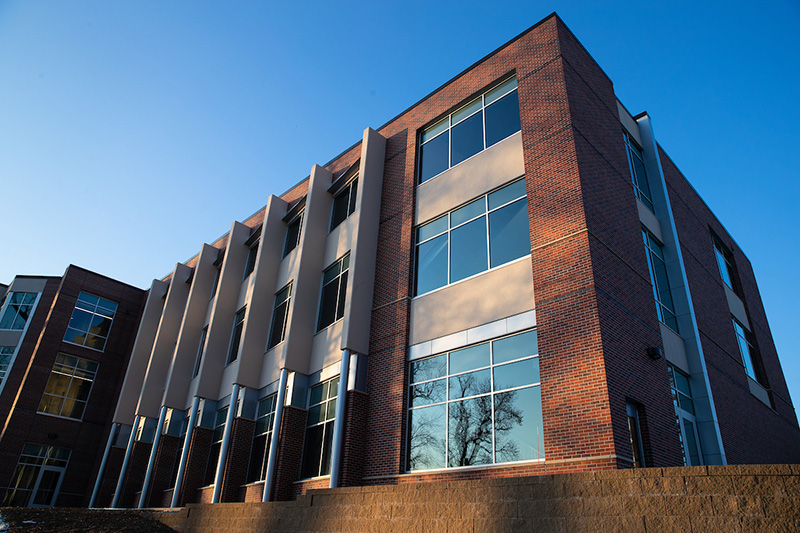 South facing side of the building.
The Center for Human Movement Variability uses the following research spaces:
GAIT ANALYSIS LABORATORY
Slightly smaller than the size of a basketball court with 24-foot ceilings; this laboratory features eight, force plates, an instrumented treadmill, safety harness system and 3D digital motion capture. This laboratory is utilized for research in gait variability in patients with Peripheral Arterial Disease.
VIRTUAL REALITY LABORATORY
A 43' x 29' laboratory housing an instrumented split-belt treadmill, bodyweight support system, 3D digital motion capture and custom virtual reality set-up. This laboratory is utilized for research in virtual reality effects on gait variability after stroke.
BALANCE LABORATORY
A 22' x 29' laboratory that features a clinical + research module Balance Manager by Neurocom®, a portable digital force plate and an isokinetic dynamometer. This laboratory is utilized for research in breathing and walking coupling variability in Chronic Obstructive Pulmonary Disorder.
MOTOR DEVELOPMENT LABORATORY
Set up as a traditional living room with couches, tables and lamps, this laboratory features a force plate embedded into a floor. This allows for a natural environment to perform postural development studies in children. This laboratory is utilized for research in the development of postural control variability in autism.
The Center has other spaces available for research by the Biomechanics faculty and collaborators:
3D PRINTING LABORATORY
The mission of the 3D printing lab is to create customized low-cost prosthetic and orthotic solutions for underserved populations and provide technical support to educational and medical institutions desiring to offer low-cost devices using 3D printing technology.
| | | |
| --- | --- | --- |
| Learning to use motor skills with the Cyborg Beast | | Dr. Peck fitting the Cyborg Beast |
| | | |
---
BIOINSPIRED ROBOTICS LABORATORY
A renovated space is designed to conduct experiments with bioinspired robotics in a 17' x 12' room.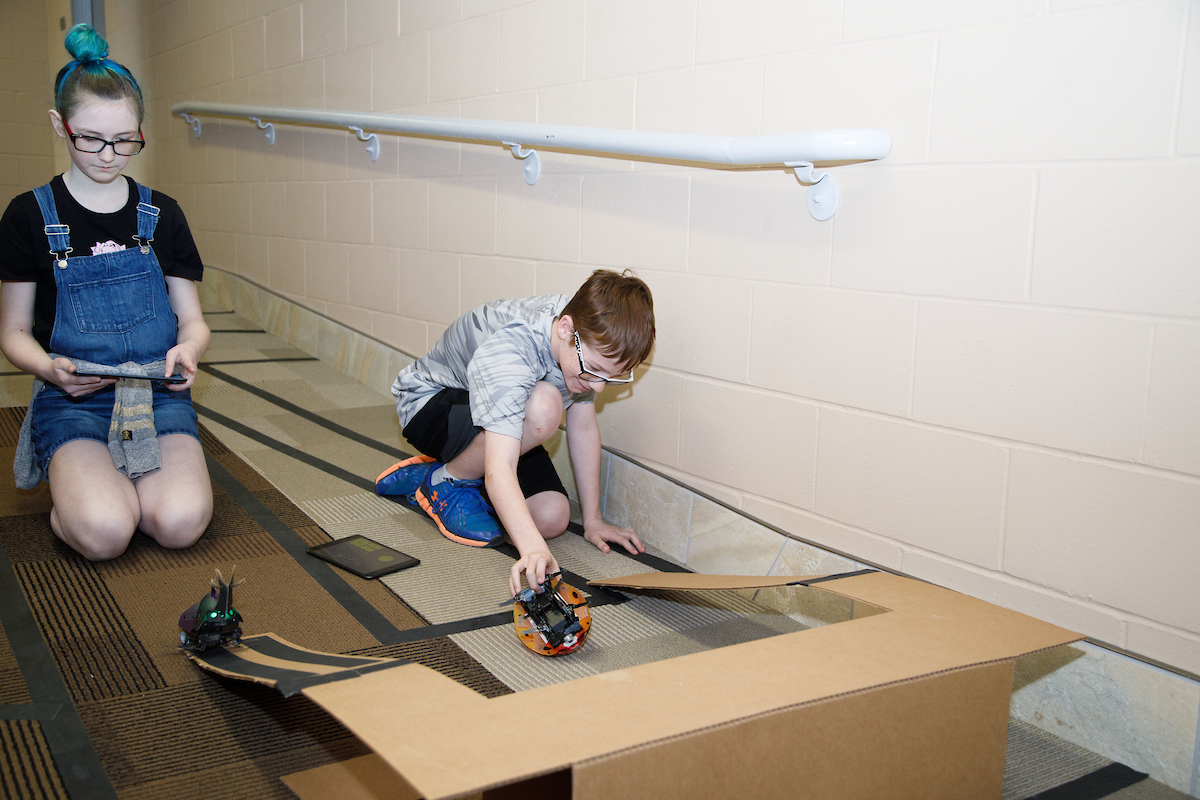 Students using some of the bioinspired animal robots outside the lab
MACHINE SHOP
Equipped with state of the art equipment to custom build and fabricate research tools, prototypes, laser cutting and others. Researchers and students can create items from start to finish.