UNO Jazz Camp featuring the Great Plains Great Big Band.
Sponsored By:
Make plans now to attend the 2023 Camp June 5-9!
---
Contact petermadsen@unomaha.edu for details.
Registered campers please check this website frequently for updated final camp details, audition music, and the online Jazz Camp Theory Placement Exam.
The UNO Jazz Camp is a commuter camp only. Overnight accommodations are not provided.
---
Placement Auditions and Theory Placement Exams DUE MAY 31
Camp placements auditions will be submitted via video. Audition requirements and music will be available this spring. Video auditions are due by 11:59pm on May 31.
The online theory placement exam will be available this spring. The online theory placement exam is due by 11:59pm on May 31.
Jazz Camp Scholarship Assistance
Students requiring financial assistance from the need-based Jazz Camp Scholarship Program please fill out this form first before registering. Scholarships will be applied through a discount code which will be e-mailed to recipients to use when registering.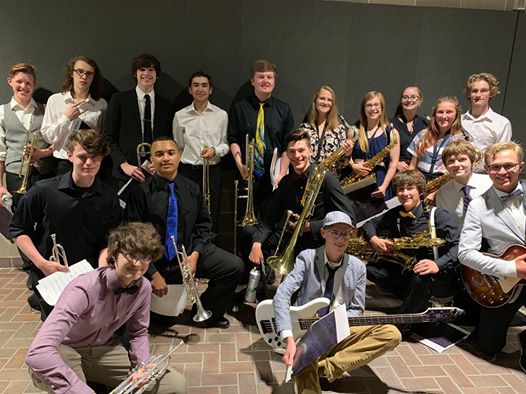 What to bring:
Instruments including amps and cymbals
Staff Paper
Folding Music Stand
Students will need lunch or money for lunch in the Food Court

Students are not allowed to leave campus for lunch
Fees and TuitionStudent tuition and fees are $400 after May 15. Prior to May 15 a $50 discount will be applied during checkout of the online registration process. Registration will close on May 31st. The camp fee includes an opportunity to work with professional musicians for five days in a variety of settings including:
Masterclasses
Theory Classes
Improvisation Classes
Sectionals
Rehearsals
Group Listening
Five concerts with the Camp All-Star Big Band
Group DiscountsA $25 group discount will be applied if 10 or more students from the same school register by May 15!
Jazz Camp All-Star Big Band Concerts
The Jazz Camp All-Star Big Band will perform at 1:00pm Monday through Thursday. These concerts are free and open to the public.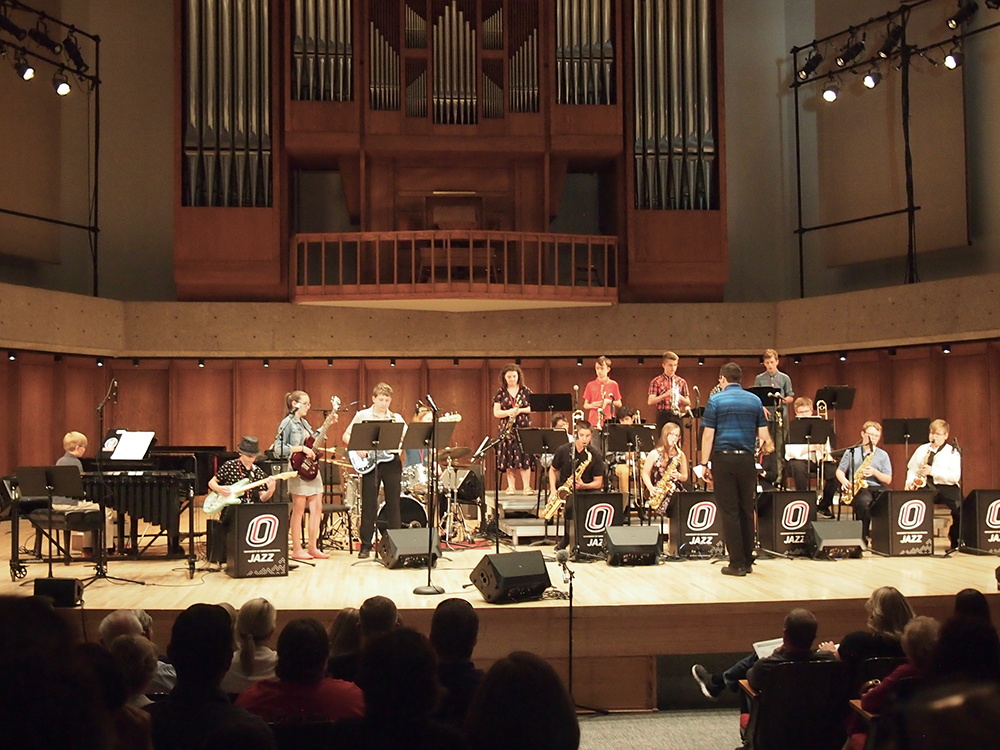 Tentative Schedule
Monday-Friday, June 5-9
Time

Event

8:00 A.M.
Meeting for ALL campers in the Strauss Concert Hall (Monday Only)
8:30 - 9:20 A.M.
Ear Training Class or College and Career Readiness
9:30 - 10:50 A.M.
Jazz Ensemble Rehearsal, Sectionals, or Listening Lab
11:00 - 11:50 A.M.
Masterclasses
12:00 - 12:50 P.M.
Lunch
1:00 - 1:50 P.M.

All-Star Big Band

Concerts (The UNO Band will perform Friday at 1:00pm)
2:00 - 3:20 P.M.
Jazz Ensemble Rehearsal, Sectionals, or Listening Lab
3:30 - 4:30 P.M.
Improvisation Class (Monday-Thursday)
4:30 P.M.
Camp Concludes (Monday-Thursday)
On Friday classes conclude at 3:20 P.M. and the final concerts will begin at 4:30 P.M. and 7:30 P.M.
Students will perform as the opening act for the Jazz Camp All-Star Big Band in the Strauss Performing Arts Center Concert Hall at 4:30 P.M. or 7:30 P.M. on Friday, June 9. Family members, teachers and friends are encouraged to come support the students as they demonstrate their improved skills and share a concert with one of today's hottest jazz bands!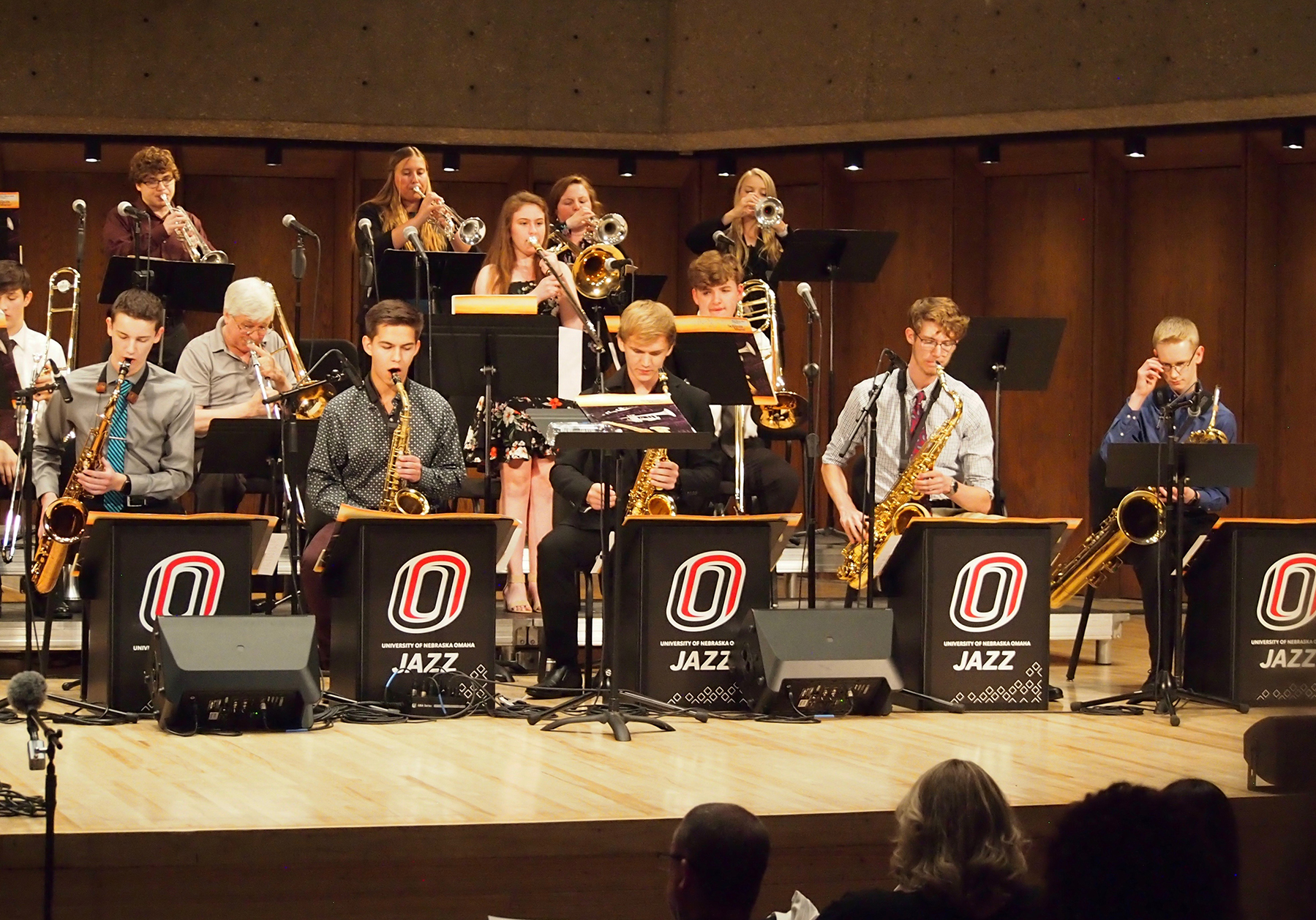 Camp Faculty
Saxophone SectionMary FettigChip McNeillDarren PettitMatthew StorieLauren Sevian
Trumpet SectionDustin ShrumJason JohnsonBijon Watson Willie MurilloKate Hamann
Trombone Section Scott Whitfield Brett Stamps
Pete MadsenSteve WilsonRhythm SectionKen KehnerAndy HallBrad ThomsonRay Brinker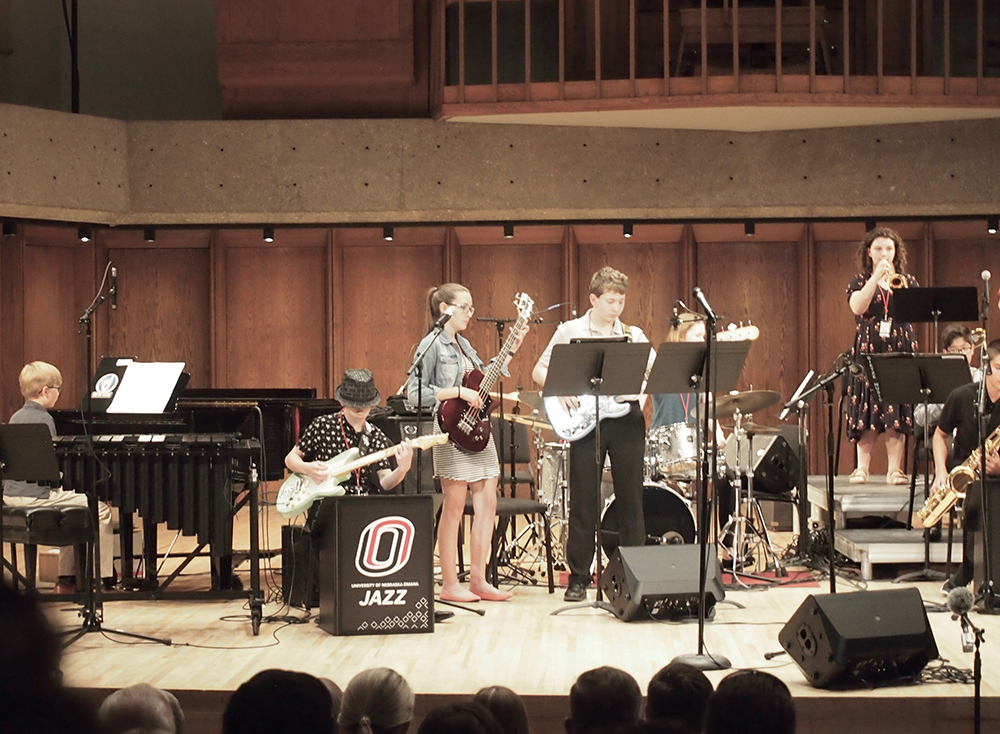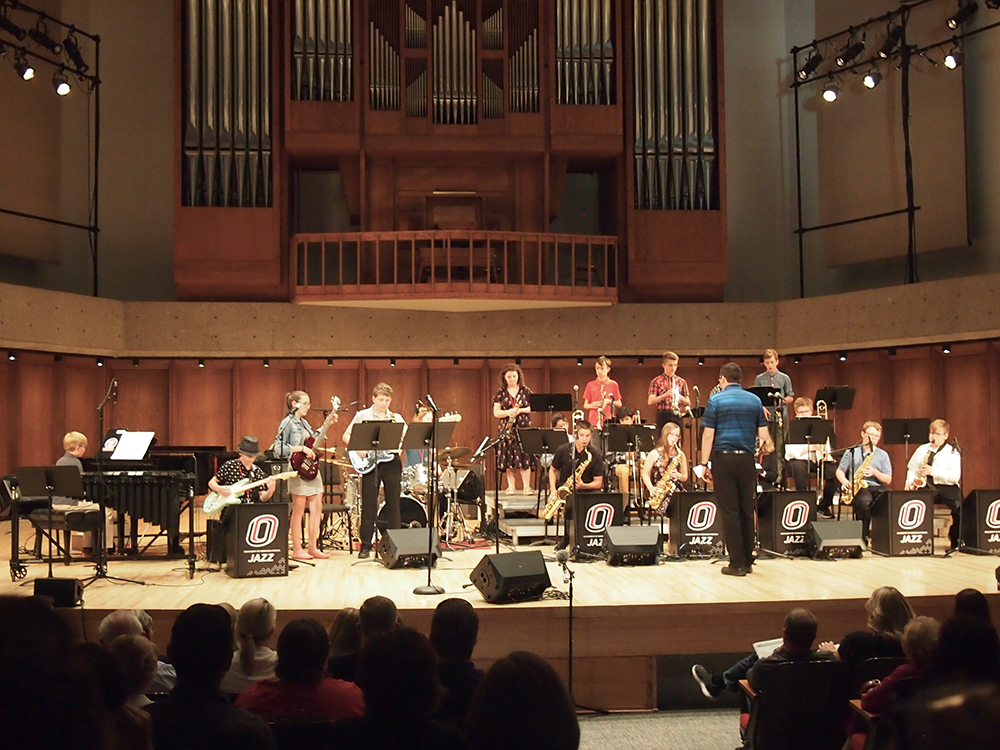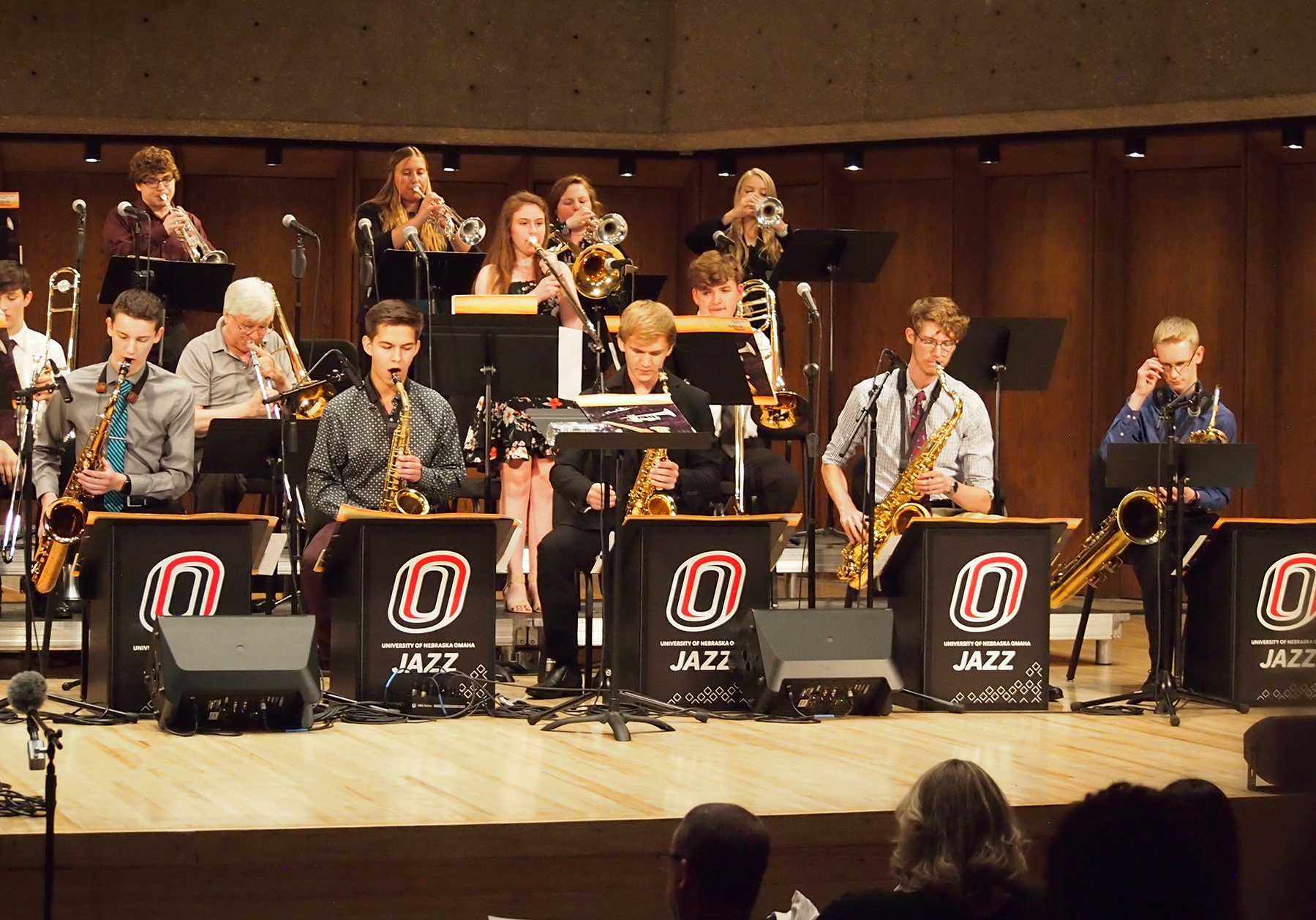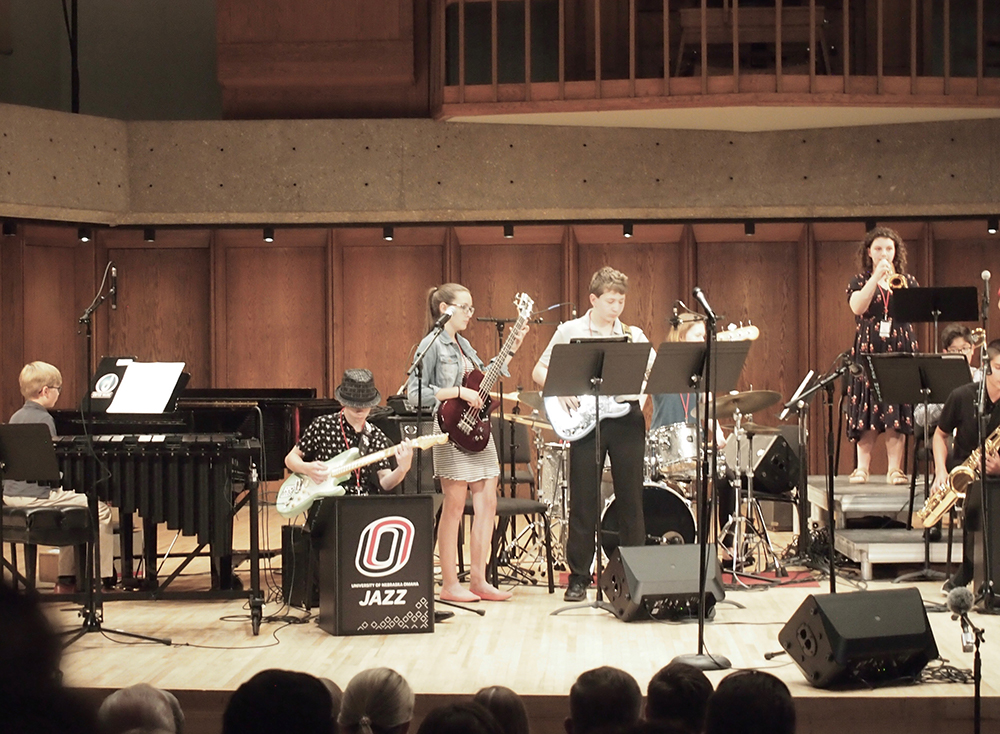 For More Information
Call Dr. Pete Madsen at 402-554-2297 or e-mail petermadsen@unomaha.edu.
Additional Resources
Click here
to watch us on YouTube
Find us on
Facebook