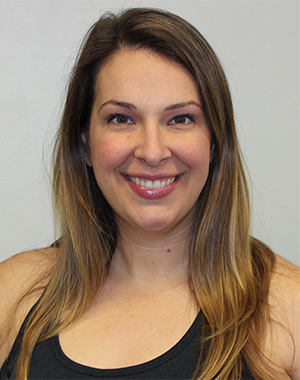 ---
Additional Information
---
Certifications
AFFA, Gear Cycling, and Group Ride
Teaching Experience
I've been teaching group fitness since 2012 and found my passion. Since the age of 18, I've participated in group fitness programs and finally got motivated to teach a class of myself. Over the years, I've taught a number of classes including Cycle Circuit, Cycling, Core and More, and other strength and cardio classes.
Why Try My Classes?
I really believe that cycling is for just about everyone! For those new to cycling, I don't think you'll regret giving it a chance. My Cycle Circuit class focuses on 30-35 minutes of work on the bike and concludes with 10 minutes of core work. I love motivating participants through a great cardiovascular and strength workout. Once you get used to the bike, you'll love it for life.
Favorite Mode of Physical Activity
I love to mix it up, so my favorite activity really depends on the day. Obviously, my favorite aerobic activity is cycling, but I also love to life heavy and enjoy stretching too. If there's sweat involved, I'm in!