Special Events and Instructional Programs
Martial Arts Academy - NO SUMMER OFFERINGS
124 H&K Combat Room
FREE first session
Sessions run year-round - *When the facility is open*
| | |
| --- | --- |
| UNO Student or Campus Rec Member | $40 |
| Non-Member | $60 |
Class Format
Technical (Floor Drills) - Focuses on perfecting kicking and blocking technique. About 3/4 of class time dedicated to floor drills
Paddle & Heavy Bag Drills - Focus on roundhouse, side kick and crescent kick. Basic and advanced levels
Forms - Done with upper ranks to get ready for testing
Sparring - Portion of each workout dedicated to sparring. Work on leg exercises using all kicking techniques
Class Requirements
Each student must have uniform & basic sparring gear
Class is structured for adult participants
Pre-registration required at the reception desk
Instructors
Neal Hakenson - 3rd Dan Taekwondo, Kukkiwon Certified, UNO H&K Adjunct Faculty
Kent Templien - 3rd Dan Hapkido, 2nd Dan Judo, Taekwondo, UNO H&K Adjunct Faculty
---
Self Defense Workshops - NO SUMMER OFFERINGS
Hosted by Campus Recreation and 4 Horsemen Security
Those who attend will have a better understanding of how to recognize a threat in addition to paying attention to their surroundings.  Participants will learn and perform reality-based techniques that will help them stop the threat while being able to escape and find safety.  Participants will also receive working knowledge in regards to what the perpetrators look for while selecting their victims. The class covers balance displacement, breakaways, and strikes in addition to learning in a safe training environment.
Beginner workshops
Click here to sign up
Intermediate Workshop
Click here to sign up
Location: 124 H&K
Cost: 4 Horsemen Security ask for donations of toiletry products (shampoo, conditioner, body wash, hygiene products, etc.) for the Lydia House in lieu of a registration fee.
These classes are open to the entire UNO community.
---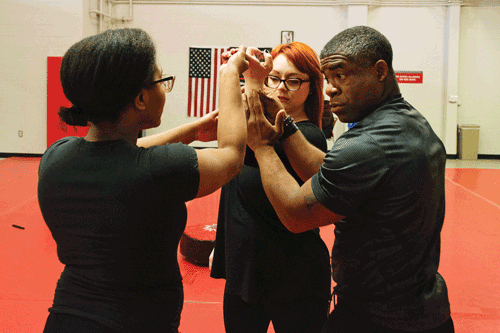 Hands Only CPR - NO SUMMER OFFERINGS
Many people who survive a cardiac emergency are helped by a bystander. In this workshop, you can learn how to perform Hands-Only CPR – so that you can help deliver life-saving care until professional responders arrive.  These workshops do not provide an official Red Cross Certification, but provides the basic information and skills for saving a life.
No cost workshops
TBA
---
Bellydance and Bollywood  H&K 228 - NO SUMMER OFFERINGS
       Bellydance 1 - TBA
          Cost UNO Student/Member $25 ; non-member $35
       Bollywood 1 - TBA
          Cost UNO Student/Member $25 ; non-member $35
Bellydance 1 -  Join Danielle Elianae for this fun Beginner Bellydance class. This low impact Instructional dance class set to authentic global music from Egypt, Turkey, Lebanon and Greece lifts your spirits, burns calories, works the abdominals and lower body muscles, aids in coordination, and is a dance class for every-body!  Come dance with us! No experience required,  and the class is accessible to all fitness levels. Learn Bellydance Basics in an upbeat, supportive environment.
Bollywood 1 -  Join Danielle Elianae for an Energetic Introduction to Bollywood Dance ! Learn movements taken from Bollywood, Indian Classical and Bhangra dance, and learn fun combinations! Bollywood is a great workout that is open to all fitness levels. Modifications are available to accommodate all students. Set to fun International dance music, Bollywood is a great way to learn both about other cultures and learn some dance moves! 
Instructor Bio:  Danielle (Elianae) Stone is an award winning Dancer, having won accolades in Dance Events such as the Personal Best Middle Eastern Dance and Let's Beat Cancer by Dancing Dance Competitions, and is a Level 1 Certified Dancer in Suhaila Salimpour Dance technique. She also holds Active Certifications in Barre (IBBFA) and Yoga, and is a NETA Certified Group Exercise Instructor, and holds weekly classes at UNO's Wellness Center.