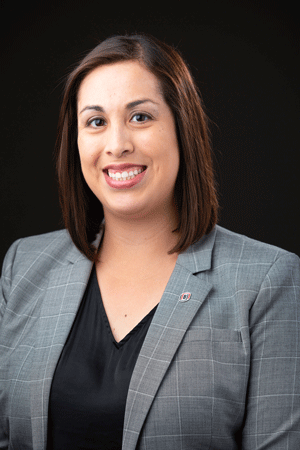 Kristina Cammarano
Assistant Vice Chancellor
Student Success
---
Additional Information
---
What makes UNO exceptional?
"UNO is exceptional because of the vast opportunities available to promote student development. Students are able to grow as leaders from student organizations to service to student employment. These experiences help our student reach graduation and launch into their careers."
Areas of Responsibility
Co-curricular Learning Design and Evaluation
Student Success Strategic Planning/Initiative Management
Student Re-Enrollment Support Services
Student Success Event Support Services
Background
Kristina Cammarano has earned both a Bachelor's degree in Psychology and Master's degree in Educational Administration and Leadership with a specialization in Higher Education from the University of the Pacific (Stockton, CA). Currently, she serves as the Assistant Vice Chancellor for Student Success at the University of Nebraska at Omaha and is working on her Doctorate in Higher Education Administration Leadership at the University of Nebraska Lincoln.
Over her career, Kristina has designed and implemented a variety of high-impact, nationally-recognized student involvement and leadership development programs including the UNO Service and Leadership Collaborative, Leadership YOU, My Y, the One Word Project, and the Mountains, Ocean, Valley Experience (MOVE). Additionally, Kristina is a Gallup-certified Strengths Coach.
Kristina's research interests and conference presentations have focused on first-generation student success, leadership identity development, student learning assessment, and digital engagement.