Ja'Nae Smith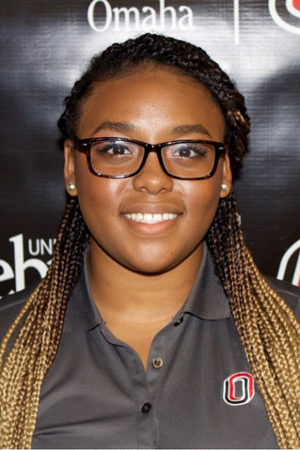 Explain the main reason that you have for wanting to run for Student Government.
I believe Student Government is a way for us as students to make an impact on our campus. It's a way for us to foster change and implement things to make our university the best it can be. As a student senator, I will be a voice for students. I am someone who is willing to go the extra mile to make sure my campus, our campus, is a place we can be proud of.
Provide an issue that you think should be changed or improved on campus.
I think an issue that we face is making UNO more accessible for students with disabilities. As one of the current 2017-2018 senators, many students have voiced their concern about the accessibility on campus and trying to improve that aspect of our campus. Also, it is always a concern of mine about the social aspect on campus. I want to help continue to foster a campus that is friendly, welcoming, and social.
What makes you qualified to sit on Student Government?
I believe I am qualified to represent my constituents in the 2018-2019 student senate, because I have held a position as a senator for 2 consecutive years and each year I am discovering new things about UNO that I was to help improve. I also am the 2017-2018 student services committee chair for Student Government, which works on projects geared towards improving the campus and student satisfaction. I am also very active on and off campus, and involved in other organizations. I am hard working, dedicated, and persistent. I will never give up on my campus, I will never stop representing my constituents, and I will never stop implementing change on this campus.
Our Campus. Otherwise Known as Omaha.
The University of Nebraska does not discriminate based on race, color, ethnicity, national origin, sex, pregnancy, sexual orientation, gender identity, religion, disability, age, genetic information, veteran status, marital status, and/or political affiliation in its programs, activities, or employment. Learn more about Equity, Access and Diversity.
scroll to top of page