Caleb Moyer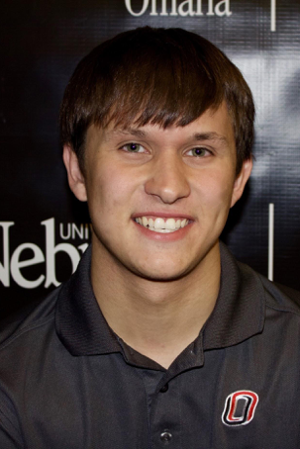 Explain the main reason that you have for wanting to run for Student Government.
During my three years at UNO, I have served our Student Government in several different capacities. These roles, the people I have met, and the legislation I have supported have not only helped spur change benefitting many UNO students but have also helped me grow individually as a leader. I hope you will allow me, as your Student Body President, to continue to serve the students and bring change that will benefit all students and our great university.
Provide an issue that you think should be changed or improved on campus.
One of the resolutions I wrote this year focused on supporting the creation of a system that, if implemented, will allow students to pay parking violations with community service hours. Based on the positive support we received from this, I would like to focus on going one step further, by allowing students to pay any fines received on the UNO campus with community service hours. Not only would this keep money in student's pockets, but it would also, in turn, be promoting something as meaningful as community service.
What makes you qualified to sit on Student Government?
It is the job of the Student Body President to oversee all aspects of Student Government, and I believe my previous experiences in leadership positions have given me the insight and knowledge to do so successfully. This year I was able to serve in the Student Senate as a CBA Senator and as the Campus Improvement Committee Chairman. In addition, I also served on the Student Activities Budget Commission (SABC), the committee that allocates the fees all UNO students pay to student organizations. These experiences have provided me with an understanding of many of the organizations that make the campus run and how our student fees are allocated. In the past I have also served on the Freshman Leadership Council and the Traffic Appeals Commission, helping solve some of the issues involved with one of the biggest problems on campus: parking. I am confident that the knowledge I've gained in these positions has qualified me to sit on Student Government as your Student Body President.
Our Campus. Otherwise Known as Omaha.
The University of Nebraska does not discriminate based on race, color, ethnicity, national origin, sex, pregnancy, sexual orientation, gender identity, religion, disability, age, genetic information, veteran status, marital status, and/or political affiliation in its programs, activities, or employment. Learn more about Equity, Access and Diversity.
scroll to top of page