Model of Continuous Quality Improvement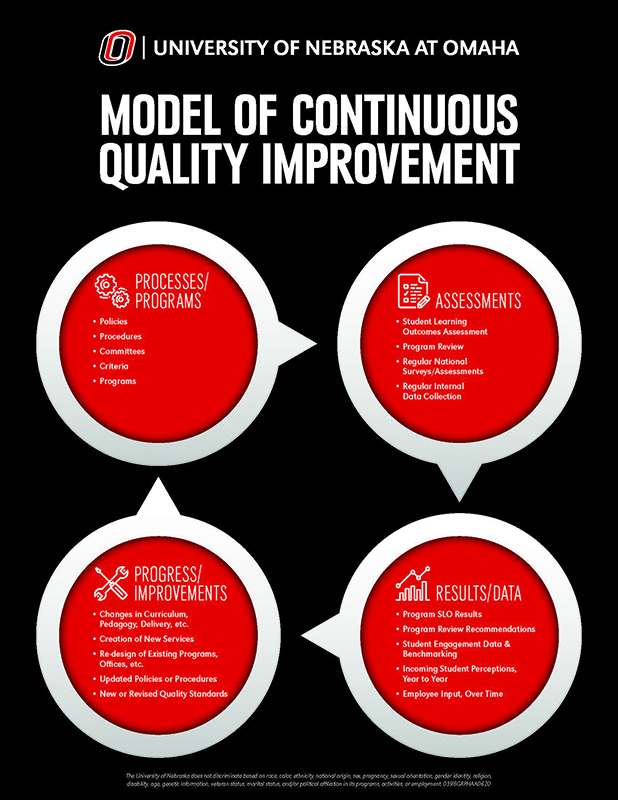 What It Means
Continuous Quality Improvement is a simple phrase that describes what we've been doing at UNO for quite some time, using data to uncover ways to improve our programs, services, and processes. This term is used in business, higher education, health care, and many other industries.
At UNO, it describes the ongoing improvement process we're using to achieve and maximize our four overarching goals—being student-centered, academically excellent, engaged with the community, and institutional quality.
---
Why It's Important to Document
Standards for post-secondary institutional accreditation, as well as those for most program-specific accreditations, are placing greater emphasis on the institution's or program's ability to demonstrate the use of Continuous Quality Improvement.
Accrediting bodies want documentation that a college, university, or academic department uses effective and research-based processes in deliberations.
---
How to Document
We know data-driven decision making is happening all of the time at UNO, but it has not always been easy to document.
To help with documentation, we are asking departments and academic units to fill out a Decision Support Log with an example in which they reviewed data, discussed it, and generated suggestions for improvement based on that data.
Access and complete the Decision Support Log entirely online