ISSUED: (Friday, March 13, 2020 17:00 PM)
CAMPUS ANNOUNCEMENT
UNO campus remains open; classes moving to remote learning mode March 30.
More Information
CLOSE

X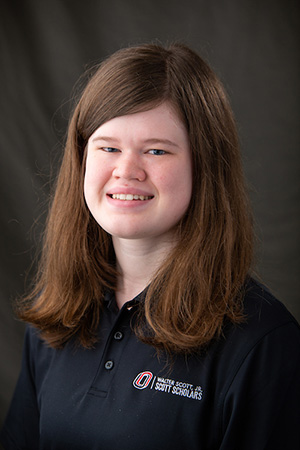 Sarah McCarty
Scott Scholar
UNO, Information Science & Technology
---
Additional Information
---
Bio
Sarah is from Omaha, NE and is studying computer science and mathematics. Her leadership experience includes volunteering at North Star High School as a Google SketchUp instructor. She has also volunteered at UNO's High School Math Contest, where she proctored participant exams. Sarah also serves as a math tutor in subjects ranging from pre-algebra to honors calculus, and assists students in Putnam style problems. Her internship experience includes working at Lincoln Financial Group in application development. In this role, she prototyped a new customer-facing website for insurance information and worked on developing software to create customized informational brochures in both English and Spanish. Her research experience includes working with Dr. Griff Elder at UNO researching the structure of Hopf Algebras. She is working on a conjecture on how to generate and classify Hopf Algebras, focusing on what types of objects can be used to generate the whole set. She has also completed a summer Research Experience for Undergraduates (REU) at Iowa State University studying methods on sampling and interpolating the cumulative disruption functions (CDFs) of generalized Cantor sets. Cantor sets are particularly notable because they contain (uncountably many) elements, but "almost nothing" is in them. The CDF describes how these elements are distributed. Her career interests include becoming a professor in computer science and/or mathematics. She is especially interested in fields relating the two, such as number theory.