ISSUED: (Friday, March 13, 2020 17:00 PM)
CAMPUS ANNOUNCEMENT
UNO campus remains open; classes moving to remote learning mode March 30.
More Information
CLOSE

X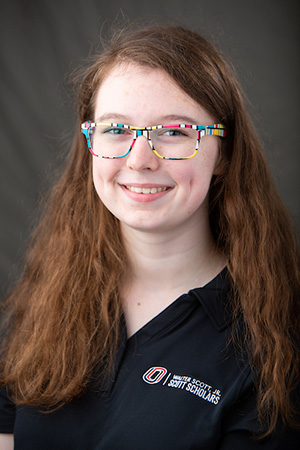 Ottilie Cooper-Ohm
Scott Scholar
UNO, Information Science & Technology
---
Additional Information
---
Bio
Ottilie is from Council Bluffs, IA and is studying IT Innovation and Neuroscience. Her leadership experience includes volunteering at the Henry Doorly Zoo, and ProjectCSGirls. In these roles, she mentors youths and leads a variety of STEM based projects. She is also the director of media for Maverick Productions, where she films events, produces videos, and runs promotional media for student programming. She directs short films in her free time, and has been hired to film weddings, special events, and promotional videos. Ottilie's research experience includes attending the Feinstein Institute for Personalized Research. She was responsible for programing a new manuscript tracking software, constructing a new database and management system for a medical library, and completing an overhaul of the center's technology. She has also worked with Dr. Christine Toh on Human Computer Interaction studies, and researching portable EKG technology in Manhattan hospitals. Her internship experience includes working in the computer science BRIDGE Lab, where she assisted with doctoral research projects and filmed promos for the department. Her career interests include linguistics, psychology, and political activism.