ISSUED: (Friday, March 13, 2020 17:00 PM)
CAMPUS ANNOUNCEMENT
UNO campus remains open; classes moving to remote learning mode March 30.
More Information
CLOSE

X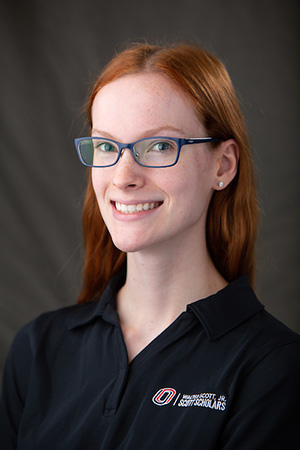 Makayla Sedlacek
Scott Scholar
UNO, Information Science & Technology
---
Additional Information
---
Bio
Makayla is from Omaha, NE and is studying cybersecurity and computer science. Her leadership experience includes working with a group of students who partnered with the Omaha Street School, a local non-profit dedicated to giving troubled youth an education. She established a relationship with the faculty and the students in order to assess and address their needs. The group developed a project idea that will increase donations to the organization, which they plan on making a reality over the next 3 years. She has also served as a ROTC Flight Cadet in the 470th Cadet Wing. Her internship experience includes working as a computer science intern at the University of Nebraska at Omaha and hopes to land an internship this year with the FBI. Her research interests include working with Dr. Ligon in her cyberterrorism lab. Her career interests include cyberterrorism, digital forensics, and criminal justice.