ISSUED: (Friday, March 13, 2020 17:00 PM)
CAMPUS ANNOUNCEMENT
UNO campus remains open; classes moving to remote learning mode March 30.
More Information
CLOSE

X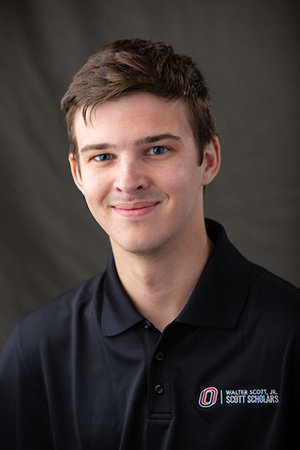 Kyle Bavitz
Scott Scholars
UNO, Information Science & Technology
---
Additional Information
---
Bio
Kyle is from Lincoln, NE and is studying bioinformatics, computer science, and chemistry. His leadership experience includes volunteering for two years at the Nebraska Medicine Emergency Room, where he assists patients and nurses with a variety of tasks. He also tutors chemistry, calculus, biology, and genetics. His junior year, he participated in the UNMC Summer Undergraduate Research Program in radiation oncology. During his senior year, he worked with Dr. Dandan Zheng analyzing 4D CT scans of lung and pancreatic cancer tumors. The research was published in the paper, "Radiomic Feature Stability Across 4D Respiratory Phases and its Impact on Lung Tumor Prognosis Prediction". He hopes to obtain an internship at a medical research institution as a medical assistant or scribe. His career interests include applying to medical school at UNMC, with potential interests in ophthalmology and internal medicine.