ISSUED: (Friday, March 13, 2020 17:00 PM)
CAMPUS ANNOUNCEMENT
UNO campus remains open; classes moving to remote learning mode March 30.
More Information
CLOSE

X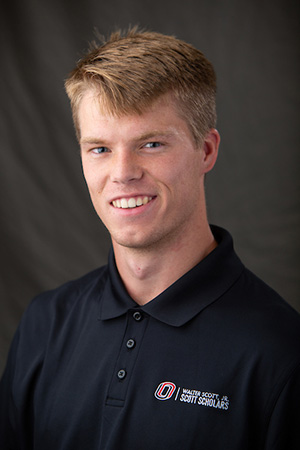 Josiah Aakre
Scott Scholar
UNO, College of Arts & Sciences
---
Additional Information
---
Bio
Josiah is from Omaha, NE and is studying education and mathematics. His leadership experience includes serving as a camp counselor for the Durham Science Center's Aim for the Stars Summer STEM Camp, where he instructed elementary and middle schoolers in robotics, forensic sciences, 3D printing, and other STEM subjects. He has served as a teacher's assistant for a graduate class that taught elementary school teachers how to teach math concepts for understanding, rather than memorization. There, he was responsible for grading, teaching math lessons, and leading discussions. Josiah has also led the Scott Hall Bible Study and tutored athletes in mathematics. His research experience includes working with Dr. Matthews on a specific math problem that may reveal new patterns and relationships in modular mathematics. His career interests include secondary math education and education at the collegiate level.