ISSUED: (Friday, March 13, 2020 17:00 PM)
CAMPUS ANNOUNCEMENT
UNO campus remains open; classes moving to remote learning mode March 30.
More Information
CLOSE

X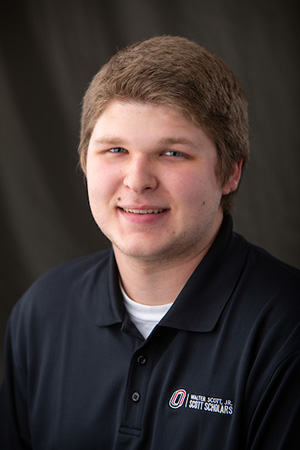 Joe Manning
Scott Scholar
UNL, College of Engineering
---
Additional Information
---
Bio
Joe is from Omaha, NE and is studying civil engineering. His leadership experience includes serving as an officer and president for the American Society of Civil Engineers (ASCE), the vice president of finance for the Nebraska Engineering Student Council at Omaha (NESCO,) and vice president of the Civil Engineering Department's Student Leadership Council. In these roles, he moderates meetings, plans conferences, organizes fundraisers, and manages the budget. His internship experience includes working at E&A Consulting Group as an environmental intern, a surveyor, and a SID maintenance intern. As a surveyor, he was responsible for operating GPS and Total Stations, completing topographic and ALTA Surveys, and maintaining truck inventory. As a SID intern, he conducted street repair and traffic studies, observed construction, and created street repair plans using AutoCAD. As an environmental intern, he conducts erosion control inspections for a number of SIDs and construction sites, in accordance with Nebraska's stormwater pollution prevention plan standards. He also performs wetland delineations, avian nest surveys, industrial stormwater inspections, and post construction inspections. His career interests include civil engineering, with an emphasis on either water resources or natural resource management.