ISSUED: (Friday, March 13, 2020 17:00 PM)
CAMPUS ANNOUNCEMENT
UNO campus remains open; classes moving to remote learning mode March 30.
More Information
CLOSE

X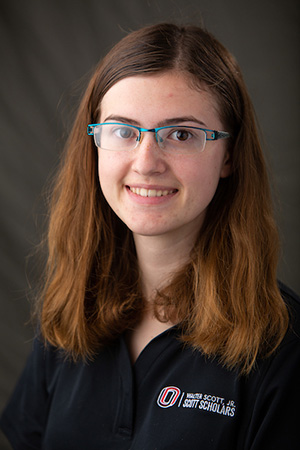 Jennifer Mack
Scott Scholars
UNL, College of Engineering
---
Additional Information
---
Bio
Jennifer is from Omaha, NE and is studying architectural engineering and business. Her leadership experience includes serving as the secretary and vice president for the Architectural Engineering Student Leadership Advisory Committee (AESLAC). She has also served as the vice president of finance for the Nebraska Engineering Student Council at Omaha (NESCO). Her internship experience includes working at Progressive AE in Grand Rapids, MI as a mechanical engineer. In this role, she designed HVAC and plumbing systems for healthcare buildings. She is currently working at HDR as a mechanical engineering intern. Her career interests include mechanical engineering to design HVAC and plumbing systems for buildings.