ISSUED: (Friday, March 13, 2020 17:00 PM)
CAMPUS ANNOUNCEMENT
UNO campus remains open; classes moving to remote learning mode March 30.
More Information
CLOSE

X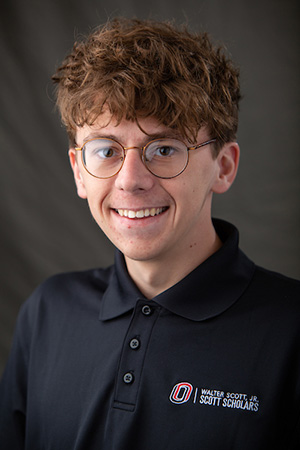 Jacob Martens
Scott Scholars
UNO, Information Science & Technology
---
Additional Information
---
Bio
Jacob is from Blair, NE and is studying bioinformatics, chemistry, computer science and mathematics. His leadership experience includes serving as a tutor at the Math and Science Learning Center at UNO, where his previous experience in STEM courses allows him to assist students in academic need. His internship experience includes working at the United States Army Medical Research Institute of Infectious Diseases (USAMRIID). Jacob worked in conjunction with a PhD student, in both traditional laboratory and IT-based environments, developing computer programs that utilized laboratory data. These projects centered around the immune system responses to Marburg virus. His research experience includes working on a project at USAMRIID relating to the immune responses to Marburg Virus, specifically in exploration of the differences in antibody responses in Egyptian Rousette Bats (in which the virus is highly virulent and very often results in death). His career interests include disease research, with a special focus toward immunology and the treatment of autoimmune diseases.