ISSUED: (Friday, March 13, 2020 17:00 PM)
CAMPUS ANNOUNCEMENT
UNO campus remains open; classes moving to remote learning mode March 30.
More Information
CLOSE

X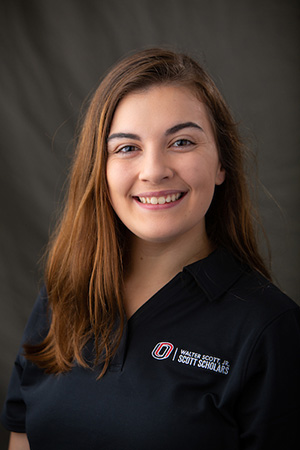 Gwyneth Semanisin
Scott Scholar
UNL, College of Engineering
---
Additional Information
---
Bio
Gwyneth is from Omaha, NE and is studying electrical engineering. Her leadership experience includes serving on the Nebraska Engineering Student Council at Omaha (NESCO) as a member of its freshman led board (FrESCO). She also serves as the freshman ambassador for the UNO student branch of the Institute of Electrical and Electronics Engineers (IEEE) and will be the external relations officer next year. Her internship experience includes participating in the Scott Scholars AppJam Program, where her team developed, an IOS app using Apple's Swift coding language. They collaborated with the Fred and Pamela Buffett Cancer Institute to create an app to aid the Healing Arts Program, and she is also working on another app to support the Maverick Food Pantry. Her research experience includes working with Dr. Bing Chen to conduct research for the GrannyPod project. This project provides a unique housing option to help keep seniors safe without compromising their independence. She is working on a voice recognition system that will work with Alexa or Google Home to allow residents to know who is at their door and alert their caretaker when they have fallen. Her career interests include electrical engineering with a focus on communications, as well as the aerospace industry.