ISSUED: (Friday, March 13, 2020 17:00 PM)
CAMPUS ANNOUNCEMENT
UNO campus remains open; classes moving to remote learning mode March 30.
More Information
CLOSE

X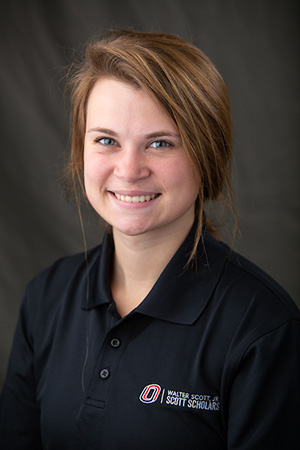 Grace Maline
Scott Scholar
UNO, Information Science & Technology
---
Additional Information
---
Bio
Grace is from Oakland, NE and is studying bioinformatics, chemistry, and computer science. Her leadership experience includes serving as vice president of public relations for the UNO Dance Marathon Fundraiser, where she is responsible for the PR committee and managing social media platforms. She is a member of the executive board for her Sorority Chi Omega, and, vice president for the Mavericks Club for Bioinformatics, where she plans events and welcomes new members. Her research experience includes working with Dr. Lisa Cazares at the United States Army Medical Research Institute on Infectious Diseases (USAMRIID). She was responsible for conducting proteomics and metabolomics-based research. She used Mass Spectrometry to analyze tissue samples to examine the body's response to drugs and infectious diseases. She also wrote a program that she will use to collect and parse her Mass Spectrometry data, in order to search all of the identified metabolites in her database at once. Grace has also participated in the UNMC Summer Undergraduate Research Program. There, she was responsible for learning concepts, such as metagenomics and the python programming language. She conducted a research project titled "Functional Annotation of Highly Conserved Phosphate Proteins Between E. Coli and Human". In this research, she compared phosphate protein sequences between E. Coli and human and found highly conserved phosphates. She performed functional annotations to learn what sort of phosphate functions were highly conserved between very distant species. Her internship experience includes working at USAMRIID, a research facility located in Frederick, Maryland. There, she helped quantify, via western blotting, the concentration of an ebola virus protein, VP40, in samples that contained different strains of the virus. Her career interests include becoming a physician. She is currently considering specializing in pediatrics, internal medicine, or infectious disease.