ISSUED: (Friday, March 13, 2020 17:00 PM)
CAMPUS ANNOUNCEMENT
UNO campus remains open; classes moving to remote learning mode March 30.
More Information
CLOSE

X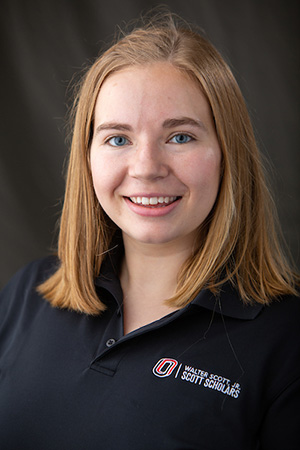 DeLaney Brink
Scott Scholar
UNL, College of Engineering
---
Additional Information
---
Bio
Delaney is from Aurora, CO and is studying computer science and mathematics. She has leadership experience serving as a representative for the Class of 2021 on the Scott Scholarship Leadership Council where she contributed to reshaping the scholarship program to best fit the needs and goals of current and future Scott Scholars. Her internship experience includes working at Lindsay Corporation as an electrical engineering intern. In this position, she received exposure to all processes in product development, including designing, engineering, supplier interaction, manufacturing, and delivery. She also observed and assisted in field testing in the product development cycle. She currently interns at Northrop Grumman Corporation as a software engineering intern. In her current position, she performs Java-based backend and middleware development, which includes working with databases, Query languages, ontologies, and code security measures. She has also received extensive experience with agile software development. This experience has given her a new and innovative way to think about product development and how to tackle large tasks with teams in an efficient manner. Her career interests include the national defense industry. She believes that national defense is vital to the safety of our country and our world as a whole. She hopes to accomplish this by practicing law or continuing as a software engineer.