ISSUED: (Friday, March 13, 2020 17:00 PM)
CAMPUS ANNOUNCEMENT
UNO campus remains open; classes moving to remote learning mode March 30.
More Information
CLOSE

X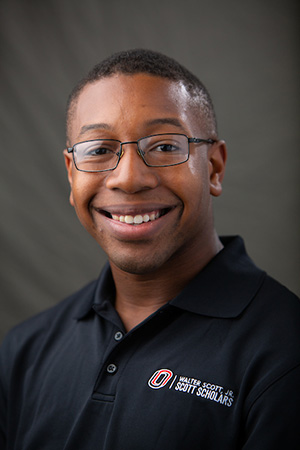 Daniel Faronbi
Scott Scholar
UNL, College of Engineering
---
Additional Information
---
Bio
Daniel is from Papillion, NE and is studying computer engineering and music technology. His leadership experience includes founding a jazz influenced trio named B.E.D. Trio. Daniel is responsible for booking gigs, organizing rehearsals, maintaining the website, and writing original music. The group recently played at the Omaha Performing Arts Jazz on the Green Concert Series in July 2019. Daniel serves as a student leader in the campus ministry Chi Alpha, where he leads weekly small group fellowship meetings, organizes musicians for the ministries' worship band, and plans recreational outings. He has volunteered at Prairie STEM, teaching K-12 students AutoCAD,and tutoring math and science. His junior year internship experience includes working at Boys Town National Research Hospital as a media support engineer. In this role, he provided technology support to a variety of research experiments. He also worked at Union Pacific as a network engineer intern, where he configured switches and routers to host servers for applications. His senior year, he is interning at ScanMed LLC, specifically, their new subsidiary company, Bot Image. There, he helps develop software for diagnosing prostate cancer using computer neural networks. He also programs and constructs micro controllers used to debug MRI image sensors. Once Bot Image software is complete, Daniel has been asked to co-author a research paper for Al prostate cancer diagnosis. His career interests include pursuing a PHD in music technology, particularly signal processing music information retrieval, machine learning, and technology enhanced performance.