ISSUED: (Friday, March 13, 2020 17:00 PM)
CAMPUS ANNOUNCEMENT
UNO campus remains open; classes moving to remote learning mode March 30.
More Information
CLOSE

X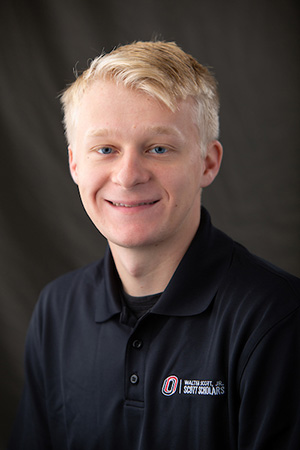 Cade Wolcott
Scott Scholar
UNO, Information Science & Technology
---
Additional Information
---
Bio
Cade is from Louisville, NE and is studying computer science and IT Innovation. His leadership experience includes serving as a senator in the UNO Student Government, representing the College of Information Science and Technology. In this role, he served as chair of the Academic Excellence Committee and advocated for the interests of UNO students. As a senator, Cade worked on a variety of projects, including a publication of course syllabi for the College of Information Science and Technology. Last year, Cade served as a student court justice in the UNO Student Government and was elected to the Scott Scholarship Leadership Council, where he worked with his peers to voice student interests and improve the scholarship experience. His internship experience includes working as an intern at a variety of organizations throughout his high school and college career. He has interned at Baldwin Hackett and Meeks, Inc., iNet Solutions Group, and Nebraska Applied Research Institute. In these roles, he researched, designed, developed, and improved products. Most recently, he worked as a software engineer intern at Spreetail and Raytheon. There, Cade worked on production systems and created new features and systems that served business needs. He has worked with several technologies, including Python, C#, and Computer Vision. His career interests include software engineering, product management, artificial intelligence, ethics, and entrepreneurship. Cade has a passion for public speaking and wants to work with nonprofits.