ISSUED: (Friday, March 13, 2020 17:00 PM)
CAMPUS ANNOUNCEMENT
UNO campus remains open; classes moving to remote learning mode March 30.
More Information
CLOSE

X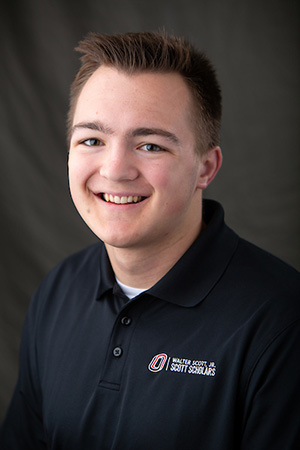 Alex Dukart
Scott Scholar
UNL, College of Engineering
---
Additional Information
---
Bio
Alex is from Omaha, NE and is studying architectural engineering. His leadership experience includes serving as the vice president of Pi Kappa Alpha fraternity. In this role, he oversaw a committee that was responsible for improving the academic success of the chapter, hosting fundraising events, and maintaining a relationship with alumni across the country. He also served as the director of recruitment for the UNO Dance Marathon, a student organization that collaborates with the Children's Miracle Network to raise money for the Omaha Children's Hospital and Medical Center. In just three years, the organization has raised over $63,000 for the hospital. His internship experience includes working for the Waldinger Corporation as a project intern. He was responsible for coordinating the closeout process for the mechanical systems and working with foremen to schedule field labor. He has also worked as an electrical engineering intern at Henderson Engineers. In this role, was responsible for electrical design work on a full MEP team and worked on a large variety of projects in the grocery, restaurant, and retail industry. His career interests include electrical engineering or working at a MEP firm designing electrical systems with a focus in sports or large venue practices. He is also interested in industries such as healthcare or education.