How to benefit from Winter Sessions as a Graduate Student
The 3-Week January Session at UNO (Jan. 3 - Jan. 20) offers graduate students the academic opportunity to get ahead.
published: 2023/01/03
contact: Molly Walther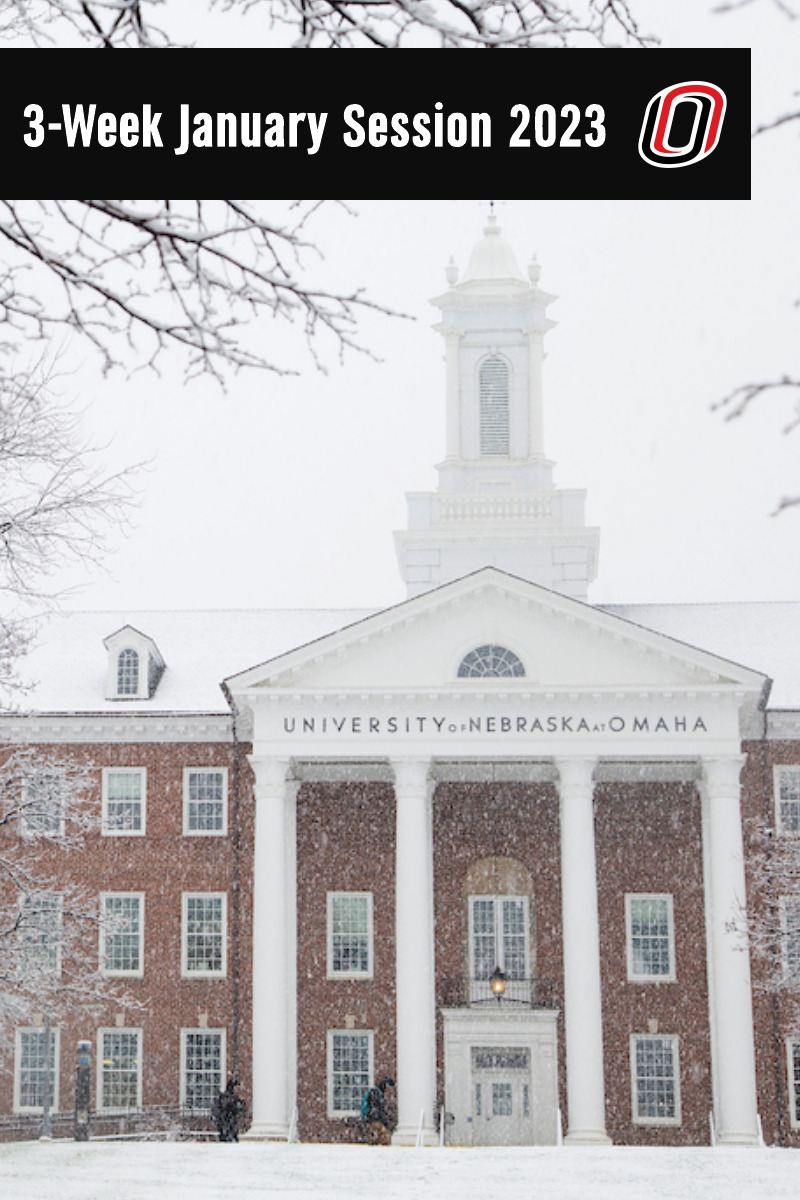 Students have often taken advantage of an additional semester during the summer between their spring and fall semester but have yet to take advantage of or learn about course sessions offered in the winter between the fall and spring semesters. Universities and colleges call these "winter sessions," "January Sessions," or here at University of Nebraska at Omaha (UNO), we call it the "3-week January session".
"Winter" or "January" session courses are at an accelerated pace and depending on what your university or college offers; you will find these sessions start in the middle of December and can go through the middle of January.
What is a Winter and/or 3-Week January Session?
Universities around the country have begun offering a "winter" or "January" session as part of their academic year for both undergraduate and graduate students. These short session courses are intended to help graduate students who want to "catch up" or "get ahead" on graduate courses, re-take a course, allow for more flexibility in their spring semester or explore graduate courses outside their degree requirements.
Since implementing the additional session into the academic calendar, many colleges have begun offering various delivery formats for their winter and/or January session classes. This means graduate students may have the option to enroll in online classes, attend classes on campus, or study in a hybrid format. Some schools even offer winter study-abroad experiences for credit.
Graduate students will find that to be successful in these accelerated courses, they are highly encouraged to consider the pace, schedule, attendance, and participation requirements of these "winter" and/or "January" courses before enrolling. Like summer sessions, these additional courses are not a requirement for graduate students to take part in but are created for additional opportunities for those who may need or want them.
Should Graduate Students Consider a Short-Term Course in their Schedule?
As a masters, doctoral, educational specialist, or graduate certificate student planning out your year, you should consider adding in a class during your university's "January" or "winter" session. These short-term sessions can vary from year to year depending on what classes are available but should be kept in mind when planning your graduate schedule. This is a wonderful opportunity for graduate students who want or need to get an additional class into their schedule to help balance their other semesters. This may also allow for graduate students to free up more time in their spring, summer, and fall schedule and keep them on track to graduate or potentially graduate early.
UNO has been offering a 3-week January Session for the past two years and it has become more popular with students each year. Graduate students, domestic and international, have participated in these sessions every year.
To learn more about UNO's 3-Week January Session and how it can personally benefit you as a UNO graduate student, we suggest connecting with your advisor.
Billing and Payment Information
Curious about financial obligations? UNO graduate students who have enrolled and are completing a course during UNO's 3-week January Session will see those courses reflected in their Spring 2023 semester billing.
Students will be assessed course-related student fees (fees assessed per credit, such as Distance Education, Technology, Research, and Library fees) in addition to laboratory/trip fees according to normal policy. Additional information regarding fees, financial aid, and billing for the 3-week January Session can be found here.

About UNO Office of Graduate Studies
The UNO Office of Graduate Studies has more than 110 years of experience educating professionals and academics, and helping individuals succeed in their careers. The mission of the Office of Graduate Studies is to develop, enhance, and promote outstanding graduate education; to ensure a rich environment for learning, creative activity, and the discovery and communication of new knowledge; and to be recognized for excellence in regional, national, and global engagement and contributions. With over 90 graduate programs at all levels, UNO has numerous opportunities.
About the University of Nebraska at Omaha
Located in one of America's best cities to live, work and learn, the University of Nebraska at Omaha (UNO) is Nebraska's premier metropolitan university. With more than 15,000 students enrolled in 200-plus programs of study, UNO is recognized nationally for its online education, graduate education, military friendliness, and community engagement efforts. Founded in 1908, UNO has served learners of all backgrounds for more than 100 years and is dedicated to another century of excellence both in the classroom and in the community.