UNO's Commitment to Honoring, Supporting Veterans
UNO is a proud supporter of our veterans and service members in the armed forces, with a commitment to being one of the nation's best universities for military-affiliated and veteran students.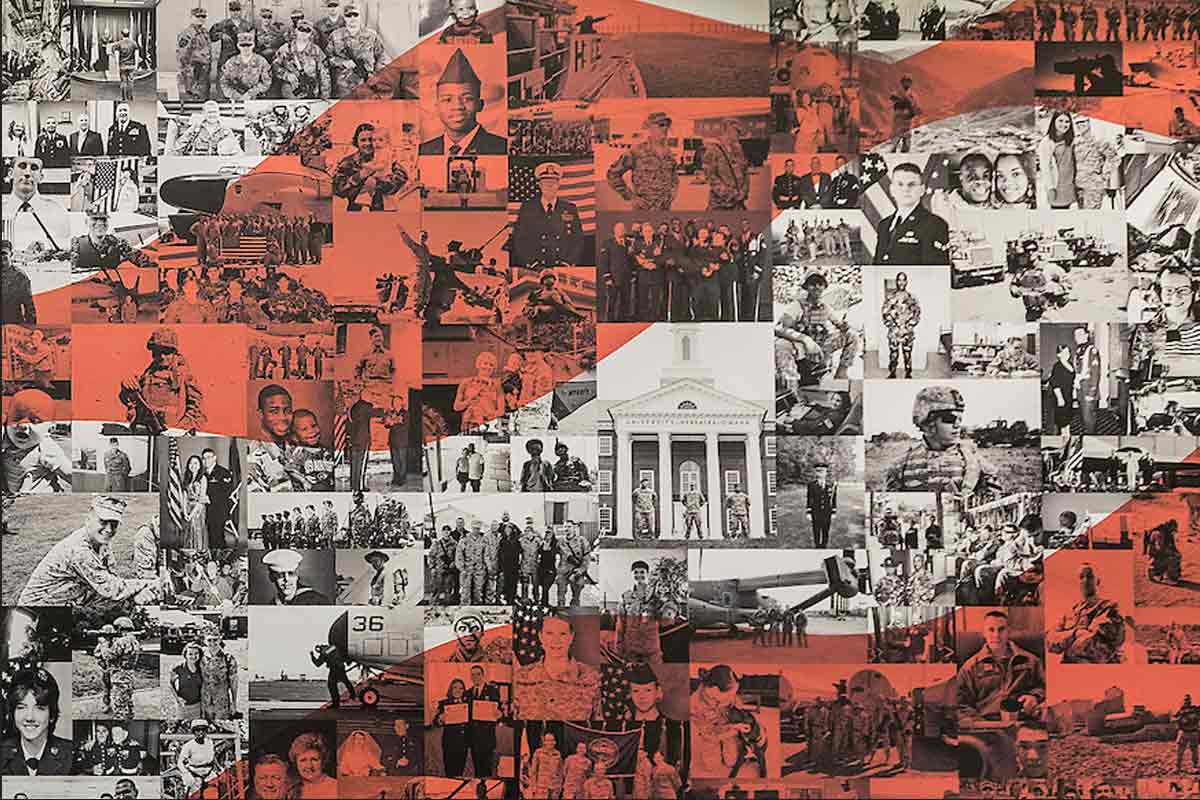 A mural of UNO's history supporting veterans sits in front of the Military-Connected Resource Center.
The University of Nebraska at Omaha (UNO) is a proud supporter of our men and women in the armed forces, with a commitment to being one of the nation's best universities for military-affiliated and veteran students. Use this Veterans Day to learn how you can support our own Military-Connected Resource Center (MCRC) and learn about UNO's historic ties to the armed services.
Upcoming Events
Local Women Veterans Art Exhibit | Nov. 10 & 11
Stop by the Military-Connected Resource Center (117 MBSC) to view the Traveling Women Veterans Art Exhibit. The MCRC is honored to host the exhibit in honor of Veterans Day. It features an amazing variety of 3D and canvas pieces from talented, local veteran artists.
Veterans Library Display | This Month
Check out the military-themed display cases at UNO's Criss Library the entire month of November. The Military-Connected Resource Center has compiled various library books and movies highlighting the U.S. military throughout the centuries.
Messages from MCRC and MCRC Partners
Dr. Harley Barmore, Lt Col (Ret.), USAF from 2001-2022
Director, Military-Connected Resource Center
Maverick Veterans, Family, and Friends,

I would like to personally thank you for your part in keeping our great nation safe and free. From those of you currently wearing the uniform as a cadet, active member, guardsman, or reservist, to those among us who stayed behind to keep things stable while we deployed. Thank you, all of you.

As a combat veteran myself, I want to reiterate my commitment to each and every one of you in our military family here at UNO. Being affiliated with the military is certainly not easy. Going to college is not always easy, either. I respect that you are doing both and attempting to make yourselves and our world a better place. If there is anything my staff, or I, can do to make your lives and your journey easier, please let me know.

I received a note from our Army National Guard partners about a week ago that I also want to share. They have become good friends to our office here at UNO and they echo some of the same themes I am sharing with you: you are loved, you are looked up to, and you are brave.

I am blessed to have landed here at UNO and blessed, once again, to continue living my life serving my friends and family in uniform. I feel blessed to live in a country where I am free to explore new ideas and open my mind. I owe that to the sacrifices made by you, and those before me.

Happy Veterans Day, Maverick Nation! God Bless America.
Jeff Ward, SFC, Iowa & Nebraska National Guard from 1998-present
Senior Recruiter at the RRB North Team, Nebraska National Guard
Veteran Mavericks,

Thank you for having served. I know it gets said a lot during this time of year and you may have already heard it more times than you care to remember, but... hearing it from another veteran can carry an additional degree of weight. So, again from me, thank you.

You answered the call and made a difficult choice: to be willing to sacrifice time with loved ones, civilian career opportunities or even your life, to perform your duties. You are among our nation's fewest and bravest. This week, we got to vote, a democratic process vital to our nation's health and longevity. In honor of this freedom, take a moment to thank other Veterans in your life who have also answered the call. "What lies behind you and what lies in front of you pales in comparison to what lies within you" - Ralph Waldo Emerson.

To our non-military affiliated UNO students, staff & faculty supporters, thank you, as well. Your support of those who have served, or are serving, create opportunities for us continue making a way for ourselves in this world.

From one veteran to another...
UNO's Historic Connection to the Military
A Decades-Long History of Supporting Veterans
As one of the country's first universities to institute the Bootstrapper program following World War II, UNO has a long and proud history of making the transition from military service to the classroom.
Notable UNO alumni who have served in the armed forces include current U.S. Secretary of Defense Chuck Hagel, Four-Star General James P. Mullins, Four-Star General Johnnie E. Wilson, and Four-Star General Bryce Poe II.
UNO is also the alma mater of four Medal of Honor winners: Merlyn Dethlefsen (1965), Roger Donlon (1967), Jack Treadwell (1963) and Leo Thorsness (1964).
UNO AFROTC

UNO is home to Air Force Reserve Officer Training Corps (AFROTC) Detachment 470 located in 260 Arts & Sciences Hall.

The AFROTC is an educational program designed to give men and women the opportunity to become Air Force officers while completing their degrees. The Air Force ROTC program is designed to prepare you to assume positions of increasing responsibility and importance in the modern Air Force. Learn more.
About the University of Nebraska at Omaha
Located in one of America's best cities to live, work and learn, the University of Nebraska at Omaha (UNO) is Nebraska's premier metropolitan university. With more than 15,000 students enrolled in 200-plus programs of study, UNO is recognized nationally for its online education, graduate education, military friendliness and community engagement efforts. Founded in 1908, UNO has served learners of all backgrounds for more than 100 years and is dedicated to another century of excellence both in the classroom and in the community.
Follow UNO on Facebook, Twitter, Instagram, TikTok, LinkedIn, and YouTube.