UNO's Commitment to Honoring, Supporting Veterans
UNO is a proud supporter of our service members in the armed forces, with a commitment to being one of the nation's best universities for military-affiliated and veteran students.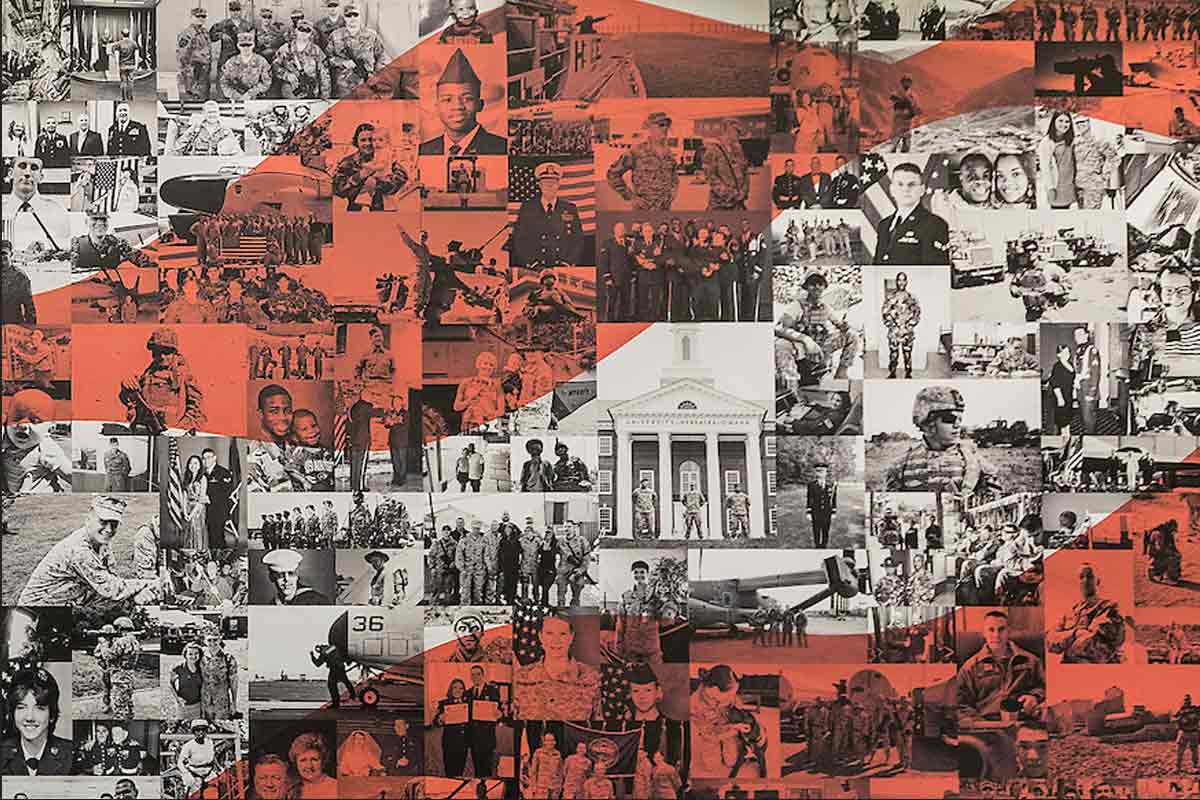 The University of Nebraska at Omaha (UNO) is a proud supporter of our men and women in the armed forces, with a commitment to being one of the nation's best universities for military-affiliated and veteran students.
Use this Veterans Day to learn how you can support our own Office of Military and Veteran Services (OMVS), hear from our own military-affiliated students, and learn about UNO's historic ties to the armed services.


---

A Veterans Day Puzzle Art Activity
To honor those who have served, or are currently serving in the U.S. military, the Office of Military and Veteran Services wants to decorate their recently-reorganized office with your artwork.
Stop by OMVS in the Milo Bail Student Center on Thursday, Nov. 11, from 8:30 A.M. to 5 P.M., and show your support by decorating your very own puzzle piece!
All decorated pieces will be assembled and hung on the wall in OMVS. Markers will be provided, but you can bring your own art supplies if you want to create something more spectacular.


Honoring Veterans Day: Student Stories
In honor of Veterans Day, we asked veterans who are taking classes at UNO and serving as student workers in the Office of Military and Veterans (OMVS) about their military service and time at UNO.

Mickaelle Rockette, Senior, Social Work | U.S. Navy
Rockette worked in the Navy as an Electronics Technician for four years, ending in 2019. After completing her service, she moved to Omaha to be with her family and enrolled in UNO.
After she gets her bachelor's degree, Rockette plans to enter the master's program for social work. After that, she hopes to work for Veterans Affairs:
"UNO helped me get acclimated to living in a brand-new city. The atmosphere on campus was always very welcoming. After I got started here at the Office of Military and Veteran Services, I was really excited to merge my military background with my current role as a student... The Office of Military and Veteran Affairs is really good at finding resources to help, whether it be Counseling and Psychological Services, getting involved in clubs, or military benefits. No matter what you're going through, there's always somebody you could go to."

Danny Lopez, Senior, Mutidisciplinary Studies | U.S. Army
Lopez was active in the military for five years and is continuing his education while being in the army reserves.
For Veterans Day, he and Rockette are visiting veterans in nursing homes and delivering cookies and pins.
"The Office of Military and Veteran Services supplies so much. They offered tutoring in the past. It was really awesome because it's a one-on-one session and I just talked to them and they helped a lot. The resources that we offer, the free printing and things as small as free coffee, coming in and getting coffee really make a difference."

Amber Arazi, Junior, Elementary Education | U.S. Army
Arazi served in the army for 20 years as a paralegal and in military intelligence. After her and her husband's retirement from the military they moved from California to Omaha. She plans on becoming an elementary school teacher after she graduates.
"Most people are at a different life stage than I am, which has been a transition. I'm used to my peers being at basically the same point in their life as I am. It's harder to find things that you have in common with people when you're just at a different point in life. The Office of Military and Veteran Services has given me a few of those contacts that are closer to that life stage."

David Tolliver, Sophomore, Physics | U.S. Air Force
Tolliver is a senior by credit hours but is currently a sophomore in the physics program. He was in the air force as a weather forecaster for nine years.
"I was already thinking about getting into physics and seeing that UNO had the better physics program in the area, it kind of made sense to go full time here. It's the first time I've been a full-time student in 10, 12 years, so that definitely changes things a bit."

Helping Pave A Path To Service
UNO is home to Air Force Reserve Officer Training Corps (AFROTC) Detachment 470 located in 260 Arts & Sciences Hall.
The AFROTC is an educational program designed to give men and women the opportunity to become Air Force officers while completing their degrees. The Air Force ROTC program is designed to prepare you to assume positions of increasing responsibility and importance in the modern Air Force. Learn more.


A Decades-Long History of Supporting Veterans

As one of the country's first universities to institute the Bootstrapper program following World War II, UNO has a long and proud history of making the transition from military service to the classroom.

Notable UNO alumni who have served in the armed forces include current U.S. Secretary of Defense Chuck Hagel, Four-Star General James P. Mullins, Four-Star General Johnnie E. Wilson, and Four-Star General Bryce Poe II.

UNO is also the alma mater of four Medal of Honor winners: Merlyn Dethlefsen (1965), Roger Donlon (1967), Jack Treadwell (1963) and Leo Thorsness (1964).
About the University of Nebraska at Omaha
Located in one of America's best cities to live, work and learn, the University of Nebraska at Omaha (UNO) is Nebraska's premier metropolitan university. With more than 15,000 students enrolled in 200-plus programs of study, UNO is recognized nationally for its online education, graduate education, military friendliness and community engagement efforts. Founded in 1908, UNO has served learners of all backgrounds for more than 100 years and is dedicated to another century of excellence both in the classroom and in the community.
Follow UNO on Facebook, Twitter, Instagram, LinkedIn, and YouTube. 
Contact Us
If you have a story idea, news tip, or other question, please email the UNO News team at unonews@unomaha.edu.