UNO, Undergraduate Programs Reach New Highs in U.S. News & World Report Rankings
Li: "Kudos to our entire campus community and all of the faculty and staff who work tirelessly to support our students. UNO is an institution with unmatched potential. Everyone here should take great pride in these rankings."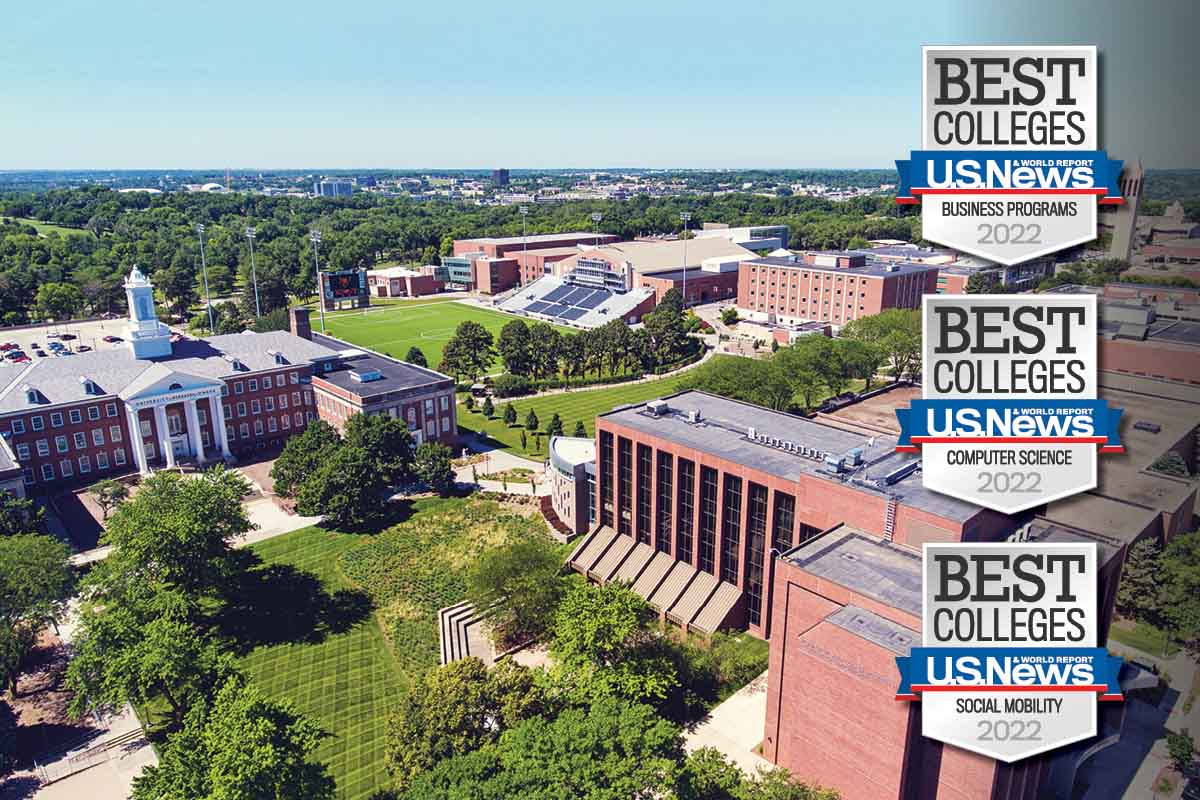 The 2022 U.S. News & World Report Best Colleges rankings released today show the University of Nebraska at Omaha (UNO) making great strides in several categories, including among national universities, undergraduate business and computer science programs, and social mobility.
Among National Universities, UNO has advanced to 263rd, climbing 30 spots in the past two years. Likewise, in its Top Public Schools category, U.S. News & World Report ranked UNO 132nd nationwide, or 12 spots higher than last year.
National universities are defined by the publication as institutions offering a full range of undergraduate, master's and doctoral programs while also emphasizing faculty research or award professional practice doctorates.
These rankings place UNO ahead of many of its peer institutions including Portland State University, Cleveland State University, and Northern Illinois University. UNO is also close on the heels of several other peers such as the University of Missouri – St. Louis, the University of Missouri – Kansas City, and the University of North Carolina – Charlotte.
Chancellor Joanne Li, Ph.D., CFA celebrated the national rankings while also noting the trajectory of UNO. "The academic excellence our students experience at UNO is one of the many qualities that drew me to this institution," Chancellor Li said. "These national rankings are indicative of UNO's recognition among its peers. UNO is a special place, providing an unmatched opportunity, as Omaha's urban institution, to drive the future of the workforce in our community and across our state. Kudos to our entire campus community and all of the faculty and staff who work tirelessly to support our students. UNO is an institution with unmatched potential. Everyone here should take great pride in these rankings."
True to the university's values, strategic plan, and dedication to ensure access to an exceptional education, UNO has climbed the ranks significantly in the social mobility category, ranking 169th, or 85 spots higher compared to two years prior. This category takes into consideration six-year graduation rates among students who are eligible for Pell Grants.
UNO has also been awarded higher rankings in categories tied to specific undergraduate programs. The undergraduate computer science programs offered by UNO's College of Information Science & Technology soared up 56 spots to reach 154th in the nation. The College of Business Administration's undergraduate business programs were ranked 166th among national universities, climbing 14 spots since last year.
"Our strategic plan at UNO is focused on living out our values with a laser-focus on our students, including providing an exceptional education and ensuring that any student who wants to pursue a higher education can do so at UNO," Sacha Kopp, Ph.D., Senior Vice Chancellor for Academic Affairs said. "Receiving national recognition for the academic quality of our programs as well as the opportunities provided for students shows us that UNO is committed to the success of all Mavericks — from enrollment to graduation and beyond."
Program-specific rankings are indicative of a high level of respect among other institutions. Deans and senior faculty members at other institutions were asked to rate the academic quality of their peer institutions, like UNO, on a 5-point scale.
These rankings continue the successes from rankings released earlier in 2021 in which UNO's College of Public Affairs and Community Service received several rankings from U.S. News & World Report specific to graduate programs. UNO's School of Criminology and Criminal Justice ranked 13th nationally. The School of Public Affairs tied for 28th nationally with several specialties earning top marks.
U.S. News & World Report scores institutions on a variety of factors including graduation and retention rates, social mobility, academic reputation, financial resources for students, and more. In most of the rankings released today, other institutions across the state of Nebraska generally stayed about even or saw slight decreases.
More information on UNO's rankings can be found on the U.S News & World Report website.
About the University of Nebraska at Omaha
Located in one of America's best cities to live, work and learn, the University of Nebraska at Omaha (UNO) is Nebraska's premier metropolitan university. With more than 15,000 students enrolled in 200-plus programs of study, UNO is recognized nationally for its online education, graduate education, military friendliness and community engagement efforts. Founded in 1908, UNO has served learners of all backgrounds for more than 100 years and is dedicated to another century of excellence both in the classroom and in the community.
Follow UNO on Facebook, Twitter, Instagram, LinkedIn, and YouTube. 
Contact Us
If you have a story idea, news tip, or other question, please email the UNO News team at unonews@unomaha.edu.