Celebrating Pride Month at UNO
June is Pride month and we are celebrating the lives and stories of all our LGBTQIA2S+ students, faculty, staff, and alumni as well as sharing information on campus support resources.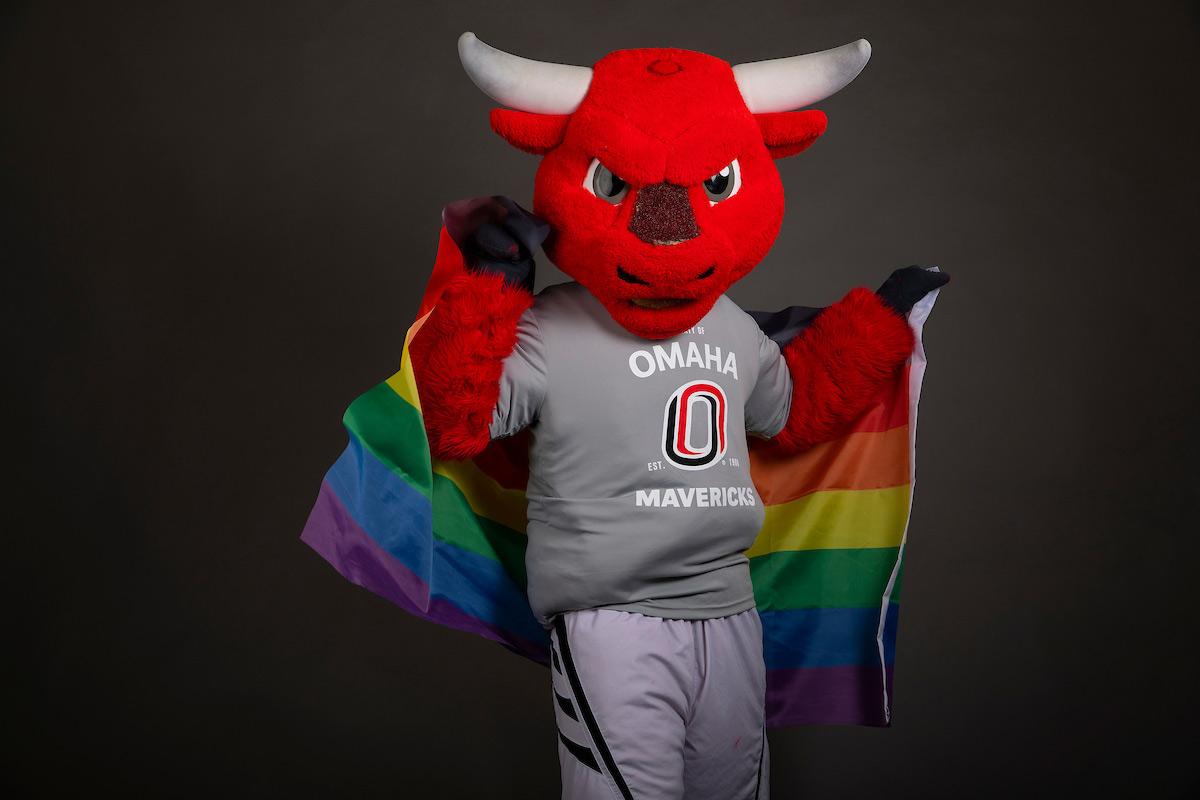 UNO is celebrating Pride month all month long, we want to celebrate the stories, lives, and contributions of LGBTQIA2S+ Mavericks past and present, while also providing support and resources to those in need today and in the future.
In June 1969, trans women of color rioted against police brutality at the Stonewall Inn in New York City after enduring harassment for years. This riot sparked a growing - and continuing - effort to stand against trans and queer violence of LGBTQIA2S+ individuals and spaces.
While there were other documented queer and trans riots in response to police brutality, the Stonewall Inn Riots hosted a remembrance parade the year following the events in New York City called Christopher Street (location of the Stonewall Inn) Liberation Day. This was the birth of the modern-day Pride Parade and Pride Month.
UNO celebrates Pride Month in a variety of ways: gatherings, education, joy, love, and support.
Learn more about UNO's history of supporting and celebrating queer voices and ways to be loud and be proud.
UNO Pride Summer Events
Actively Recruiting for OUT @ UNO Faculty and Staff, All Month
Queer and trans spectrum people are often invisible to the campus community. OUT @ UNO is an online visual depiction of LBGTQIA2S+ faculty, staff, and graduate students on campus.
UNO faculty and staff hope this effort will demonstrate to prospective and current students, as well as faculty, staff, and the broader community that there are many LGBTQIA2S+ people at UNO who are celebrated in the campus community!
If you are a graduate student, faculty or staff and are interested in being a part of OUT @ UNO, click here to register.
River City Mixed Chorus Concert
Saturday, June 10 | 7 P.M. | Holland Preforming Arts Center
The 1970's were characterized by love, war, freedom, scandal, peace, and upheaval. And so much glorious music across a wide range of genres – hard rock, soft rock, pop, funk, soul, folk, R&B, country, punk, and, of course, disco. Join the River City Mixed Chorus as they celebrate the iconic artists of the 70's, such as Gloria Gaynor, the Mamas & the Papas, Bee Gees, and Billy Joel, whose timeless anthems became a soundtrack for social justice movements that continue to this day. Selections will also include upbeat songs from 70's inspired musical theater and film, such as Dreamgirls. And because the beat does go on, plan on staying for a post-concert disco and costume party at the Holland.
The first 20 people to registered gets to attend this event for free. It is first come, first served and you must be a UNO faculty, staff, or student.
Registration to attend the concert with UNO.
Ice Cream Social
Friday, June 16 | 1-3 P.M. | eCreamery
Join the GSRC at eCreamery to celebrate pride as a part of the UNO community. If you are UNO faculty, staff, or student, get one free scoop of ice cream by showing your MavCard.
Midlands Sexual Health Research Collaborative LGBTQ+ Health Service Community Report
Thursday, June 22 | 3-4:30 P.M. | MBSC Nebraska Room
Led by MSHRC faculty and graduate students, along with collaborators and community partners across Nebraska, this needs assessment is a follow-up to our 2010 needs assessment. The survey assessed the physical, mental, social, and sexual health of the LGBT community.

Drs. Sophia Jawed-Wessel, Liam Heerten-Rodriguez, Jason Coleman, and Jay Irwin; Cameron Koenig-Barker, and Braeden Krall will present the critical findings from this research and the practical applicability to supporting queer and trans community in Nebraska.
Union Omaha, Pride Night
Saturday, June 24 | 7 P.M. | Werner Park
Celebrate pride with Union Omaha Soccer! Union Omaha hosts a pride night every year to celebrate their fans that identify as a member of the LGBTQ+ community.
Union Omaha's motto is "One Means All", and this statement of inclusion supports all members and fans. Werner Park stadium will be proudly showing pride colors and fans can buy limited edition pride merchandise. For more information go to https://www.unionomaha.com/2023-schedule/.

The first 30 people to register will pay just $5 per ticket if you are a UNO faculty, staff, or student. This is first come, first serve so register today!

Registration to attend Union Omaha Pride Night
Pride Tie Dye Event
Monday, June 26 | 10 A.M. - Noon | 126 H&K
Branded white t-shirts will be provided to present UNO at the Heartland Pride Parade on July 15 (details below).
Reserve your t-shirt and join us for the parade: https://forms.gle/REY5D43Bu55u1mW76
UNO Participates in Heartland Pride Registration
Saturday, July 15 | 8 A.M. - Noon | Capital District Downtown Omaha

Do you want to join UNO in the Saturday, July 15 Pride Parade?
Register to participate and get a UNO tee or come to our customizing tie-dying event and make a tee that expresses yourself with your special colors!
This is open to current students, staff, and faculty. There are also pre-dyed shirts available for those who cannot attend the tie-dye event.
Option 1: Monday, June 26 | 10 A.M. to Noon| Custom Tie-Dye
Option 2: Pick up a pre-dyed shirt at the beginning of July 2023
Register for either option here:
UNO Heartland Pride Parade Participant Registration

UNO's LGBTQIAS+ Campus Resources All Year Round
There is no one way to "do" Pride. It might be a private coming out experience, to walking the streets showing off all your colors, to activating against inequities of justice for queer and trans folk.
UNO's Queer and Trans Services (QTS) student agency and the Gender and Sexuality Resource Center (GSRC) wants to ensure that UNO LGBTQIA2S+ communities can feel celebrated and less isolated, especially as more people are finding their ways after two years of pandemic isolation.
University of Nebraska Chosen Name and Gender Policy
As of 2021, all members of the UNO campus community have the ability to update their chosen name, pronouns, and gender identity across all university systems. Students can make these changes using MavLINK and faculty and staff can do so in Firefly. A video is available here to walk through the process.
Visit the Queer Omaha Archive
UNO is home to the city's only collection of LGBTQIAS2+ historical documents detailing the fight for equity and equality throughout the city's past. The Queer Omaha Archives preserves LGBTQIA+ history as part of the UNO Libraries' Archives & Special Collections. Materials documenting Omaha's and Nebraska's diverse LGBTQIA+ communities are available to the public to more widely share the stories of these individuals.
TRANScending Trans Narratives: Ally's Story of Resilience
UNO student Ally Nelson-Matute shares her story of how support from campus groups like TRANScend have been lifelines for her and other students in navigating school, life, and their own identities.
Huespring: Opening Doors, Building Communities for Queer Leaders in Nebraska
In October of 2019 UNO faculty, staff, and students helped launch Huespring, a nonprofit leadership development program designed specifically for LGBTQ+ individuals with its first cohort of 22 mentors and scholars.
The most recent cohort of Huespring participants recently graduated on May 13, including 12 Scholars and 10 Mentors and recruitment for the 2023-2024 cohort will open this summer. Those interested in participating are encouraged to indicate their interest to one of the members of Huespring's leadership team.
Learn the history of Huespring
Listen to the UNO Pride Playlist
Made in collaboration with UNO's Queer and Trans Services Student Agency. UNO supports the Maverick Spirit of every student, faculty member, staff member, alumni, and guest who are part of the LGBTQIA2S+ community.
Shop the UNO Bookstore for Pride Items
Visit the UNO Bookstore website for Pride items or stop by the storefront during regular business hours.
Download Pride Zoom Backgrounds
Celebrate Pride throughout the year with these Zoom backgrounds!
The images are easy to download and easy to incorporate. Simply choose one of the images linked below and save it to your desktop (or a preferred folder). Once you open Zoom, go into "Settings" or "Preferences" and choose "Virtual Background." Once there, beneath your example video there will be a small "+", choose "Add Image" and the UNO Zoom image you downloaded to your computer and then back out of your settings.
Pattern
Durango Wearing a Flag
Durango Holding a Flag
About the University of Nebraska at Omaha
Located in one of America's best cities to live, work and learn, the University of Nebraska at Omaha (UNO) is Nebraska's premier metropolitan university. With more than 15,000 students enrolled in 200-plus programs of study, UNO is recognized nationally for its online education, graduate education, military friendliness and community engagement efforts. Founded in 1908, UNO has served learners of all backgrounds for more than 100 years and is dedicated to another century of excellence both in the classroom and in the community.
Follow UNO on Facebook, Twitter (X), Instagram, TikTok, LinkedIn, and YouTube.