Call for Nominations: Presidential Medal of Service and President's Excellence Awards
University of Nebraska System President Ted Carter is inviting nominations for this year's Presidential Medal of Service Award (Oct. 23) and the President's Excellence Awards (Nov. 19).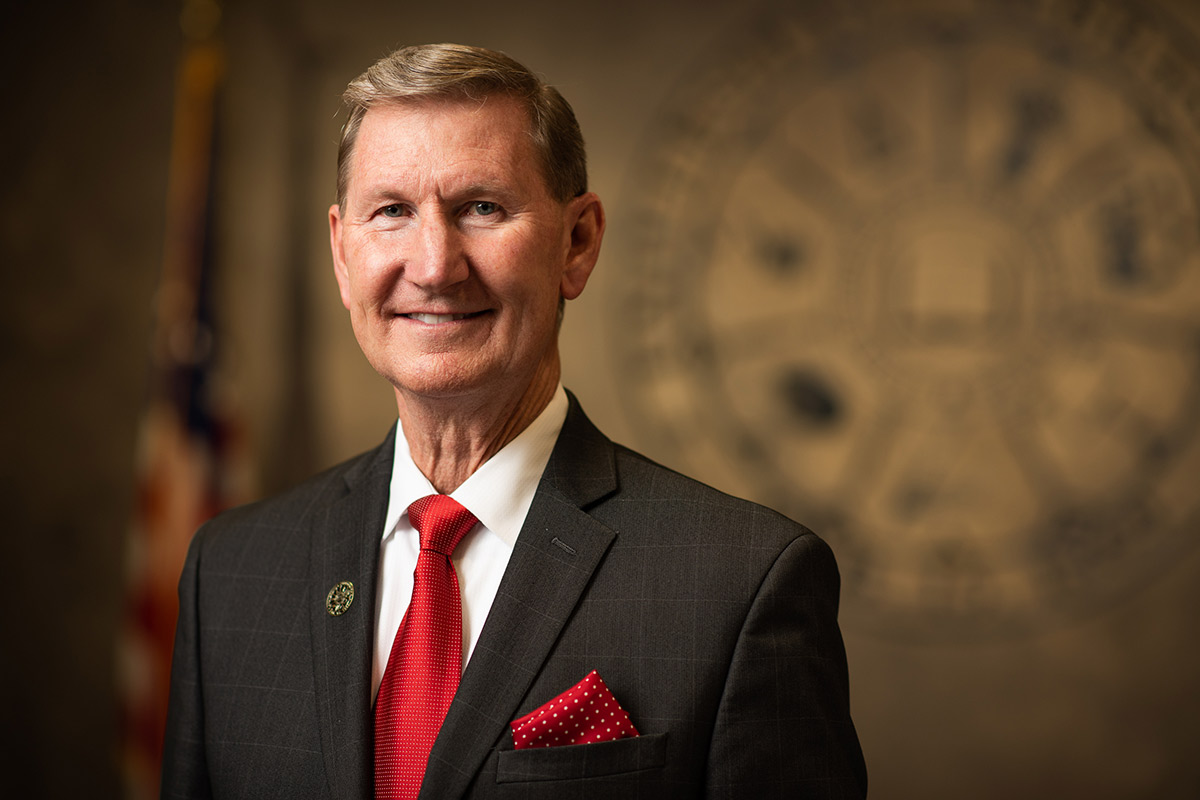 The Presidential Medal of Service
Nominations due Oct. 23
The Presidential Medal of Service is an annual award that celebrates Nebraskans' promotion of the impact the university and higher education have on the state's economic and social well-being.
The medal is the highest honor the university president can bestow on a community member. Members of the university community and all Nebraskans are invited to submit nominations by filling out an online form available here. Nominations are due Oct. 23.
University of Nebraska System President Ted Carter will select a winner to be honored at an event in December.
Nominees should be Nebraskans who have made significant contributions in supporting a strong University of Nebraska and promoting the role that higher education plays in growing the state. For example, nominees may have testified to policymakers on behalf of the university, led a letter-writing campaign, spoken at a public meeting on an issue important to the university, or hosted an event to raise community awareness of the university's impact.
University and NU Foundation employees are not eligible to receive the award. Elected officials and candidates for elected office are also ineligible.
"The University of Nebraska's highest priority is providing affordable, accessible education that transforms students' lives and grows our state," Carter said. "So many Nebraskans work together to make that happen, and this award is an annual opportunity for us to publicly say thank-you for their support and advocacy for our 51,000 students."
The President's Excellence Awards
Nominations due Nov. 19 (corrected date)
Each year the University of Nebraska presents the President's Excellence Awards, the university system's most prestigious honors for success in the classroom, the laboratory and in our campus and broader communities.
Nominations are now open for these university-wide awards, including a brand-new award that honors research discovery and commercialization. I encourage you to take this opportunity to nominate a colleague, department or unit whose work merits public recognition for the significant impact it has had on students, the university and the state.
Nomination criteria, information on past winners and instructions are all available on the awards webpage. All nominations are due Nov. 19, 2021.
Individual faculty winners are awarded $10,000 each, a presidential medallion and an engraved plaque. The departmental winner receives $25,000 to support its instructional mission. Recipients of the Inclusive Excellence Collaboration Award receive $25,000 to support diversity, access and inclusion efforts.
All winners, who are chosen by panels of their peers, are honored at a luncheon in the spring attended by senior leaders and colleagues from across the university.
Questions? Please contact Candice Batton, Assistant Vice Chancellor for Faculty Affairs, at cbatton@unomaha.edu.


Awards
Faculty IP Innovation and Commercialization Award (FIPICA): This new award honors members of the University of Nebraska faculty who have developed and nurtured new intellectual property from concept to licensing/startup business.

Outstanding Teaching and Instructional Creativity Award (OTICA): Recognizes up to two individual faculty members who have demonstrated meritorious and sustained records of excellence and creativity in teaching.

Inclusive Excellence Collaboration Award (IECA): Recognizes sustained, outstanding contributions in diversity and inclusion between two or more University of Nebraska academic and/or administrative units or campuses that move the university system toward inclusive excellence.

Innovation, Development and Engagement Award (IDEA): Recognizes up to two faculty members who have extended their academic expertise beyond the boundaries of the university in ways that have enriched the broader community.

University-wide Departmental Teaching Award (UDTA): Recognizes a department or unit within the university that has made a unique and significant contribution to the teaching efforts of the university and which has outstanding esprit de corps in its dedication to the education of students at the undergraduate, graduate or professional level.

Outstanding Research and Creative Activity Award (ORCA): Recognizes up to two individual faculty members for outstanding research or creative activity of national or international significant.
About the University of Nebraska at Omaha
Located in one of America's best cities to live, work and learn, the University of Nebraska at Omaha (UNO) is Nebraska's premier metropolitan university. With more than 15,000 students enrolled in 200-plus programs of study, UNO is recognized nationally for its online education, graduate education, military friendliness and community engagement efforts. Founded in 1908, UNO has served learners of all backgrounds for more than 100 years and is dedicated to another century of excellence both in the classroom and in the community.
Follow UNO on Facebook, Twitter, Instagram, LinkedIn, and YouTube. 
Contact Us
If you have a story idea, news tip, or other question, please email the UNO News team at unonews@unomaha.edu.