Weather Communications Test
date: 03/28/18
time: 10:00 AM - 11:00 AM
add
03/28/2018 10:00 AM
03/28/2018 11:00 AM
America/Chicago
Weather Communications Test
On Wednesday, March 28, UNO will be testing its emergency weather alert and communications systems in preparation for severe weather.
true
MM/DD/YYYY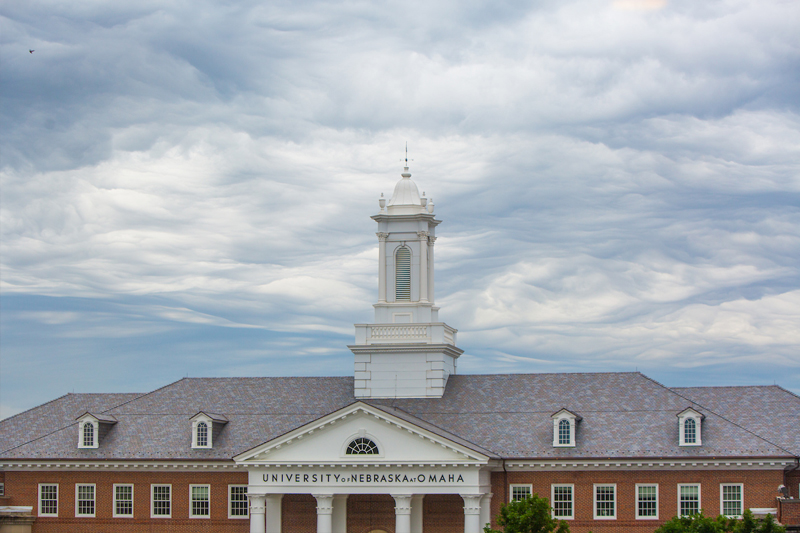 Rumbling thunder. Gusting wind. It's that time of year again when severe weather becomes a threat.

The University of Nebraska at Omaha (UNO) will test campus warning systems during a tornado drill on Wednesday, March 28, some time between 10 - 11 A.M., in tandem with the National Weather Service's Severe Weather Awareness Week and a test of Douglas County's outdoor sirens.
The Department of Public Safety encourages all faculty, staff and students to participate in the drill; however, participation is not mandatory.
Be prepared. View a list of campus shelter areas.
About the Drill
The drill should last roughly five minutes. Public Safety will send a message by overhead page and text alert once the drill has ended. Everyone participating in the drill should take their purses, laptops or other personal items with them to the shelter area.
If the overhead paging alert is not heard in your building during the drill, or you thought you were signed up for e2Campus notifications, but did not receive any, please contact Sgt. Dave Points at 402.554.3700 or dpoints@unomaha.edu.
Sign up for e2Campus notifications
This drill is voluntary; however, during an actual tornado warning activation, students, faculty and staff must report to their designated shelter area or leave the building. Failure to take one of those two options could result in administrative, academic or possible criminal sanctions depending on the circumstances. People cannot be forced to stay in a shelter area, but if they chose to leave, they must leave the building.
Douglas County Siren Testing
Following the March 28 tornado drill, the Douglas County Emergency Management Agency will test its outdoor sirens the first Wednesday of every month from April 4 through October 3. Regular testing of student housing warning systems will coincide with these monthly tests beginning on May 2. 
Sirens During Tornado Season
Aside from tests, there are three reasons that sirens will go off during tornado season:
The National Weather Service initiates a tornado warning for any part of Douglas County.

A public safety official or trained storm-spotter sees a rotating funnel cloud or tornado in Douglas County.

Douglas County 911 receives credible reports of damage or the imminent threat of hurricane-force sustained winds (74 mph+).
UNO will activate its warning systems any time that Douglas County activates its sirens during these incidents. The two nearest sirens to campus are located by Brownell Talbot in Dundee and by Elmwood Park, northeast of the Peter Kiewit Institute.
Stay Informed
A full list of UNO's severe weather policies, including a list of shelter locations and ways to stay informed, can be found on our emergency website.
Contact Us
If you have a story idea, news tip, or other question, please email the UNO News team at unonews@unomaha.edu.
Our Campus. Otherwise Known as Omaha.
The University of Nebraska does not discriminate based on race, color, ethnicity, national origin, sex, pregnancy, sexual orientation, gender identity, religion, disability, age, genetic information, veteran status, marital status, and/or political affiliation in its programs, activities, or employment. Learn more about Equity, Access and Diversity.
scroll to top of page