Weather Communications Test
date: 10/20/20
time: 1:30 PM - 1:45 PM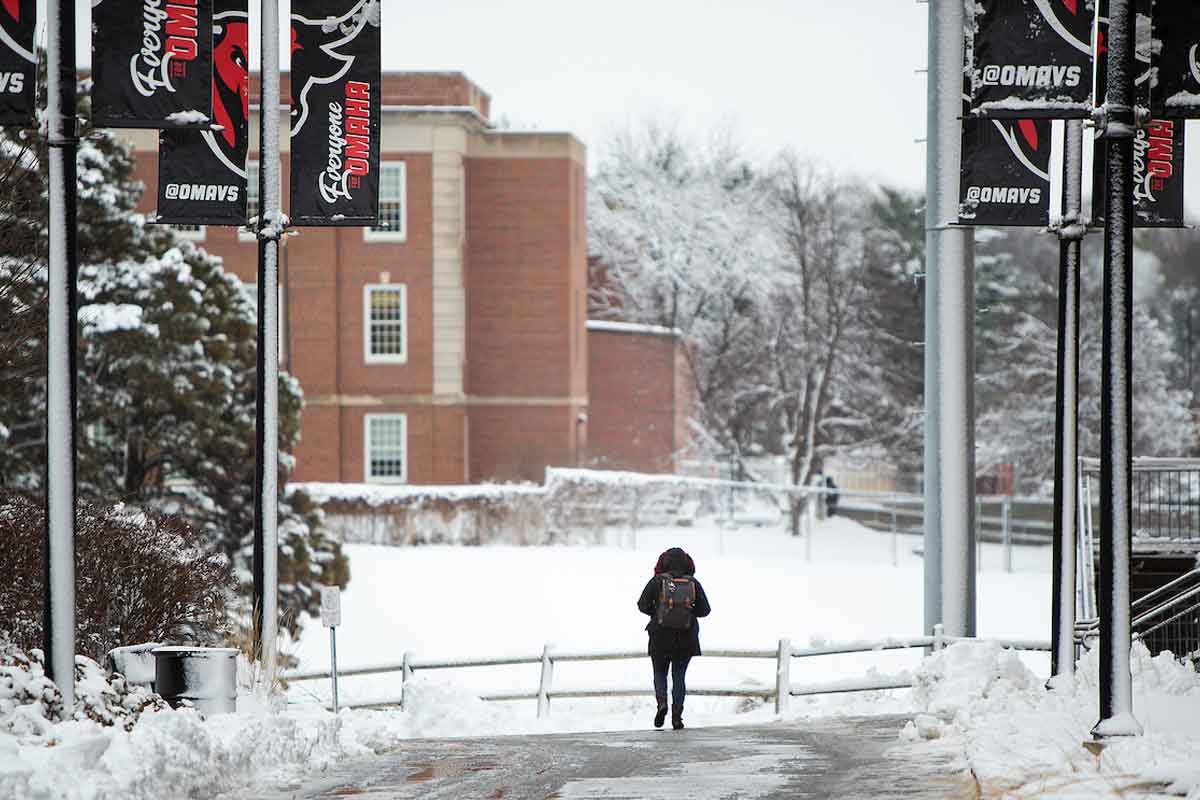 The University of Nebraska at Omaha (UNO) will conduct a routine test of campus warning systems on Tuesday, Oct. 20, at 1:30 P.M.
During this time, test messages will go out via a variety of UNO channels. This includes:
Didn't Receive An Alert?
If you do not receive an alert during the test, but thought you were signed up for UNO Alert; or if you did not hear an overhead page in your building, please contact Sgt. Dave Points at 402.554.3700 or dpoints@unomaha.edu.

Winter Weather
This regularly scheduled test is intended to help prepare the UNO campus on what to expect when severe winter weather arrives and could impact campus operations.

Due to the de-densified nature of campus due to the COVID-19 pandemic, severe winter weather will not result in the cancelation of classes or suspension of campus operations. Instead, all campus operations, including classes, which are able to be moved to remote operations will be asked to do so.

During the move to remote operations previously designated personnel may still be asked to report to campus and certain on-campus events may continue as scheduled.

Out of an abundance of caution and with the safety of our campus community in mind, any decision to move campus to remote operations will be shared the prior day and will apply for the entirety of the day that is impacted. For extended periods of winter weather, an update about campus operations will be made on the same timeline for each proceeding day.

For guidance on how these changes could impact you, please refer to the categories below:


---
Students
Students who have on-campus classes as part of their rotation will need to connect with their instructor once an announcement is made about moving to a remote learning mode.

Those students who have entirely remote or entirely online courses during the 2020-2021 semester will not have their schedules impacted.

Students who require on-campus access of computers or other course-relevant technologies, they are encouraged to reach out to the UNO Helpdesk and apply for a laptop or pocket WiFi rental, which will be provided at no additional cost based on availability.

Additionally, students are responsible for reading ahead in their course syllabus or working with their instructor to know what content they are responsible for covering that day.

Students requiring the use of support services such as the UNO-Nebraska Medicine Health Center; Counseling and Psychological Services; Speech Center; Writing Center; or Academic Career and Development Center will still be able to do so virtually.

See more resources on UNO's KeepLearning resource page.


Faculty
In the event of a shift to remote learning due to severe winter weather, faculty will be asked to move their course into remote delivery until campus operations return to standard operating procedure.

Faculty who utilize on-campus lab spaces as part of their curriculum are asked to consider alternative solutions for that portion of their curriculum in the event the campus moves to remote teaching because of severe winter weather.

It is the expectation that faculty will promptly communicate and update their students on plans for the impacted day(s) as soon as possible after the announcement about moving to remote operations.

Find more resources on UNO's KeepTeaching resource page.


Staff
Staff who are able to perform their duties in a remote setting will be asked to do so during such time that severe winter weather impacts on-campus operations.

For staff who are able to perform their duties in a remote setting, but for some reason are not able to do so during a severe winter weather remote operations period will be required to utilize their available vacation, Floating Holiday, or compensatory time.
Staff who are paid bi-monthly and whose duties can only be completed on campus, but are not designated as being required to be on campus, will be able to apply for up to eight hours of bad weather time.

Certain employees, who have been previously designated as needing to be on campus even in the event of remote operations or severe weather, will be asked to work with their supervisor to determine their scheduled time on campus. Those who are required to come to campus will receive their normal pay as well as up to eight hours of bad weather time.

Find more resources on UNO's KeepWorking resource page.


Guests
In the event of a move to remote operations, the expectation should be that campus buildings will be closed and operating remotely.

However, certain events held in spaces used commonly by the public (Baxter Arena, Thompson Alumni Center, Weitz CEC, Scott Conference Center, etc....) may still be held, as scheduled. It will be up to the individual guest to check on the event status through the event organizer.

How UNO Communicates Weather-Related Information
Emergency notification methods, in addition to all-campus emails, may be used in the event of severe weather affecting campus operations.

A full list of UNO's severe weather policies, including closures and delays, can be viewed online.


Related Resources
Contact Us
If you have a story idea, news tip, or other question, please email the UNO News team at unonews@unomaha.edu.