2019-2020 Student Government Election March 13
Want to be a voice for the UNO student body? Vote on March 13.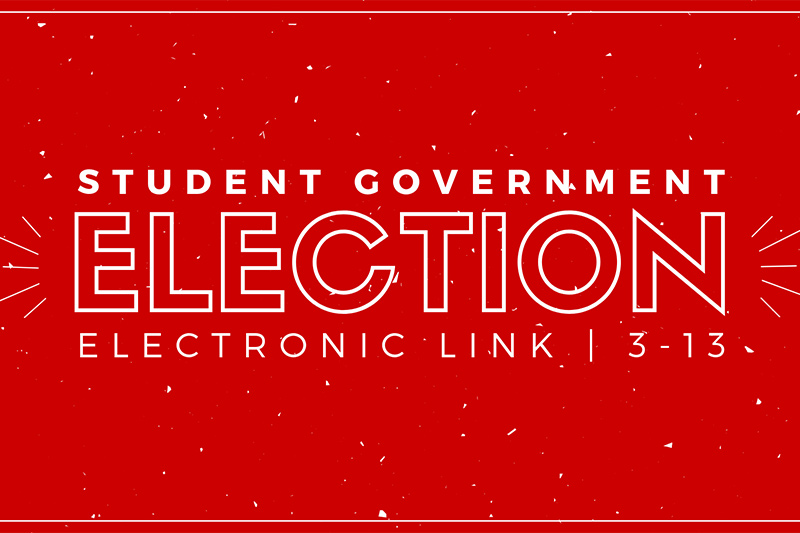 UNO Student Government (SG-UNO) is the voice of the student body and represents its constituents on a daily basis to the UNO Administration, Faculty, and Staff, as well as the University of Nebraska Board of Regents and the Omaha community.
There will be one adjoined ticket for the President/Regent and Vice President positions. The Student Senate shall consist of thirty (30) elected Student Senators that shall represent the Colleges of UNO, which shall be apportioned according to enrollment in each College. The SG-UNO Election Commission shall apportion these thirty (30) College Senate seats prior to the general election, using the most current enrollment information. 
The Election will take place this Wednesday, all day, on March 13th on Engage through an electronic link. 
Students will vote on whether or not to continue funding the Gateway and Maverick Productions as well as who will fill the following seats available for the 2019 Elections and who is running for those spots. They are based on enrollment projections for each College and are subject to change.
View the candidate's profiles here.
1 - President/Regent
Cade Wolcott
Aya Yousuf
1 - Vice-President
Hannah Keator
Jabin Moore
6 - College of Arts & Sciences Seats
Annika Kuchar
Austin Barrett
Megan Dean
Yusuf Khan
Sydney Rodgers-Morrell
Ashley Reid
Haleigh Songer
Dustin Dooley
Shraddha Patel
Abishai Javier
Grant Van Robays
Malaz Mohamed
Jordan Gebeke
6 - Graduate Seats
3 - College of Business Administration Seats
Quinn Feenstra
Israel Castaneda
Emily Nastase
Benjamin Namuth
2 - College of Public Affairs and Community Service Seats
Dalton Meister
Cassidy Morse
Kaia Phelps
Dawson Ragone
3 - College of Education Seats
Emily Myers
Vanessa Chavez Jurado
Erick Estevez
Brianna Full
2 - College of Fine Arts and Media Seats
Chris Brady
Tarissa Washka
Jeff Turner
Maya Solarana
2 - College of Engineering Seat
Joey Gruber
Breanna Smith
2 - IS&T Seats
Daniel Bresnahan
Timothy Reznicek
2 - University Division
Christine Jacha
Election rules are also available to view. If you have any questions about campaigning or any trouble with the process, please call the Student Government office at 402.554.2620 or email unosg@unomaha.edu.
Contact Us
If you have a story idea, news tip, or other question, please email the UNO News team at unonews@unomaha.edu.