Campus Guidance for the 2020 Fall Semester Break
Fall Semester Break is Oct. 19-20. There will be no classes during the break, but campus will remain open. Ahead of the break, Chancellor Gold has a special message for all Mavericks.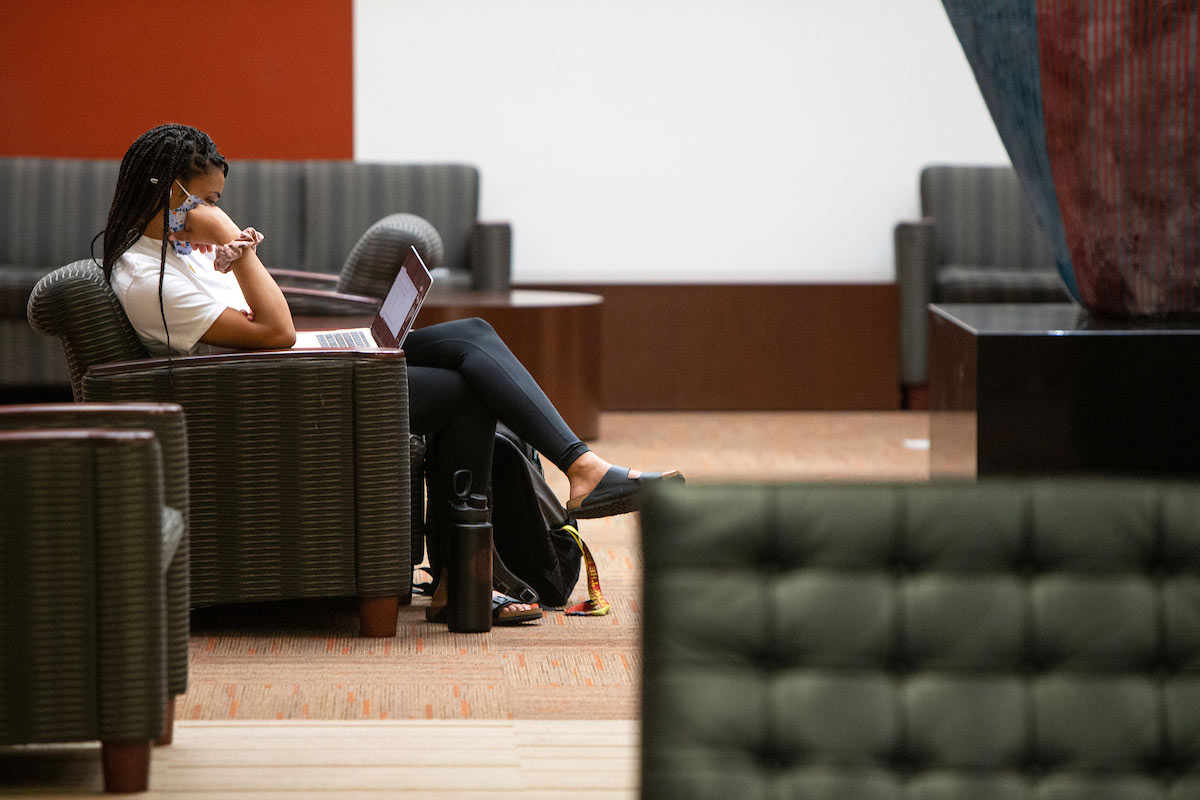 Fall Semester Break for UNO is Oct. 19-20. There will be no classes during the break, but campus operations will continue as normal. Classes will resume on Oct. 21.
More Information
---
Chancellor Gold: Have a Healthy, Safe Fall Break  
We've come a long way and accomplished so much since the start of this academic year against the backdrop of the COVID-19 pandemic. Our "North Star" is more than ever the health and safety of our Maverick family and the communities that we serve.

The fact that we have been able to teach, work, and learn in an in-person, de-densified setting is a direct result of your commitment to doing the little things that make a big difference, such as mask wearing, physical distancing, and hand washing.

Today I ask of all Mavericks: Double down on your commitment to each other's wellness during Fall Break and lead by example.

Positive cases are on the rise across the state and the nation, so it is crucial that you continue to wear a mask, practice physical distancing, and follow good personal hygiene practices in the days ahead. Our behavior around friends, family, and members of our community will determine how the disease spreads in the coming weeks.

Before you take the long weekend to get some much-deserved rest, please take a moment to review the following information and resources that will help keep you, your family and friends healthy, safe, and on track for the rest of the semester.
Download the 1-Check UNO App
Along with wearing a mask, washing your hands, and practicing physical distancing, daily use of the 1-Check UNO mobile app or website can keep you and our campus community safe this semester.
If you are planning to travel, spend time with family or friends, or visit campus during Fall Break, please take a moment and use the 1-Check UNO mobile app to self-screen to see if you are experiencing COVID-19 symptoms. If your results show that you are at medium or high-risk for COVID-19, you will be connected with testing resources.
Remember: Testing options are available through Test Nebraska and the Nebraska Medicine UNO Health Center should you need them.
Support Our Office of Health Security Team
Thanks to your cooperation and support throughout the Fall 2020 semester, UNO has been able to help keep positive case counts low compared to our regional and metropolitan peers.

Should you have symptoms of COVID-19, test positive for COVID-19, or come into close contact with someone who has tested positive, we strongly encourage you to fill out and submit a BRT form. Doing so allows the Office of Health Security to begin their contact tracing process, which promotes your wellness and the wellness of our campus community.
Once the Health Security team receives your form, they will take the following steps:
One of our contact tracers will call you to discuss when you began showing symptoms, when you were tested, where you have been, and who you have been around.

Provide guidance on next steps for your individual situation.
If you have tested positive, you will need isolate for at least 10 days from the start of your symptoms. If you come into close contact with someone who has tested positive – meaning within six feet for 15 minutes or more – you will be asked to quarantine for 14 days. Visit the CDC website to learn more about the important differences between isolating and quarantining.
Preparing for Flu Season
While we remain focused on the COVID-19 pandemic, it is also crucial that you make time to get your flu shot before heading into the winter months.
The Nebraska Medicine UNO Health Center is once again providing flu shots to the UNO campus community. Though our on-campus student flu shot clinics have concluded, flu shots are still available by appointment at the UNO Health Center for students, faculty and staff. They remain free for students.
Faculty and staff are also able to utilize the UNO Health Center, or one of the University of Nebraska's CVS Caremark partner sites, with many employees qualifying for a $0 co-pay.
Connect, Take Care, Get Help
One of the most courageous things you can do when you are feeling stressed or anxious is to reach out for help.
I invite you to explore the resources available on UNO's Counseling and Psychological Services (CAPS) website. From there, you will be presented with helpful psychological tips for managing COVID-19 concerns and resources for scheduling telehealth appointments.
When you return from break on Oct. 21, we will have less than two months until the end of the Fall 2020 semester. It is incumbent upon all of us that we continue to support each other and promote each other's wellbeing so that we can finish 2020 on a high note and enter 2021 ready to achieve even more. I wish you and your family the very best as we move forward together.
In the Maverick Spirit,
Jeffrey P. Gold, M.D.
Chancellor
---
Open Parking & Shuttle Bus Schedule
During fall semester break, there will be open parking on campus and revisions to the shuttle bus schedule.
Building Hours
Note: some changes start Friday, Oct. 16.
Additional Buildings
Kayser Hall
October 19 & 20 | 6:00 A.M. - 5 P.M.
Maverick Landing
October 16 | 7:30 A.M. - 5:00 P.M.
October 17 & 18 | Closed
October 19 & 20 | 7:30 A.M. - 5:00 P.M.
Maverick Village Clubhouse
October 19 & 20 | 8:00 A.M. - 8:00 P.M.
Strauss Performing Arts Center
October 19 & 20 | Access only available for students/staff/faculty who have pre-arranged with Julianne Furey.
UNO Bookstore
UNO Food Services
Contact Us
If you have a story idea, news tip, or other question, please email the UNO News team at unonews@unomaha.edu.