International Education Week: November 18-22
A celebration of UNO's global reach and impact with a focus on international students, education abroad opportunities and international education efforts; Nov. 18-22.
date: 11/18/19 - 11/22/19
time: See below for a calender of events.
Much like the city we call home, the University of Nebraska at Omaha is a diverse and globally-reaching institution that provides access to exceptional educational experiences at home and across the world.
With more than 200 academic programs and more than 2,000 international students from nearly 100 different countries, the world truly meets here. Whether it's the diverse community of our international students, faculty and staff; our education abroad opportunities; internationally-focused events and guest speakers; or our partnerships with members of the community whose global experiences help shape the social and economic foundations of our city and state --- UNO is truly a globally engaged campus.
This is why there is no better time to see all that UNO has to offer during International Education Week, which runs from Monday, Nov. 18 through Friday, Nov. 22. With a range of events being hosted each day, there is no shortage of ways to get involved.
---

Calendar of Events


Study Abroad Tabling Events: Spotlighting Faculty-led Programs and Summer Exchanges
UNO has more than 1,000 different education abroad programs, including many that are led by UNO faculty experts. These programs feature special curriculum and itineraries that allow students to engage with course materials in an internaitonal setting. Learn more about the different options UNO provides at any of the following times:
Monday, Nov. 18, through Thursday, Nov. 21 | 11 a.m. to 1 p.m. | MBSC
Monday, Nov. 18, and Wednesday, Nov. 20 | 9 a.m. to 11 a.m. | H&K
International Photo Contest
Share your photos from your travels abroad. To enter the photo contest, please complete the Photo Contest Entry Form and submit it, along with up to three electronic photos, to unophotocontest@gmail.com. 
Photos will be on exhibit in the Criss Library Friday, Nov. 15, through Friday, Nov. 22. Vote for your favorite photo through Nov. 20 at 3 p.m. Winners will be announced at Cafe Internationale on Thursday, Nov. 21, at 3 p.m. in ASH 241. The top three photos will receive a prize.
Submission Deadline | Nov. 12 | 3 p.m. CST
Voting Begins | Nov. 15 | 8 a.m. CST
Voting Ends | Nov. 20 | 3 p.m. CST
Winners Announced | Nov. 21 | 3 p.m. CST | Cafe Internationale, ASH 241
Global Marketplace
Tuesday, Nov. 19 | 10 a.m. to 2 p.m. | MBSC Atrium
Internationally-inspired gifts and baked goods for sale. Proceeds and donations support UNO's International Student Emergency Loan Fund.
International Education Week Luncheon
Tuesday, Nov. 19 | Noon to 1 p.m. | MBSC Dodge Room
Invitation-only event honoring sponsored exchange students and scholars, distinguished guests, and graduating international students and International Studies majors. 
Eleventh Annual Gildersleeve Know Your World Lecture
Wednesday, Nov. 20 | 11:30 am to 1 pm | CPACS 132D
Omar Torres Fernández, Dean of International Business at Universidad Anáhuac Xalapa presents: Sustainable Development Goals for Higher Education: Universidad Anáhuac Xalapa. Consul of Mexico in Omaha, Guadalupe Sanchez Salazar, will welcome guests and students to this special event. Lunch provided, no registration required.
Café Internationale
Thursday, Nov. 21 | 2 to 4 p.m. | ASH 241
UNO's signature IEW event! Open house with refreshments, music, country display tables, and international cultural presentations by IPD trainees and ILUNO students. 
International Service Learning
Friday, Nov. 22 | 12:30 to 3:30 pm 
UNO international and domestic students are invited to work together to give back to the Omaha community. 2019 volunteer opportunities include Open Door Mission and City of Omaha cleanup. Sign up in Arts and Sciences Hall Room 241 by Tuesday, Nov. 19. Transportation will be provided.
---
Stories of Global Engagement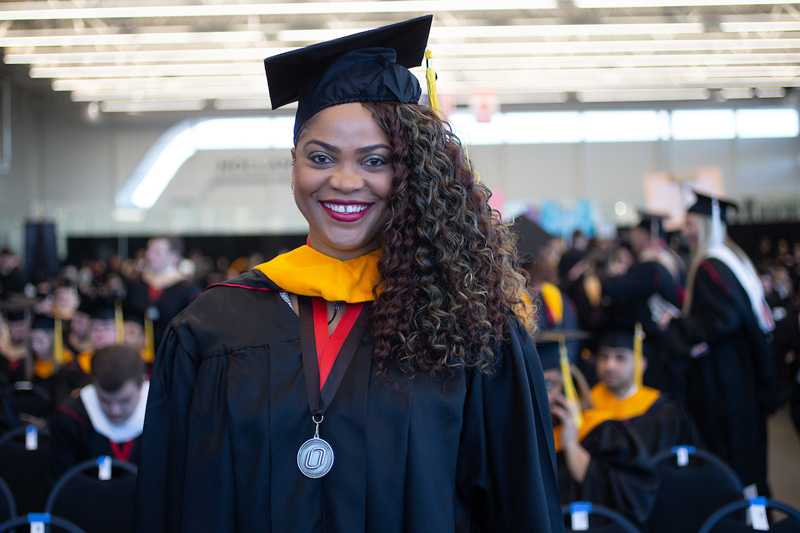 After a journey across the world, UNO 2018 graduate Gina Mujinga Kadima is now ready to settle down and make an impact through teaching.
A native of the Democratic Republic of the Congo, Kadima says despite the patriarchal nature of her home country, she was never made to feel that she couldn't accomplish her goals.
"This has been a motivation for me, so that I can help an underappreciated individual someday to reach his or her 'perfect' self and increase self-esteem."
As a recent graduate, earning her master's degree in clinical mental health counseling from the College of Education, Kadima is excited to see what the future holds; either way, she plans to do so as a Nebraskan.
A first generation student from Valley, Nebraska, Conner Smith is making the most of his college experience by spending a year studying in Japan, thanks to an education abroad partnership between UNO and Shizuoka University that stretches back 40 years.
Smith, who is pursuing a degree in international studies, initially took Japan in high school and quickly fell in love with the language and the culture. He hopes that his time in Japan will not only expand his understanding of his host country, but also create friendships and opportunities to pursue a career that advances his passion.

"Getting here, everyone welcomed me with open arms and they've taken me around the city and taken me around to all sorts of things, so I've been having a great time. I've had so many people be able to help me with my [study abroad] experience."
When Hanif Sufizada was a child his home country of Afghanistan was embroiled in a much different war than many would be familiar with today.

In the 1980s, Sufizada and his family became refugees – fleeing to neighboring Pakistan to avoid being injured or killed during the Soviet Union's invasion. It was here, as he was attending an elementary school located in a refugee camp, that he first learned about the University of Nebraska at Omaha from his uncle.

"I remember, at the time, one of my uncles came to UNO and he was always talking about UNO, Nebraska and Omaha and I would say 'what are these words?'," he explains. "My uncle is still in Afghanistan and he has quite good memories of Omaha."

Today, Sufizada is a UNO employee with the very same Center for Afghanistan Studies, overseeing educational outreach and partnerships with universities in Afghanistan and Pakistan, with a goal of creating similar partnerships across the entire Central and South Asia region.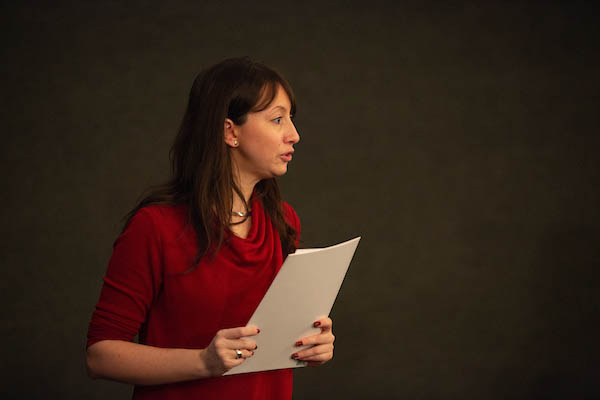 Growing up in Rapallo, Italy, Martina Saltamacchia, an associate professor of history at UNO, was accustomed to walking by medieval structures. Her students, however, often find it more difficult to comprehend life in medieval Europe when many of them have never seen a building more than 200 years old.
For the past few years Saltamacchia, who is also the director of the Medieval/Renaissance Studies program at UNO, has been leading "roleplaying" sessions in her "World Civilizations I," "Building Cathedrals," "The Medieval University" and "The Crusades" classes.
Saltamacchia also believes that representations of medieval history in popular culture plays a large role in attracting students to the field, including shows like "Game of Thrones."

"In my classes, I love experimenting with pedagogies and approaches, and in these past years at UNO I've seen the incredible value of venturing beyond the traditional lecture format – for instance, including role-playing games in my Crusades class, a medieval food banquet or a field trip to a jousting show at a Renaissance Fair for my Castles and Cathedrals class."
---
Research With a Global Impact

UNO, Shizuoka University Celebrate Shared Research
Advancing the Frontiers of Public Tertiary Education Conference
Grant Will Fund UNO Effort to Improve Business Education in Afghanistan
Students Use Social Media to Combat Hate
Shared Research Goals Support UNO Global Engagement Effort
Contact Us
If you have a story idea, news tip, or other question, please email the UNO News team at unonews@unomaha.edu.