Earth Month at UNO
As part of the campus' longstanding commitment to creating a sustainable, environmentally-friendly campus and culture, UNO Sustainability needs your input; survey closes April 30.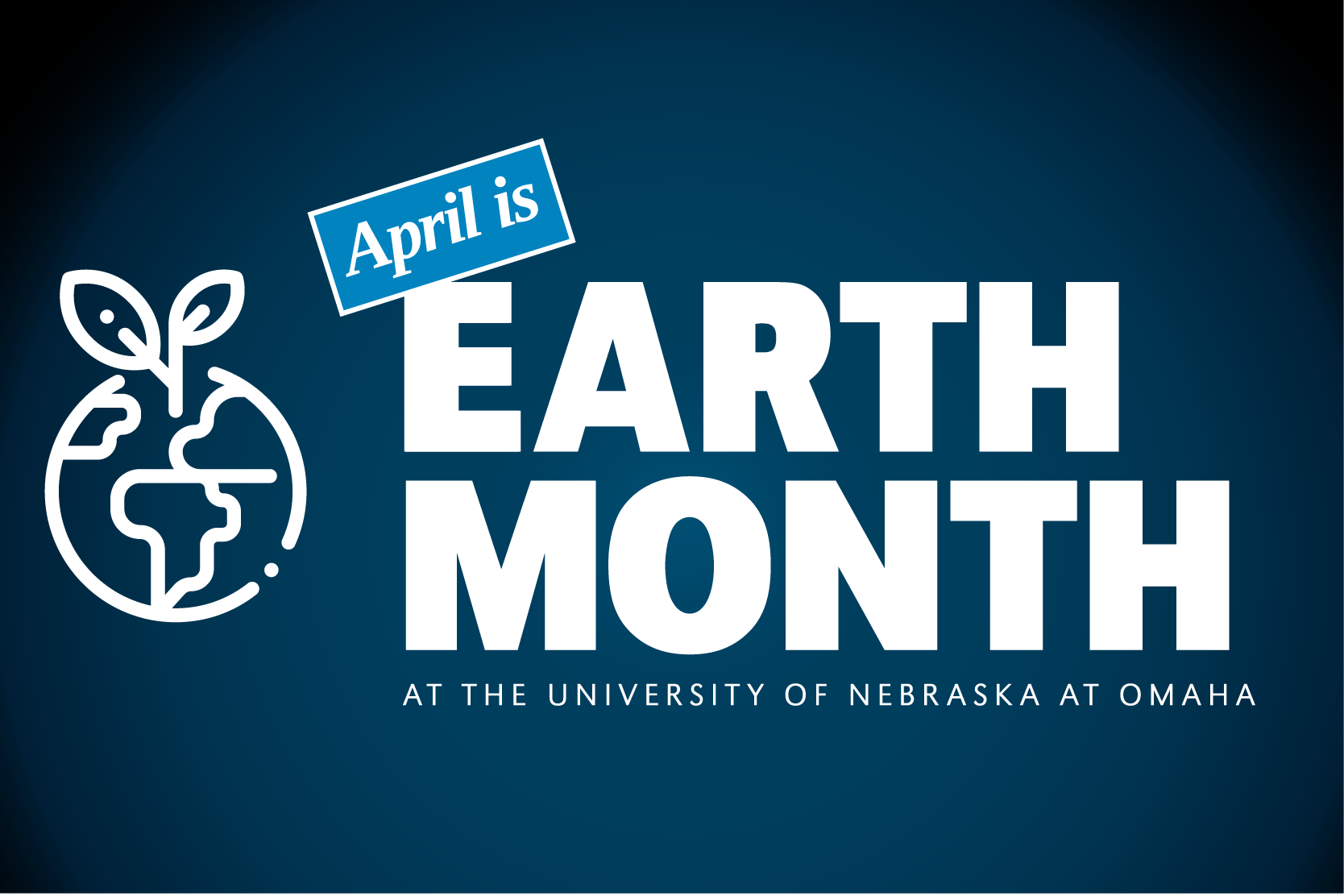 Earth Month is a time of year where we can focus on the health of our planet and how we, as a Maverick community, can ensure that what we cherish today can remain sustainable future generations.
Be sure to check out some Earth Month events happening in April and don't forget to take part in the 2021 UNO Sustainability Survey.


---

Paper Shredding, Personal Electronic Recycling
Tuesday, April 20 | 6 A.M. - 2 P.M.
Wednesday, April 21 | 10 A.M. - 6 P.M.
Who: All Nebraska Medicine, UNMC, Clarkson College, and UNO faculty, staff, and students are invited to this event. Valid I.D. Badge required. This event is not open to the public.
What: Bring household confidential documents to be shredded, electronic equipment, single use/alkaline batteries, and techno-trash for recycling.  Pop tabs and prescription eyeglasses can be dropped off as well.
When: Tuesday, April 20, 6 A.M. - 2 P.M., and Wednesday, April 21, 10 A.M. - 6 P.M.
Where: UNMC Grounds Building (annex 23) in Lot 17, 4650 Jones Street.  Enter by turning north onto 45th from Leavenworth Street.  Follow signs northwest to Grounds Building.  Enter drive through building on South side, exit to North, and onto Saddle Creek Rd.  Click here to see a map.
People dropping off items must:
Be an UNMC, Nebraska Medicine, UNO, or Clarkson College employee or student
Show their I.D. badge
Wear a mask that covers their mouth and nose
Have recyclable items segregated by category, containers with mixed items will not be accepted.
Have paper in totes, boxes, or paper bags
Have small items in totes, boxes, or bags
Boxes and/or totes can be returned to guest
Have food pantry donations clearly marked
Stay in their car and allow attendants to unload the items from the car
Turn off car ventilation system while attendants are unloading
---
SustainUNO Park Cleanup
Thursday, April 22 | 5:30-7 P.M.
Spring Lake Park (1733 Van Camp Ave)
Participants are required to wear a mask at all times
Participants are encouraged to utilize the Scott campus testing site prior to the event
Remember to maintain social distancing 
Participants should keep track of individual water at all times
Food is not allowed
Dogs are not allowed
Attendees should arrive at and leave the event in separate vehicles if they are not in the same household
Participants should complete the 1-Check UNO screening PRIOR to arrival to park for the event
Please watch the UNO Safety Module "Protect Yourself, Protect Others" prior to the event


---

Outdoor Screening: The Clean Bin Project
Thursday, April 22 | 7:30-10 P.M.
Shakespeare on the Green, North Elmwood Park | Film starts at 8 P.M.
Register online with UNO email
Partners Jen and Grant go head to head in a competition to see who can swear off consumerism and produce the least garbage. Their light-hearted competition is set against a darker examination of the problem of waste. Even as Grant and Jen start to garner interest in their project, they struggle to find meaning in their minuscule influence on the large-scale environmental impacts of our "throw-away society". Described as An Inconvenient Truth meets Super Size Me, The Clean Bin Project features laugh out loud moments, stop motion animations, and unforgettable imagery.

COVID-19 Considerations
To ensure that COVID-19 guidelines are regarded, we will organize the green space into 8x8 foot squares which will be marked out, 6 feet apart. Attendees will be required to remain in their square during the film, unless they need to use facilities. Individual squares will be limited to 5 people. Masks and social distancing required.
This is a free and zero waste event
We've partnered with Hillside Solutions to provide onsite containers for compost, recycling, Hefty Orange Bag, and landfill items
Space limited to 100 guests
---
Conservation Career Conversations with Brent Crampton from Hillside Solutions
Friday, April 23 | 11 - 11:30 A.M.
Conservation Nebraska and The Office of Sustainability at UNO have brought together some of the most inspirational environmentalists in Omaha to investigate how they landed where they did and what keeps them motivated. All of the webinars are completely free to the public!
This week we gladly present: Brent Crampton! Brent was not always in the composting business. After a decade and a half of contributing to the cultural currency of the city through boundary-pushing events, trailblazing bars, and progressive community building—He settled into the rapidly expanding world of sustainability.
Tune in to learn more about Brent's unique story of his career shift.
---
Ways to get involved with Sustainability on Campus
UNO's Office of Sustainability offers a ton of ways students can get involved with making real changes on their campus and in our community.
Join our Student Organization SustainUNO
SUNO is an action-oriented student organization focused on improving sustainability practices on the University of Nebraska at Omaha's campus, and educating their peers about sustainability problems and solutions. We put on regular meetings, volunteer events, and sustainability-related activities. This semester we are involved with various projects including divestment, managing our campus community garden, and working alongside UNO administration to bring more composting options to campus.
Want to have an impact?
UNO Sustainability also offers internships, independent study options, and even student employment options. To find out more, email kristinahughes@unomaha.edu
Contact Us
If you have a story idea, news tip, or other question, please email the UNO News team at unonews@unomaha.edu.