Earth Month at UNO
date: 04/01/20 - 04/30/20
time: see below for details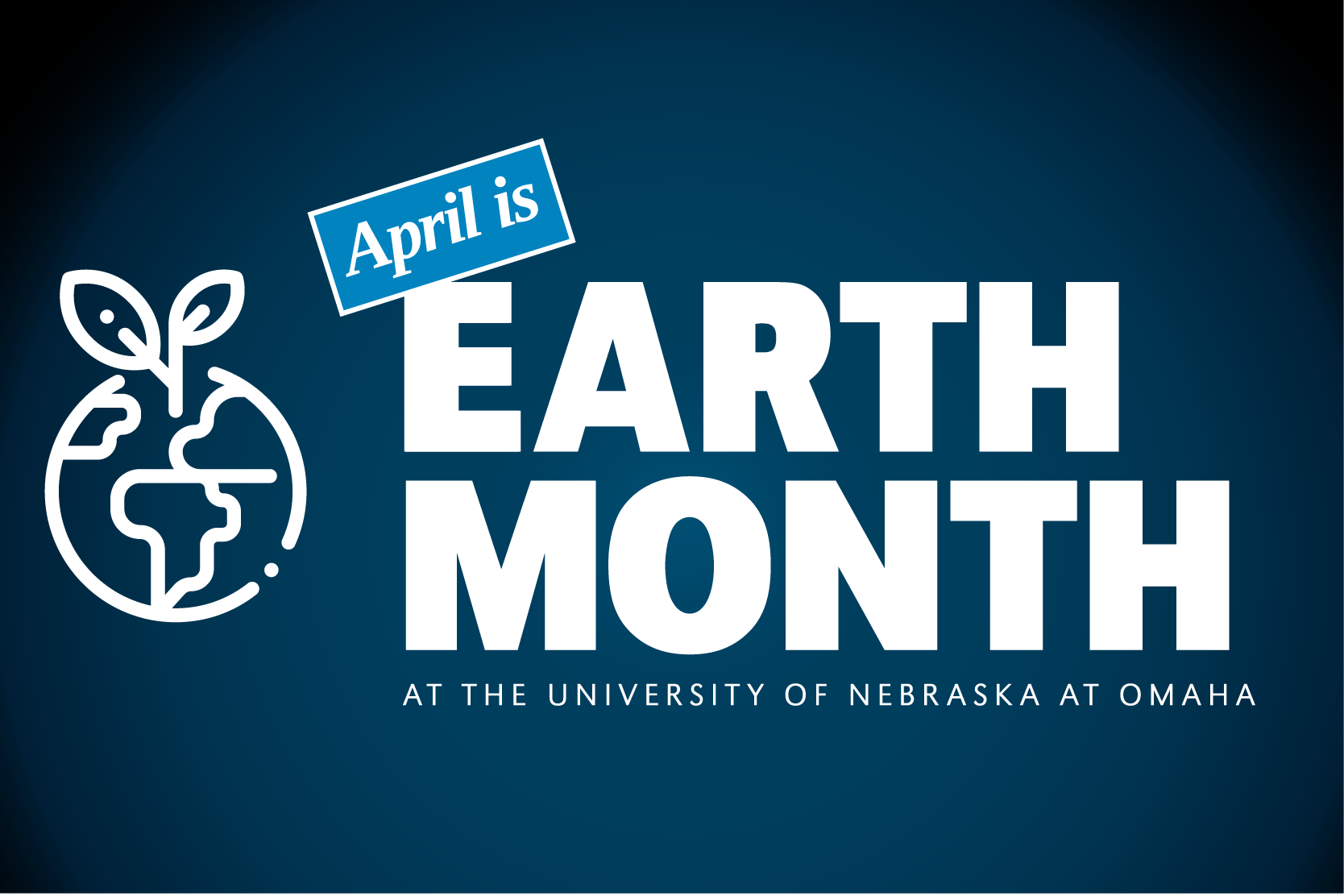 Earth Day Ecochallenge
Earth Day Ecochallenge connects you to a global community of advocates and changemakers, each doing what we can, in ways that are most relevant to us, to make this great spinning dot we call home a healthier, more equitable, more sustainable place. 
Let's make things interesting
UNO will be competing against UNMC, so let's unite as a campus and use our efforts to earn the most points!
---
What is ecochallenge?
Powered by the Northwest Earth Institute since 2009, Ecochallenge is an online educational platform that challenges you to take action on environmental and social issues that matter to you. Common wisdom says it takes at least three weeks to change a habit: if you can stick with new behavior for 21 days in a row, we believe you're a lot more likely to keep it up forever.
Throughout the event, Ecochallengers share their progress and reflect in the social feed, earn points for taking action, and watch the impact they make add up in realtime!
How do I join UNO's team?
Join the UNO team by filling out this form and earn points while making the world a better place! Once you fill out this form, we will send you a link to sign up for Sustain UNO's team. On the Ecochallenge website, you will find information on how to participate in this challenge and earn points!
If you have any questions, please reach out to the team captain Kristina Hughes, kristinahughes@unomaha.edu
How are points accumulated?
In addition to earning points for daily and one-time actions, you can also boost your score by adding a profile picture, creating a team, inviting others, and through other event-related activities. For a detailed list of activities and point values, please consult the Points page in your event's About pages.
The Ecochallenge reward system is unique - regardless of which event you're participating in, you'll always earn points for checking in, even if it's to indicate that you aren't able to complete any actions. Changing behaviors can be difficult, and we believe that any and all participation is productive and deserving.
Daily Activities
When marking daily actions complete, note that you'll only receive two point awards on any single day: points for the first daily action completed, and points for completiing one or more additional daily actions.
FOR EXAMPLE: if Kelly completes one daily action on Monday, she'll earn 10 points. If she completes one more daily action, she'll receive 10 more points. If she completes 5 daily actions, she'll still only earn 20 total points for daily actions on that day - 10 for the first completed action, and 10 more for completing any number of additional daily actions.
Please note that, if applicable, impact will still be calculated and reported for each daily action. Finally, none of these rules apply to one-time actions; you can earn points on a per action basis for one-time actions.
---
Friday, April 2
Walk to Work Day
There are many profound and research-backed benefits to walking, especially daily trips. While many of us engage in social distancing, it is important that we take care of our bodies and spirits. On Walk to Work Day, we remind ourselves to get up and move about regularly. Perhaps you are not working at the moment, working from home, or still returning to your office, but take some time today to get out for a 30-minute stroll.
We would love to see where your walk takes you! Post a picture to your social media account and tag us with hashtags #WalktoWorkDay and #UNOEarthMonth.
---
April 5-11
Sustainable Transportation Challenge!
In celebration of Nebraska Public Transit Week, we will be focusing this week on sustainable transportation!
Throughout the week, UNO students, staff and faculty who engage in sustainable transportation will have the opportunity to win prizes from our community partners, B-Cycles and Omaha Metro, and from UNO's Office of Sustainability. Prizes include 2 annual memberships to Heartland B-cycle, 2 swag goodie bags from Metro Transit Omaha with t-shirts, a reusable water bottle, and sticker decals, or a sustainable lifestyle starter pack from UNO Sustainability.

During April 5-11, for your chance to win, snap a photo of yourself engaging in sustainable transportation (biking, walking, riding a bus, roller blading, skateboarding…basically any mode of transportation that is not a motor vehicle), post that photo to Facebook, Instagram or Twitter using the hashtags #SustainableTransportation and #UNOEarthMonth, and your name will be entered for a drawing at the end of the week for one of the 5 prizes available. Enter as many times as you want throughout the week, limit one prize per person.
---
Tuesday, April 7
Solve Climate by 2030 Webinar
Join us and students from UNL and across the globe for a unique online experience!
As part of the world's largest virtual teach-in out of Bard College, the UNL's Environmental Studies Program and Office of Sustainability will host three panelists who will each present one ambitious but feasible action they believe Nebraska should do to solve climate change by 2030. This live event will be broadcast as a webinar to interested people all around Nebraska. Our panelists are Louis Lester, Nebraskans for Solar; John Hay, Extension Educator for Bioenergy; and Brittni McGuire, President of Sustain UNL.
If you want to watch the webinar on your own, fill out this form and we will send you the link to the livestream as well as a recording after the event.
---
Wednesday, April 15
Do a Waste Sort at Home!
The most effective way to make conscious decisions to decrease your waste is to know the areas in which you can have the most improvement. By performing a waste audit for the waste in your own home, you will have better knowledge of your waste habits and can make informed decisions on how to improve them.
An in-home waste sort is easy to do and requires very few supplies. You simply collect your waste over a day or over a week, divide that waste into the various waste streams available in your area, then measure and compare each waste stream.
---
Thursday, April 16
SustainUNO Meeting Over Zoom
During this meeting we will be talking about officer duties and elections. Elections will happen virtually, and new officers will be announced at SUNO's next meeting April 28.
More information at SUNO's Facebook page
---
Saturday, April 18
Virtual Earth Day Omaha
For the health and safety of the public, our volunteers, friends and supporters, Earth Day Omaha will not hold our 31st annual event in Elmwood Park. Instead, we are excited to announce Omaha's first ever Virtual Earth Day!
Join us on social media
Saturday, April 18th, for a full day of music, videos, demonstrations, and interactive activities that you can do from home.
Facebook | Instagram | Website
---
Wednesday, April 22
Earth Day
This year marks the 50th anniversary of Earth Day! This is also the LAST day of our Ecochallenge – so we encourage you to get outside, stack your day with tasks from your list, and strive to make a difference in our communities.
---
Tuesday, April 28
SustainUNO Meeting Over Zoom
During this meeting we will announce our new officers and look ahead to summer and fall.
More information at SUNO's Facebook page
Contact Us
If you have a story idea, news tip, or other question, please email the UNO News team at unonews@unomaha.edu.