Durango's Birthday Party
Our favorite Maverick mascot celebrates the big 5-0 with a cake, games, and more! Come wish him a happy birthday and look back at his amazing journey.
date: 10/14/21
time: 11:30 AM - 1:30 PM
location: Milo Bail Student Center Atrium • maps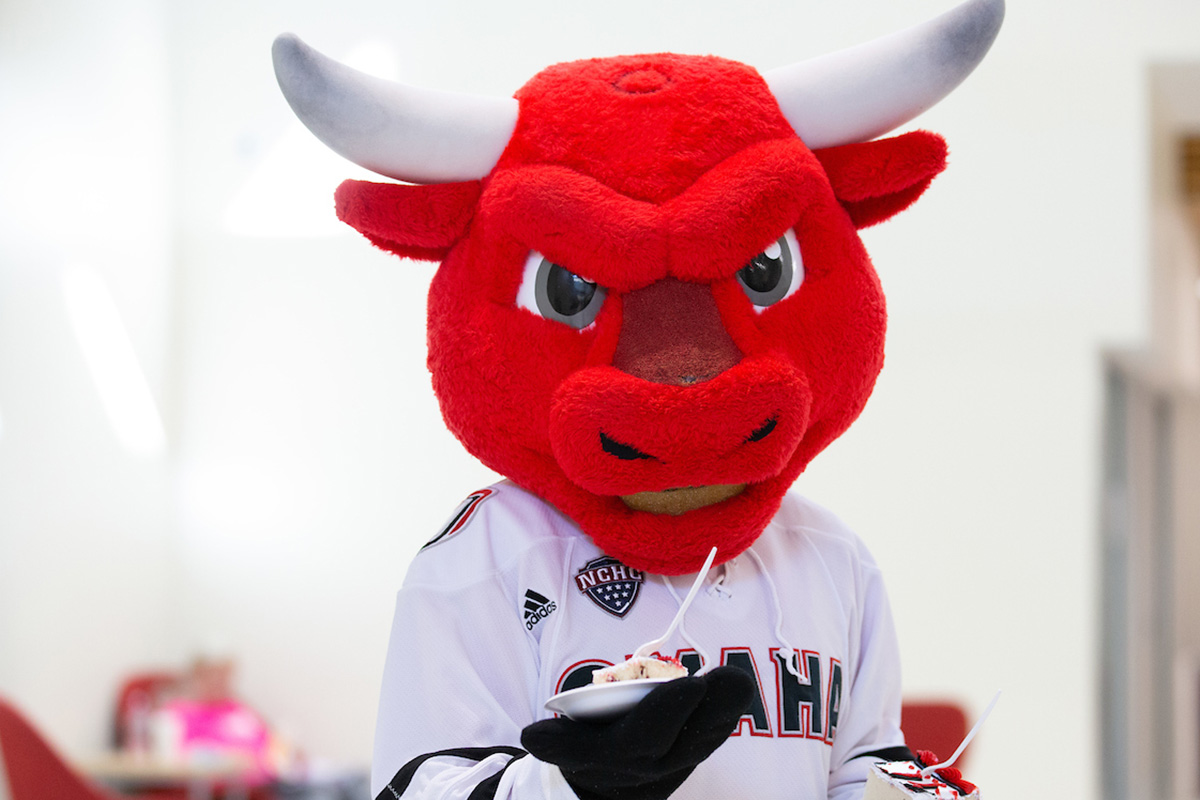 Happy Birthday, Durango!
It's hard to believe that UNO's mascot, Durango, has hit the big 5-0.

What better way to celebrate this important milestone than with an epic birthday party?
UNO Student Life is hosting a special birthday bash for our favorite Maverick mascot on Thursday, Oct. 14, at the Milo Bail Student Center.
Join us, and Durango, for an amazing celebration with cake, swag items, and a free photo booth.
Read more below for Durango's incredi-bull story!
Durango's Incredi-Bull Story
In 1971, the students of UNO made a decision that would change the course of UNO forever when the previous mascot, Ouampi, was retired and a vote for a new mascot to represent the campus was held by UNO Student Government. In the decades since, Maverick Spirit - and Durango - have inspired generations of students, faculty, staff, and alumni as the university's longest-serving mascot.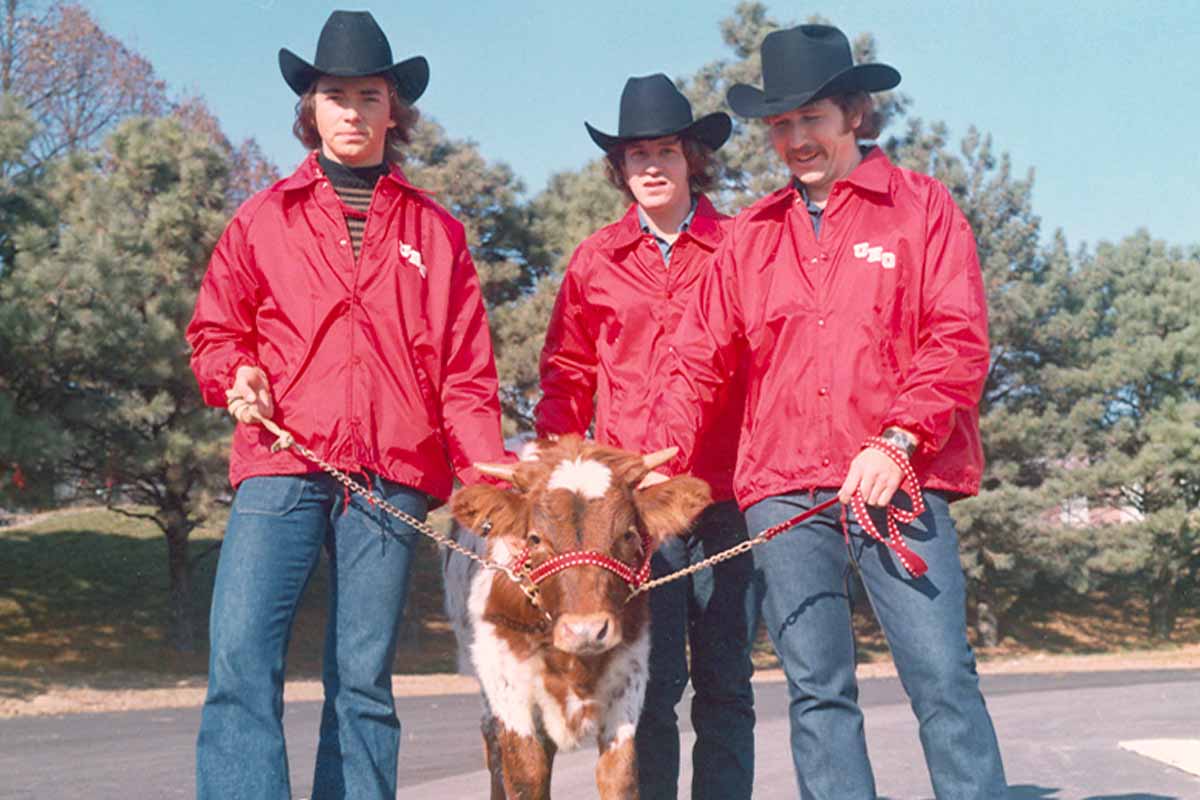 The Vote
It all started on Aug. 5, 1971 when the student body was faced with a monumental decision:
Demons, Roadrunners, Unicorns, or Mavericks?
In the final vote, the "Mavericks" won out by just 51 votes over the Unicorns, with the final tally shaping up like this:
Mavericks 566
Unicorns 515
Roadrunners 397
Demons 346
Indians 0
The change was announced prior to the Homecoming football game against Northern Colorado that October complete with the introduction of a new mascot - not Durango, but Victor E. Maverick, a live steer that would run onto the field in celebration with the team.


The Making of a Mascot
The first costumed mascot was unveiled 1973 and in the years since, the outfits have come in all shapes, colors, and sizes - including an inflatable Durango suit that was popular at Maverick hockey games.
There was even a period in the 1990s when a sepate female version of Durango - Lady Mav - was a popular sight at women's athletics events including the annual Claussen-Leahy Maverick Run/Walk, which was originally the Diet Pepsi UNO's Women's Walk in the 1980s.
The purchase for the first new mascot suit since the 1970s happened in 1993 thanks to funding from the UNO Alumni Association and, once again, during Homecoming weekend, students took another important vote and decided on the name "Durango."
Durango may have gone through some cosmetic changes over the past decade, but today he stands tall as the one and only Maverick mascot.

A Seasoned Athlete
One of the places you're likely to always find Durango is at Maverick athletic events. Whether he's skating loops ahead of a Mavericks hockey game, shooting a layup at a basketball game, in the dugout at Maverick Park, or helping the Maverick Maniacs cheer on the men's and women's soccer teams, there is no sport that Durango doesn't love.
This is also a great opportunity for Durango to meet Maverick alumni and future Mavericks as he makes his way up and down the concourse or through the stands. Next time you're at a Maverick athletic event, be on the look out for Durango and give him a high five.

Who's Behind the Mascot?
In 1973 the first Maverick mascot was worn by student by Jeff Gamble. In the decades since, hundreds of students have taken their turn at grabbing the bull by the horns and bringing life to Durango.
The very first student to wear the new "Durango" costume in the 1990s was Todd Sanford, a junior broadcasting major who answered a flier to audition. In a 1995 Gateway article, Sanford said "Normally, I am shy, quiet, and reserved. But as soon as I put the costume on, no one knows who I am and no one knows who this is ... to this day people can't beleive it's me inside the costume."
Throughout his career, Durango has always been played by a current UNO student. The Office of Student Life helps coordinate student volunteers who want to take up the mantle and are always looking for newcomers. Could you be the next Durango? Email Dustin Wolfe at dcwolfe@unomaha.edu.
About the University of Nebraska at Omaha
Located in one of America's best cities to live, work and learn, the University of Nebraska at Omaha (UNO) is Nebraska's premier metropolitan university. With more than 15,000 students enrolled in 200-plus programs of study, UNO is recognized nationally for its online education, graduate education, military friendliness and community engagement efforts. Founded in 1908, UNO has served learners of all backgrounds for more than 100 years and is dedicated to another century of excellence both in the classroom and in the community.
Follow UNO on Facebook, Twitter, Instagram, TikTok, LinkedIn, and YouTube.