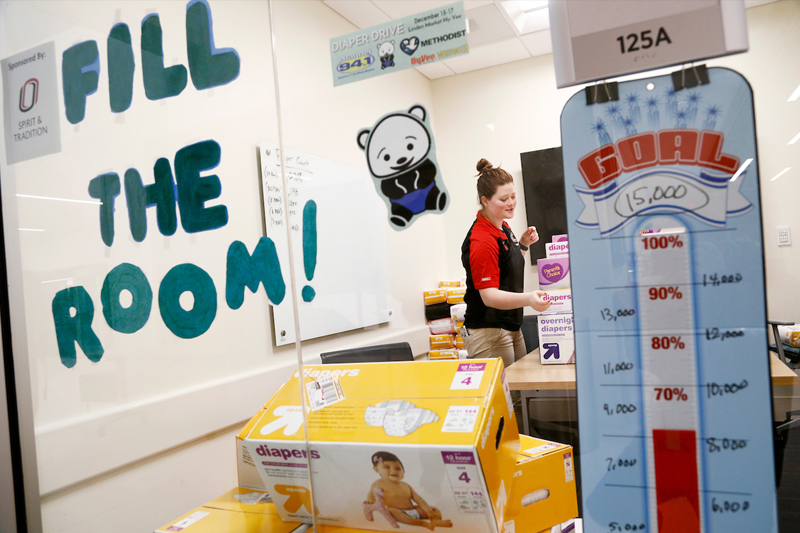 Students, faculty and staff at UNO are asking the Omaha community to help make the holidays a little brighter for families in need. Here are current and upcoming donation drives where you can help make a difference:
"Santa Paws" Donation Drive (Dec. 2)
UNO Public Relations Student Society of America (PRSSA) invites all pet parents to the Bookworm on Sunday, Dec. 2 to get their pictures taken with Mr. and Mrs. Claus. Pictures are $25. Participants can receive a $5 discount if they bring an item to donate. All proceeds benefit Hearts United for Animals (HUA).

Food Fight in the Summit League (Nov. 29 - Dec. 5)
Anyone who donates (4) or more canned food items at a December Men's or Women's Basketball game will receive (1) free general admission Men's or Women's Basketball home game ticket. This only includes games in the month of December at Baxter Arena.
Donated food goes to benefit the St. Vincent de Paul food pantry.

Stuff the Bus Holiday Food Drive (Nov. 25 - Dec. 6)
UNO Athletics is partnering with WOWT NBC Omaha for the Stuff the Bus Holiday Food Drive.
The drive takes place Dec. 6 from 5 A.M. - 7 P.M. in the Baxter Arena parking lot. For those who are unable to attend the drive on Dec. 6, the Baxter Arena Box Office will collect donations from Nov. 25 - Dec. 5.
For every (4) food items donated, guests can receive (1) free general admission Women's or Men's Basketball home game ticket. This only includes games in the month of December at Baxter Arena.

Fill A Need, Fulfill A Ticket (Nov. 26 - Dec. 7)
From Nov. 26 - Dec. 7, if you have an outstanding ticket on MavLINK or MavPARK, you can purchase a new toy (unopened) and/or toilet paper for the value of 1/2 the ticket. Return the new items and the receipt to Parking Services and the violation will be waived. All items go to benefit the Open Door Mission.

Office of Spirit and Tradition Diaper Drive (Nov. 26 - Dec. 13)
Help the Office of Spirit and Tradition collect 20,000 diapers for the 94.1 Omaha Diaper Drive. Drop off locations include MBSC 133 (during office hours) or the MBSC MavIGATION Station.

College of Business Administration Shelter Drive (Dec. 17)
The College of Business Administration is taking donations of unopened candy, clothing and toys and will be delivering them to homeless shelters in the Omaha metro.
If you would like to donate, please bring any unopened items down to the CBA Dean's Office in Mammell Hall, room 300A by Monday, Dec. 17.
For more information, please contact Sue Bollich at 402.554.2599 or by emailing sbollich@unomaha.edu.

Annual Coffee Drive to benefit the Stephen Center (Dec. 1 - 17)
The Division of Continuing Studies is collecting cans and bags of coffee to donate to the Pettigrew Emergency Shelter at the Stephen Center. Stephen Center partners with the community, families and individuals to overcome homelessness, addiction and poverty.
Please bring your donations to the Division of Continuing Studies office, CPACS 207. No time to shop? Monetary donations are welcome and we will do the shopping for you. Donations accepted through December 17.
To find out more, contact Karen Kempkes at 402.554.2370 or by emailing kakempkes@unomaha.edu.
Business and Finance Holiday Giving Drive (Dec. 3 - 19)
Please join UNO Business and Finance and help a student, the campus and the entire UNO community by making a monetary donation to the Maverick Food Pantry.
Food items may be dropped off also inside of the Eppley Administration Building, room 209 from Dec. 3 - 17.
Did we miss a drive? Email unonews@unomaha.edu to share how your office, department, or student group is giving back this season.
Contact Us
If you have a story idea, news tip, or other question, please email the UNO News team at unonews@unomaha.edu.
Our Campus. Otherwise Known as Omaha.
The University of Nebraska does not discriminate based on race, color, ethnicity, national origin, sex, pregnancy, sexual orientation, gender identity, religion, disability, age, genetic information, veteran status, marital status, and/or political affiliation in its programs, activities, or employment. Learn more about Equity, Access and Diversity.
scroll to top of page