De-Stress Fest
Take time to take a break; April 24 - May 1, 2019.
date: 04/24/19 - 05/01/19
time: See schedule below.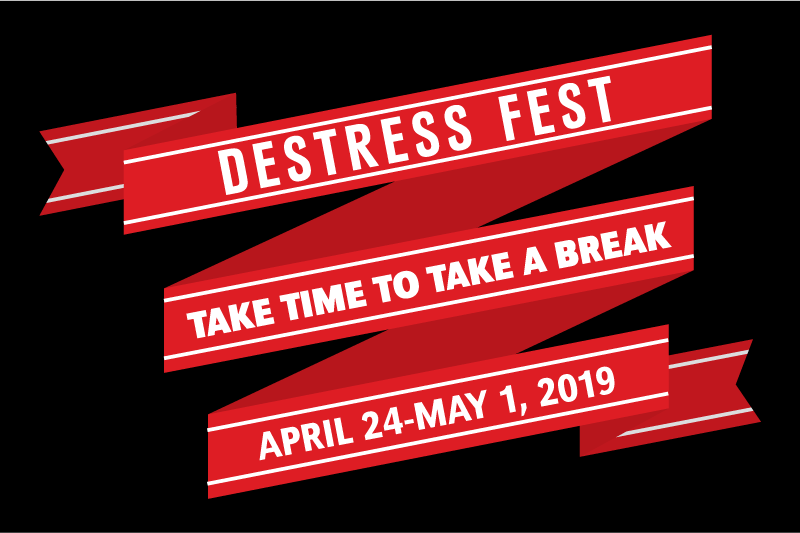 Download the De-Stress Fest flier for a relaxing coloring experience.
---
Events by date:
---
Wednesday, April 24
DeStress Zone – Yoga Edition
11 A.M. - 1 P.M. | H&K 143
Group yoga activity presented by Lotus House of Yoga with quiet zone activities and herbal tea in H&K 138.
Crafternoon
1 - 3 P.M. | Criss Library
Sit at a creation station and craft your stress away. We'll have all the supplies for zine making, pinback button making, and construction robot cardboard.
Belay Day at the UNO Climbing Wall
1 - 2 P.M. | Faculty & Staff
2 - 3 P.M. | Students
The Climbing Wall will be open to Top Rope. A free shoe rental is included.
UNO Women's Softball vs.

Iowa State
4 - 6 P.M. | Westside Field at Westbrook
Watch the softball game and get a Spirit and Tradition badge. Head over to Sam and Louie's at 120th and Blondo from 6 - 7 P.M. to eat free pizza.
---
Thursday, April 25
Energy Zone
The Office of Spirit and Tradition will visit various campus buildings giving out energy snacks. Look for granola bars, nuts, bananas, bottled water, peanut butter snacks, grapes, etc.
8:30 - 9 A.M.        
Arts and Sciences Hall
9 - 9:30 A.M.          
Milo Bail Student Center
9:30 - 10 A.M.        
Criss Library
10 - 10:30 A.M.          
H&K Atrium
10:30 - 11 A.M.          
Alwine Hall
11:30 A.M. - 12 P.M.        
Mammel Hall Atrium
Goats at the Library
12 - 2 P.M. | Criss Library
The goats are back at the library! No kidding - real goats! We'll host baby goats from Scatter Joy Acres so you can have a little little friend andnegotiate final week with a lot less stress.
Yoga Paddleboard
12 - 1 P.M. | H&K Pool
Find your center and balance with this fun introduction to yoga on a paddleboard in the pool. Ride the wave and try something new in this popular class.
Throwback Thursday Cycling
12 - 1 P.M. | H&K 136
Get your cardio on and have a blast listening to a happy throwback jam while you cycle. Make it a great day and feel strong after this powerful class.
Escape Reality with Beat Saber
 3 - 5 P.M. | Criss Library
We had so much fun last semester we're doing it again! Slash the beats and dance your stress away with virtual reality game Beat Saber. This time, we'll bring out student-produced video games, too.
90s Throwback Bar Class
4:30 - 5:30 P.M. | H&K 
Put on your legwarmers and prepare to work your body 80s and 90s jams. Squat and work that core at the bar!
Free Putt Putt and Sandwiches
5 - 7 P.M. | Putting Plus - 9216 Maple St.
Putt Putt. Get some fresh air and enjoy the break. Bring your MavCard and enjoy a free round of golf putt putt and subway sandwiches! 
---
Friday, April 26
UNO Bubble Wands
Get your free pack bubble wand and go enjoy the weather outside. 
10 - 10:30 A.M.
PKI Atrium
10:30 - 11 A.M.
Mammel Hall Atrium
11 A.M. - 12 P.M.
MavIGATOR desk - Scott Crossing
12 - 1 P.M.
MavIGATOR desk - Milo Bail Student Center
Smash HIIT
12 - 1 P.M.
A fun stress relieving high stress workout with stations involving slamming and smashing out stress! Come prepared to let loose and let it all out.
---
Sunday, April 28
Relaxation Station
6 - 8 P.M. | University Village Clubhouse
Stop by the clubhouse to take a break from studying for your finals. Enjoy massage, essential oil roller kits, foot massagers, Fazoli's free, play board games, and recycle your used textbooks for the Maverick Pillow.
Spielbound.org will be on site to host the games.
---
Monday, April 29
Mav Necessities
11 A.M. - 1 P.M. | MBSC Atrium
Get free pencils, highlighters, erasers, folders, snacks, and more from the Office of Spirit and Tradition and Network for Disability Awareness. Bring your MavCard for a free walking taco lunch.
Candlelight Yoga
12 P.M. | H&K
Need to chill and calm frazzled nerves? Experience complete relaxation and unwind in this restorative Candlelight Yoga class.
Burn it Out Bootcamp
12 P.M. | H & K
Torch some calories and feel the burn with this intense and fun bootcamp class! Challenge yourself and feel like a million bucks after this stress-busting workout.
Fun in the Sun With OVC
11 A.M. - 2 P.M. | H&K Plaza
Students can hang out with the OVC out front of H & K. There will be yard games, a slack line, and music in this stress free event.  
Core Flow Pilates
4:30 P.M. | H&K
Stretch and Work your Core with this Challenging Blend of Yoga and Pilates with extra emphasis on Ab work! Relax and get a great workout at the same time.
Maverick Productions presents - Qdoba Night 
8 - 10 P.M. | Qdoba 72nd and Pacific
Join MavPro for their last food night of the spring semester! Stop by Qdoba from 8-10pm with an item from the list below to get a free meal! We are pleased to partner with Food Bank for the Heartland in support of flood relief efforts. Remember to bring your MavCard to swipe-in. Items accepted include bottled water, cleaning supplies, personal hygiene items, and snacks/granola bars/power bars
---
Tuesday, April 30
Recycle + Reward
8 - 11 A.M. | MBSC 113
Drop off any of the following items and you will be rewarded with MavSWAG and some caffeinated drinks!
We are collecting the following - used plastic bags, used textbooks, pop tabs, box tops, used batteries, used ink cartridges, plastic gold aluminum cans/bottles, old t-shirts, or newspapers. 
CANCELED:
Glow Zumba
UNO Baseball vs. Creighton
---
Wednesday, May 1
Coffee, Donuts, and Tea
8 -11 A.M. | MBSC Atrium
De-Stress Fest 2019 Sponsors:
Office of Spirit and Tradition

Campus Recreation

Maverick Productions

Housing and Residence Life

Criss Library

Milo Bail Student Center

Network for Disability Awareness

Spielbound
Contact Us
If you have a story idea, news tip, or other question, please email the UNO News team at unonews@unomaha.edu.