Commit to Fit
"Think like the person you want to become."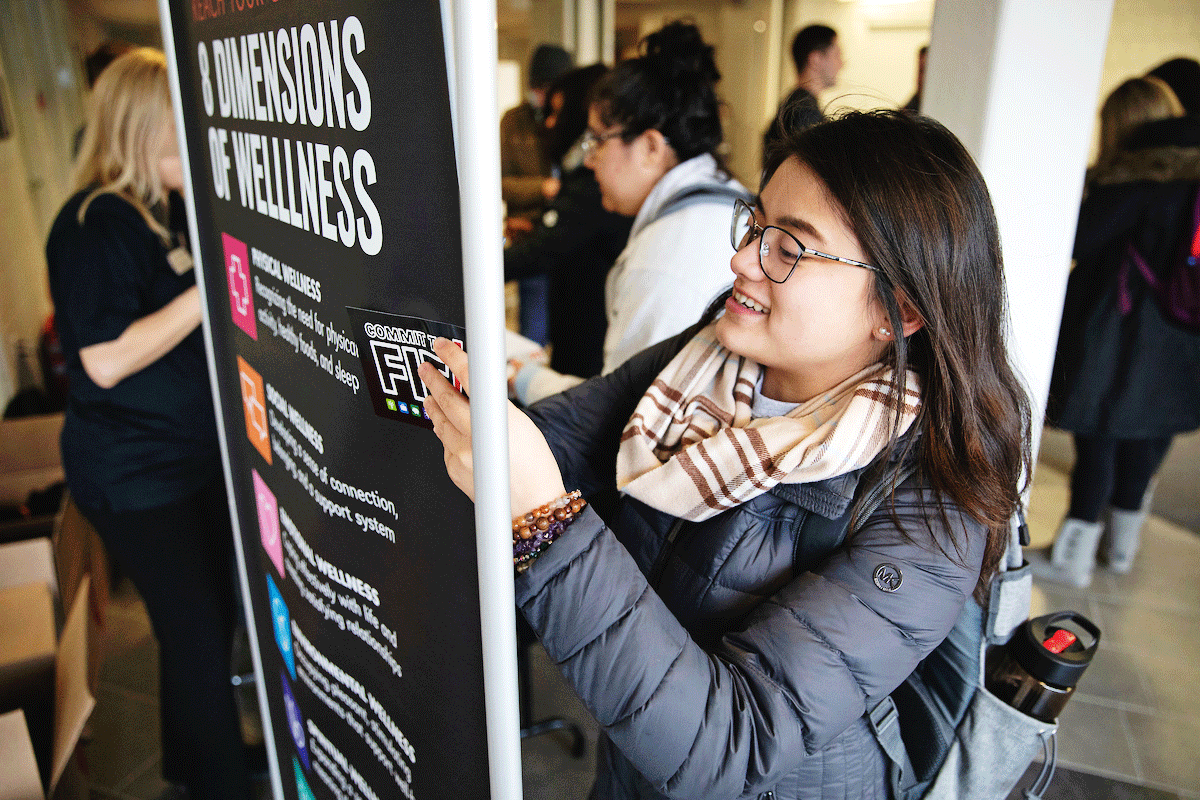 Do you have a goal for the new year?

Name your goal and commit to an action for 30 days and give yourself the best chance to reach your goals.
The 30 day challenge begins on Jan. 24 and goes through Feb.22.
Fill out our brief goal guide to start off 2022 with action
Choosing a goal is easy, committing to a specific action takes motivation and Campus Recreation will support you the whole way. When you fill out the goal form, Campus Rec will send you resources, encouragement, and help you with the accountability you need to reach your goal.
It does not matter where you start, only that you start. Whether it is a physical goal like losing weight, eating more vegetables, drinking more water, or an intellectual goal like learning a new skill, reading a book or using a new studying method. You identify the goal and commit to it for 30 days.
It's as easy as 1-2-3
---
Six Ways to Stay Healthy in the New Year
If the last two years has taught us one thing, it is the importance of protecting and caring for our physical well-being.
COVID prevention remains a top priority, but it does not have to be your only health focus for the new year. Nebraska Medicine UNO Health Center shares additional steps you can take to elevate your physical well-being in 2022 and beyond.
1. Schedule an Annual Physical
Everyone, no matter their age or health status, can benefit from visiting a primary care provider at least once a year for a checkup. This visit includes a thorough examination of your body and usually lasts 30 minutes to an hour. It is an opportunity to check your health status, ask questions, get tips for living a healthier lifestyle and develop a game plan for any current health problems. If you have been struggling with a symptom or concern such as chronic dry skin, allergies, acne, pain, or something similar but haven't made time to get it checked by doctor, mention it during your visit. Students can schedule a physical* at the UNO Health Center by calling 402.554.2374.
2. Schedule Other Routine Health Care Appointments
In addition to an annual physical, it is recommended that people have a biannual dental exam, annual eye exam and annual reproductive health exam* (if applicable) to care for their holistic health needs. Scheduling these types of appointments at the beginning of the year ensures you make time for them before you forget or your schedule fills up with school, work and other activities. If you need a resource for these services, consider the UNMC College of Dentistry Dental Clinic, Truhlsen Eye Institute, and the reproductive wellness services at the UNO Health Center (eligible for students only).
3. Get Your Flu Shot
Although you might not be able to get a COVID-19 vaccine yet, now is still a good time to protect yourself against the flu. Flu shots are free for students at the UNO Health Center by appointment. Flu shots have a charge for faculty and staff, but it can be submitted to insurance.
4. Learn Your Family Medical History
Are you aware of the conditions and diseases that run in your family? If not, set aside a few minutes to talk about this with an immediate family member, such as a parent, grandparent, sibling, etc. You will need to share this information when you access health care in the future. This knowledge will also help you develop healthy habits now so that you can reduce your risk of developing the same conditions or diseases later in life. The US Surgeon General's Family Health Portrait is a useful online tool to help you collect your family history information.
5. Find and Keep a Copy of Your Immunization Record
If you don't already have a copy of your immunization record, obtain one from your primary care doctor or pediatrician, the county health department or your high school. Store it safely in your residence and bring it with you to your doctor's appointments. If your records show you are missing childhood immunizations or immunizations that are routinely needed, such as an annual flu shot or tetanus-diphtheria booster, your provider may recommend you receive these vaccinations during your physical.
6. Restock Your First Aid Kit
Take time to audit your first aid kit at the beginning of the year. If you were sick in the fall, you may have used up some or all of your common medicines, such as acetaminophen, ibuprofen and cough drops. You may also be short on other non-medicinal supplies such as Kleenex, lip balm, tea, honey and other items that can help if you feel under the weather. Make a plan to restock these items so that you're prepared for the rest of the year.
Remember, the UNO Health Center is here for you.
If you have a health care need, call us at 402.554.2374. Telehealth and in-person visits are available depending on your concern. Visit our website to learn more about services and hours.
*Please note that student fees do not cover physicals and reproductive wellness exams. However, these charges are covered by most insurance companies and financial assistance is available to those who qualify. Click here to learn more about what is covered by your student fees.
Contact Us
If you have a story idea, news tip, or other question, please email the UNO News team at unonews@unomaha.edu.