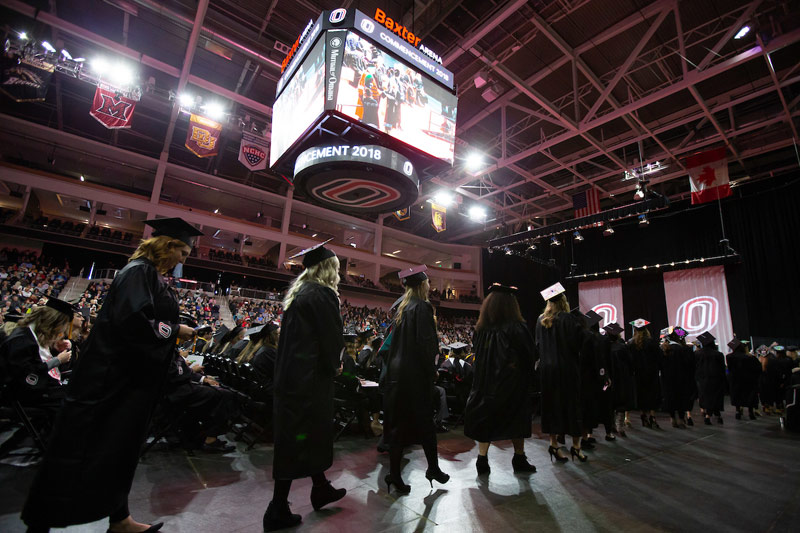 Security Bag Check and Entry:
All guests and graduating students will be subject to a Security Bag Check at the Arena.  

Attendees are highly encouraged to leave bags, purses, backpacks, boxes, and strollers at home or locked securely in the vehicle.  Expedited entry to indoor venues will be available for guests without bags, purses, backpacks, boxes, and strollers to check.  

Prohibited items include: illegal drugs or alcohol; weapons of any kind; or any item deemed to challenge public safety.

The Clear Bag Policy does not apply to Commencement.
You can do your part by noting the following:
Students and faculty should leave jackets, purses, boxes, backpacks, and/or bags at home or with guests. Students and faculty may not take personal items into the ceremony with them.

Once you are seated, locate the nearest exit to your seat.

Listen carefully and follow instructions, which may be issued by the Master of Ceremonies, law enforcement, or UNO Public Safety officers.

Parents should keep their children with them at all times.

Pay particular attention to the safety of any elderly person or persons with disabilities.

If directed to evacuate the Arena, please move away and remain until you have been given an "all-clear" by a public authority.

If necessary, seek assistance from a robed Commencement Marshal, uniformed police officer, or designated security guard.
In case of a medical emergency:
DIAL 911 and provide information to the Douglas County 911 operator.

Upon completing your call to 911, call UNO Public Safety at 402.554.2911 and advise the dispatcher that 911 has been called for a medical emergency. Provide Public Safety your exact location, i.e. building, room number, and telephone number, where you can be reached.

Return to the injured party. Do not move a seriously injured person unless it is a lifesaving situation.

If possible have someone meet Public Safety or emergency medical personnel at the lot or building entrance.
In case of bad weather:
The University will make any weather-related announcements as far in advance as possible on the Commencement Homepage and the following outlets:
University Homepage  

UNO on Facebook

UNO on Twitter
If deemed necessary by the University, text messages will be sent to faculty, staff and students enrolled in the SMS alert system.
Safety tips:
Most crimes are ones of opportunity. Do not leave your valuables in plain sight or leave your vehicle running unattended. Purses, backpacks, and other valuables should be secured out of sight and locks engaged to ensure optimal protection of your personal belongings. Remember thieves look for easy targets.
Remove property from plain sight

Roll up windows

Remove keys

Lock all doors

Report suspicious and unusual activity to UNO Public Safety

When in doubt, DIAL 402.554.2911